Sigma DP1; A Compact "Full Spec" Camera
A funny thing happened to me while I was shooting and reviewing the new Sigma DP1 compact camera in New Mexico. I had taken a lunch break in a local taqueria and in came a couple that sat down at the next table. Next to the guy's backpack and hat he set down the Sigma DP1. I did a double take, and asked him how he liked it. "Great," he said, "the picture quality is terrific, although it does make you think."
Thinking about the pictures you make is not a bad idea, yet many of today's compact cameras are so automated, with "smart" processors and full auto modes that some of the fun, and admittedly the challenge of photography is taken away in the process. The Sigma DP1 certainly qualifies as a compact, pocketable camera, being 4.5 x 2.3 x 2 inches in size and weighing in a bit over 8 oz., and it certainly can be used on Auto mode. But if you take the time to explore it you can find so many more options akin to working with a DSLR. And it is a unique compact in that it is the only one that uses a larger, Foveon style sensor, being the three-color layer type rather than have a mosaic of RGB filters over a monochrome sensor, like all but Sigma DSLRs sport.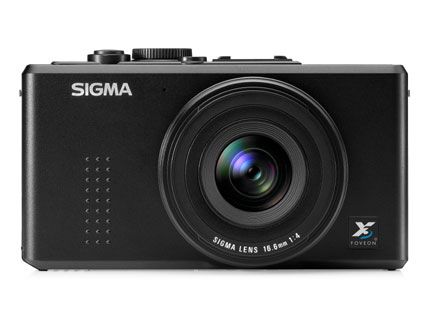 The compact Sigma DP1 has a single focal length lens, sports a "large" (for compacts) sensor from Foveon and has many controls familiar to DSLR users. Shown here with the VF-11 Finder, which slips into the camera hot shoe.
All Photos © 2008, George Schaub, All Rights Reserved
The sensor is a 2652 x 1768 pixel sensor with three layers, giving a 14.6 MP total. The debate over whether this is a "true" 14MP sensor won't be rehashed here, as we have covered it extensively in past reports on Sigma cameras. Suffice it to say that there is lots of image information here and the resultant prints prove it. The DP1 takes SD (and SDHC) cards and allows you to shoot in both Sigma RAW or JPEG formats (no Raw+JPEG option is available), the latter in three sizes (Fine, Normal and Basic.) You can also shoot QVGA movies, but these are rather low res and are good for visual memos and not much else. You can set the camera up to ISO 800 and work in Auto, aperture- and shutter-priority modes, plus Manual and Program. Shutter speeds range from 15 sec to 1/2000 sec.
The back of the DP1 has a fairly simple button and toggle layout and an LCD screen finder only. Note the knurled ring on the upper right--that's the manual focus control.
Now here's the unique part again--there's a manual focusing mode and the lens is a fixed 16.6mm (equivalent to about 28mm, which gives you a clue to the larger sensor size) with an f/4 to f/11 aperture range. There are also lots of Menu items to customize the shoot, including white balance, a monochrome (and sepia) color setting, evaluative, center-weighted or spot metering, contrast saturation and color space (including Adobe RGB) and various ways to set the auto exposure lock button. If this sounds more DSLR-like than compact camera-like, you're beginning to get the picture.
These shots were made in open shade with Auto white balance and there was no color cast. Camera was set on Adobe RGB and default color and contrast. Because the lens is fixed focal length there is no vignetting problem. Grain on the door and the wall behind the wheel took a good deal of enlargement with little loss in sharpness and quality. ISO was set at 400.