Shooting Smart: Our 10 Favorite Apps for Mobile Photography and Social Media
"Smart phones and social media expand our universe. We can connect with others or collect information easier and faster than ever."—Daniel Goleman
How much do I hate smartphones? Let me count the ways. But seriously, they aren't going away anytime soon and many photographers, although not moi, have found clever ways to harness the power of these mobile devices. That said, I do own a smartphone albeit an older model and am on many social media platforms.
Which ones? See the tag line at the end of this column. This month's column is not getting into the whole Android vs. Apple food fight. That debate seems to be even more partisan than the Canon vs. Nikon war and is about as productive because the world of smartphones is dominated by apps. These are simply my favorite smartphone apps that photographers can use to maximize their productivity.
My Book, Your Book, Facebook
Even with its baggage of fake news, bots, trolls, and the fact that users are the products, not the customers (advertisers are the real customers), Facebook might seem like an ideal outlet for people photographing high school seniors. Yet, according to their own CEO, "Teens are leaving Facebook in droves for Instagram, Snapchat and Twitter at an estimated rate of up to a million a year." With one billion users this trend may take a while to have any real impact.
Aviary is a free photo app designed to work with Facebook and lets you use filters, stickers, and frames. It even has retouching tools for redeye and blemish removal along with teeth whitening. There are presets for Hi-Def, Scenery, Food, Portrait, and Night that can be enhanced with more than 100 free and purchasable (the old in-app purchasing game) filters. You can use Aviary to draw, add text, and create memes as well as share photos to Instagram, Twitter, or Facebook. It's available for Android and iOS, including the iPad.
Who's It For: Instagram addicts and Facebook fiends, like my wife.
Why I Like It: Even the basic (no add-ons) version isn't too bad for social media posts.
Although piZap sounds like a Pokémon character, it is a photo editor designed for editing photos on Facebook without requiring an external editor. It's available for Android and iOS for both the iPhone and iPad.
You can use piZap to make a collage of your photos, add a background, create attractive cover images for your timeline, or just make simple photo fixes. It's a fun, free, and easy way to edit and decorate your photos with more than 1,000 colorful stickers and effects. You can edit your photos from Facebook, Twitter, Tumblr, Instagram, and Snapchat and then share on these social media sites.
Who's It For: Smartphone shooters who are social media fans.
Why I Like It: You can apply effects right in Facebook, rather than externally.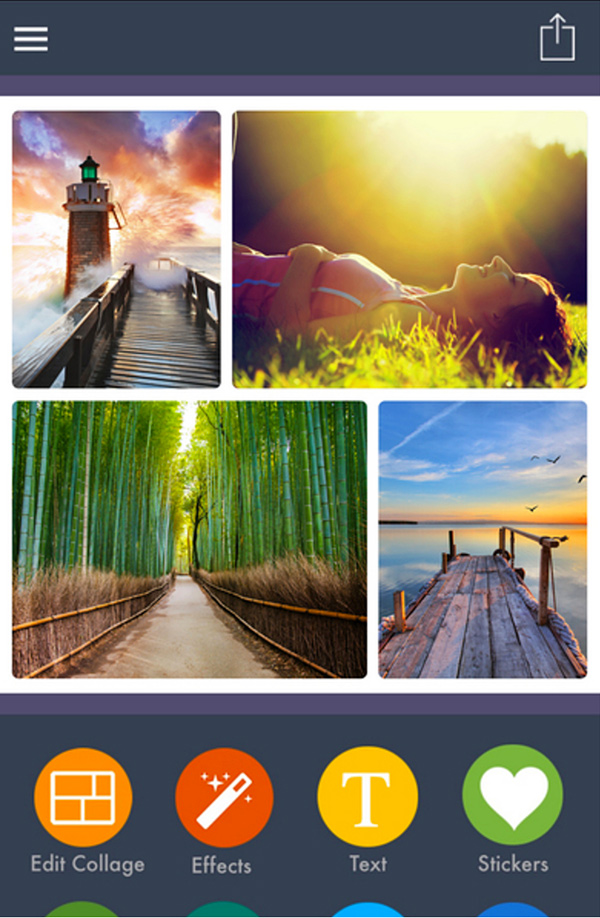 If you ever find yourself at a loss for words or if you don't know how to express your thoughts on social media in a dramatic way, then you need the Word Swag app ($4.99). Available for Android and iOS, it lets you create stylish images for Instagram, Twitter, Facebook, and Tumblr.
You can also use the app to make graphics for your blog, caption photos, or produce announcements and fliers. It includes 48 hand-designed font styles with "more regularly added!" There are also 590,000 free backgrounds from Pixabay and 22 image filters because you can never have too many filter effects for social media. And get this: these aren't templates.
Word Swag generates new designs every time you use it. Memes anyone?
Who's It For: Social media users who need their words to make a splash.
Why I Like It: A clever app for clever people.
Best Photo Editing/Social Media Apps?
VSCO is one of the best image editing or maybe social media apps. It lets you create, discover, and connect on VSCO's online community, thereby merging image and Internet interconnectivity. Like Instagram (I'm @joefarace, by the way), it lets you find and follow friends and people from around the world.
The app has lots of presets designed to emulate classic and modern analog film stock and each filter can be adjusted to suit your taste using editing and adjustment tools for fine-tuning. That's because the app's creators also offer VSCO Film for Lightroom and Adobe Camera Raw with custom camera profiles for Canon, Fuji, Leica, Nikon, Olympus, and Sony cameras. VSCO is free for Android and iOS and includes a basic collection of presets to get started with additional filters available—some free, some with the dreaded in-app purchases.
Who's It For: Anyone looking to add film-like effects to their social media efforts.
Why I Like It: The filters look like they were created by people who actually understand photography.
And then there's the Instagram app itself that despite the presence of political posts, astroturfing, and a plethora of "beautiful people" making kissy-face selfies that are the Instagramiest, seems like a good fit for photographers.
It's free for Android and iOS but not the iPad. Instagram lets you post photos and videos you want to keep on your profile and then edit them with filters. You can also go live to connect with your friends and followers and (my favorite) discover stories, photos, and videos you might like.
Instagram lets you convert images to monochrome but BLACK, an iOS-only app, emulates black-and-white film by using filters. There are presets for films like Agfa APX 400, Fuji Neopan 400 and FP-3000B, Ilford HP5, Kodak Tri-X 400, Lomography Lady Grey 400, Shanghai GP3 100, Tura P400, Paterson Acupan 800, and ORWO N15. OK, I'd never heard of some of the latter either.
The app is intuitive: you swipe left and right to apply different black-and-white filters and it lets you tweak shadows with a Fade tool, control tones and contrast with a Curves tool, and customize and apply vignettes. It's free but the Manual Adjustment tools cost 99 cents.
Who's It For: Smartphone shooters who are monochrome social media fans.
Why I Like It: Gives your Instagram snaps some Cartier-Bresson love.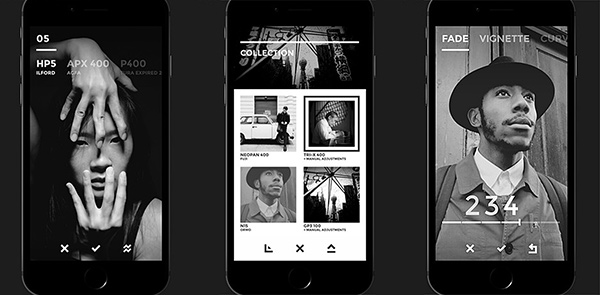 There are always those in the photo world for whom too much is never enough and while the filters built into Instagram have forever changed (distorted?) the way that the average person looks at photography, some people want more. Enter Prisma, a free Android and iOS app that can transform your photos using the styles of famous artists such as Van Gogh, Picasso, or Levitan.
Regular readers of this column already know that I'm not a big fan of selfies but I'm seemingly in the minority and will confess to making the occasional selfie with a real camera. Along comes Photo Cartoon Art & Selfie Cam that, selfies aside, creates the best cartoon-like artwork from a computer or mobile device I've ever found.
The app allows you to create pop art, pencil sketches, and different painting or cartoon movie styles and it's all aimed at selfies. Filters include Modern Art, Animated Film, Cartoon, Pop Art, and for those kissy-face Instagram hotties—Beauty filters.
It's all about the selfies with features like Double Exposure and Glamour Glow layer, Quick Snap, and the ability to blend filters along with an easy-to-use photo editor with Photo Frame and Vignette Blur. There are, as always, some in-app purchases but selfie fans, you know you need this.
Who's It For: Would-be smartphone artistes and selfie-obsessed smartphone users.
Why I Like It: Both apps are lots of fun.
But photographers do not live by filters alone and sometimes you have to do serious imaging. That's where SKRWT ($1.99) for Android and iOS comes in. Instead of special effects it includes perspective correction that lets you correct horizontal and vertical distortion with one swipe. Lots of photographers, especially smartphone shooters, have problems keeping horizon lines level, so SKRWT offers full auto-cropping to fix that.
Most smartphone shooters also seem to miss the fact that they are, in the case of the iPhone 6, shooting with a sensor that measures 4.15x7.21mm with a lens producing the equivalent of 29.92mm. That's why the app has all-purpose lens correction for distortion correction. It includes an EXIF reader that lets you see aperture, shutter, ISO, and more. SKRWT also has a gallery sorting function that lets you arrange your gallery's folders with a pre-import preview that lets you swipe your way through the library, pre-selecting favorites for editing.
Who's It For: While seemingly an oxymoron, serious smartphone shooters.
Why I Like It: Because it acts like real software for real photography.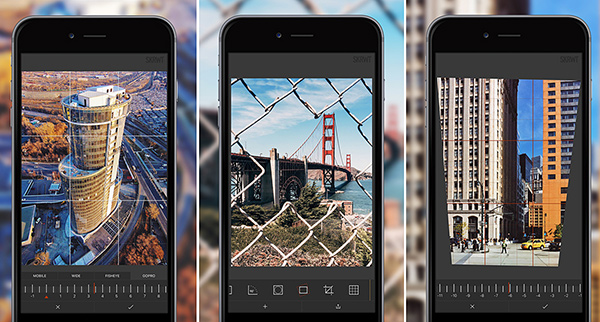 Your Kids, Your Pix, Your Social Media
For a long time people bought a new camera when they started having children. That was certainly true of my friend Aaron and it seems that these days smartphones have replaced the venerable point-and-shoot camera. But if you need something to manage all those kid pix, you'll want Lifecake, which combines social media and photographs. Available for free for Android and iOS, the app lets you save and organize pictures of your children growing up in a timeline that's free from the ads and noise that clutter most social media.
You can skip to select stages and compare different dates and even decide who gets to see your images. You can order a printed album of your photos, which is not a bad idea because of the cloud and all that. While free to download and use for hundreds of photos and an hour of high-quality video, Lifecake offers a VIP option, which lets you store a lifetime of photos and videos in full quality and in unlimited amounts for about $5 a month.
Who's It For: Parents, new parents, and maybe grandparents as well.
Why I Like It: Who doesn't like cute photos of children?
Hootie & the Blowfish
If you're active on more than one social media platform, you know that it takes time—lots of time. Hootsuite is a way to simultaneously interact with multiple social networks and hundreds of apps. It lets you put up to 10 social profiles in one place, schedule posts across multiple networks, and measure results using real-time analytics so you can track data showing what social media is useful and what is a waste of time.
Its publishing feature automatically discovers, schedules, and posts content for you, freeing up more time to engage with clients. As you might imagine, this is not a free app but a service and the basic setup for a single user, like most photographers, is $9.99 a month. They offer other more expensive plans for multiple users but you can try it free for 30 days to see if it works for you.
Who's It For: Photographers looking to control their social media presence instead of social media controlling them.
Why I Like It: It's a big time saver. Why I don't like it: It's another monthly bill, sure it's just $10 but all those 10 bucks add up.
(Having purchased my first personal computer, an Apple II, in the late 1970s, I'm certainly no Luddite. Over time I've used and continue to use both Macintosh and Windows computers but Mary was the first with a smartphone and I've been getting her hand-me-downs, currently an iPhone 5s, ever since. While not on Facebook or YouTube, you can find me on Instagram, Twitter, Tumblr, Pinterest, Vimeo, and my blogs, joefaraceblogs.com and mirrorlessphototips.com. I'm not sure about Elio but I can only wonder what fellow Baltimorean H.L. Mencken would have made of smartphones and social media.)
FEATURED VIDEO