Sarah Silver: Capturing The Art Of Motion
All photos © Sarah Silver
With a client list that includes Abercrombie & Fitch Quarterly, Hasselblad, L'oreal, Marshall Fields & Co., Nokia, and Beauty.com, Sarah Silver has achieved great success for a young photographer. Her images have appeared in Harper's Bazaar, Cosmopolitan, New York Times, InStyle, Elle, Surface and the Italian and French versions of Vogue. In 2003, Silver was chosen to join 12 noted photographers as a Hasselblad Master. A sought-after lecturer and speaker, Silver travels internationally to teach digital imaging. "I'm shooting a lot of beauty and fashion," she explains, "and dance is where I'm coming from."
Rebecca Krohn and Adam Hendrickson from New York City Ballet, 2003.
Her Story
Silver was introduced to photography as a child who posed for her grandfather's camera. "We sometimes did portrait sessions at midnight," she says. Her grandfather also taught her darkroom and touchup work early on--"A great initial education." She adds, "My first studio camera was his Mamiya RZ67," and she did her first major fashion shoot in 2000 with it.

When she entered Vassar College, she was disappointed to discover that they didn't have a photo department, so she took the bull by the horns and began offering photo classes to people herself. "My mother was a French teacher and my father was an engineering professor, so teaching is kind of a rite of passage in my family." She also studied classical and modern dance, which gave her a great appreciation of movement. However, her dancing was not as good as her photography, she admits. "My teacher noticed that I was really struggling." When the dance instructor heard that she did photography, she asked Silver to photograph the dancers instead.
Todd Williams of WilliamsWorks, 2003.
In 1996--97, she did an internship in Israel, which gave her a great opportunity to take pictures. "I was with AP and Reuters photographers," she remembers. "I had access that most people don't get." She also traveled to the Ukraine, South Africa and Egypt. When she returned, Silver graduated with a degree in Middle East studies, and attended the School of Visual Arts in New York to get her Masters Degree in photography. During this time, Surface gave her an assignment to shoot fashion for the magazine's Avant Guardian issue. She used dancers as models, which helped set the tone for her style of shooting "movement fashion." Silver also shot two fashion projects for her graduate thesis, using the Stephen Petronio Dance group in clothing by Prada and Imitation of Christ.

Around 2001, she adapted a totally digital workflow. She's taught workshops at her alma mater, the School of Visual Arts, and travels to countries like China, South Korea, Australia, and Indonesia to do seminars for Sinar. "I've really enjoyed talking to people on a technical basis," she says. She loves lecturing, meeting people and teaching them how to take better pictures. "Photography is really a community," she points out.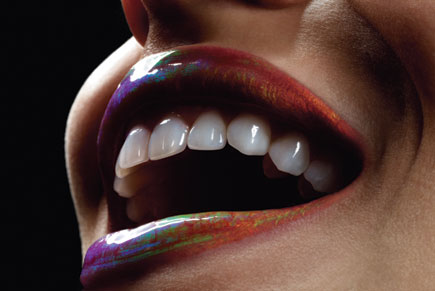 Model Lisa Pomares at ID, 2004.
Framing Motion Images
"I find that with so many variables in movement photography it really helps to narrow down the margin of error. I usually start by finding the movement I want. Then I set the camera up on a tripod in a place that will capture that motion best (the right camera angle, the right distance from the subject and the correct height to compensate for the movement if it's jumping, etc.). The next critical step is focus. You must focus after each shot, and make sure that you're focusing for where they're going, not where they're starting from."
Rebecca Krohn from New York City Ballet, 2003.
After that, she says, she uses her infrared remote release with her Hasselblad and shoots without looking through the viewfinder. "I might be right next to the set--or somewhere else entirely. After each shot, however, we reframe again and refocus."

FEATURED VIDEO