The Profoto Pro-B2 Professional Battery Powered Flash
The new Profoto Pro-B2 is a battery powered flash system designed for the location photographer who demands more power and faster speeds out of a lighting system.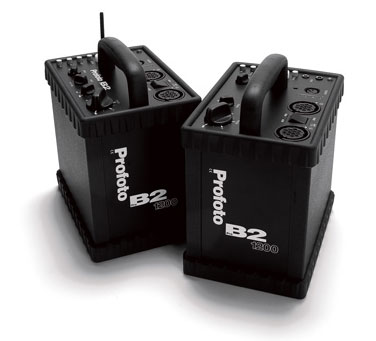 The unit offers fast recycling (0.04--1.8 sec), short flash duration (1/2200 sec at full power), up to 250W modeling lamp (continuous or timer controlled) and a user-friendly Design. A full battery charge yields up to 200 maximum power flashes. The flash energy can be symmetrically or asymmetrically distributed through one or two heads. In addition, the power level is adjustable over 8 f-stops in 1/10 steps. The Pro-B2 accepts all Pro Heads including the ProHead, ProRing, ProTwin as well as the small, portable and lightweight Pro-B Head.

The Pro-B2 is delivered with an integrated 32-channel/4-zone radio receiver for cordless synchronization (triggering). This Digital Wireless Freedom (DWF) makes it possible to have digital radio triggering between light meters, cameras, flash units and PocketWizard transmitters and receivers. With the snap-on Universal Power Adapter, the Pro-B2 can be used as an AC powered studio generator. At the same time, the generator is quickly recharged, loading an empty battery in just 2.5 hours. The adapter accepts a wide range of input voltages: 12--24V or 90--240V. The Profoto Pro-B2 is fully compatible with the entire line of Profoto light shaping accessories.
Contact: www.Profoto-USA.com.

FEATURED VIDEO