Picture This!
Personal Portraits
Our assignment for Picture This! was "Personal Portraits," and readers responded with wonderful images of those near and dear to them. Each image we received held something very special for the photographer and for those of us who viewed them here at the magazine. We wish we could publish many more than space allows. Once again, it proves the point that photography is an incredible medium that allows us to express our creative side as well as capture precious memories that we will treasure for years, and generations to come.
Note:
All images were accompanied by a model release submitted by the photographer.
Pony Ride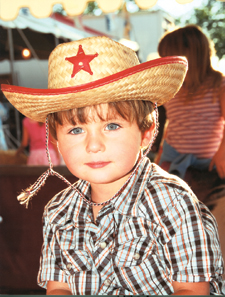 Geoffrey J. Arnold caught this precious moment of his grandson on a pony ride using a Nikon D200 with an 18-200mm VR lens. Exposure was f/8 at 1/100 sec with TTL fill flash.
© 2008, Geoffrey J. Arnold, All Rights Reserved
Expression
Carrie Prewitt wrote: "The expression in his face (her then 5-year-old son) is a perfect illustration of his personality--he is all boy, all mischief, all joyful. One second after this photo was taken he turned around and ran down the tracks." Prewitt worked with a Canon EOS 5D and an EF 24-105mm lens. Exposure was f/4 at 1/320 sec.
© 2008, Carrie Prewitt, All Rights Reserved
Those Eyes!
Grandfather Andrew Stratton made this wonderful photo of granddaughter Bailey Kate with an Olympus EVOLT E-300. Exposure was f/5.2 at 1/25 sec at ISO 100.
© 2008, Andrew Stratton, All Rights Reserved
Flowers
Ken Saunders wrote: "All (the photos) were taken in a makeshift home studio (the kid's playroom) with a couple of strobes and white seamless paper background." Saunders worked with a Nikon D80 and a Tokina 28-70mm f/2.8 lens with lighting by an AlienBees main strobe and Hensel background strobes. Exposure was f/8 at 1/200 sec, with image desaturated (except for flowers) in Elements 4.0.
© 2008, Ken Saunders, All Rights Reserved
At The Roundup
Gary Goatcher wrote: "My son Jonathan and I were in the photographer's box above Gate 15 at the Pendleton Roundup. He turned to ask me if I wanted to switch cameras with him and the afternoon light lit up his face." Exposure on a Canon EOS 10D was f/4 at 1/250 sec.
© 2008, Gary Goatcher, All Rights Reserved
Camera Shy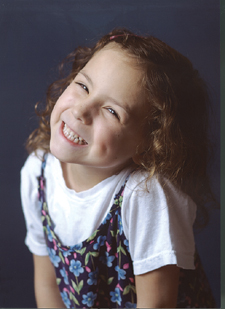 Tony Schountz wrote: "My child Lauren has always been...camera shy. I managed to get her to sit for me by making `play' out of it. I managed to get this shot after about 15 minutes by telling her a funny story." Photo was made with a Canon EOS 30D and an EF 85mm f/1.8 lens; exposure was f/2.2 at 1/200 sec at ISO 200. Lighting was supplied by a Sunpak 26-DX shot through a Softliter II.
© 2008, Tony Schountz, All Rights Reserved
Santa Hat
Richard Maher and his son Spencer had some fun with this Santa hat by stuffing it with some tissue paper. Photographer Maher wrote: "He gave me his best deer (or Santa) in the headlights look." Exposure with a Nikon D70 and a Nikkor 17-55mm f/2.8G lens was f/11 at 1/125 sec.
© 2008, Richard Maher, All Rights Reserved
Easter Card
Photographer Gary Detonnancourt wrote: "This is our 10-month-old Alyssa, which we will use for our Easter cards. My wife found the frilly and colorful skirts online." Detonnancourt worked with a Canon EOS 40D and a Tamron 28-75mm f/2.8 lens; exposure was f/11 at 1/125 sec. Lighting was supplied by two AlienBees strobes, one shot through an umbrella and one silver reflective umbrella fill.
© 2008, Gary Detonnancourt, All Rights Reserved
New Boots
Jolene K. McDowell wrote: "My intention was to take a portrait on an abandoned truck to show off my son Landon's new cowboy boots. After I began shooting his mischievous personality became the focus." Exposure on a Canon EOS Digital Rebel XT and a 17-85mm IS lens was f/11 at 1/200 sec at ISO 400.
© 2008, Jolene K. McDowel, All Rights Reserved
Color Shades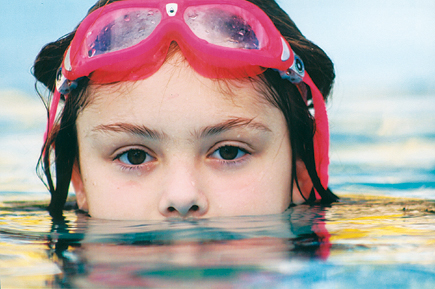 Heather Bleeke wrote: "I love the shades of aqua and fuchsia against my daughter's peachy skin and dark eyes." Bleeke worked with a Canon EOS 30D and a Canon 100-300mm zoom; exposure was f/5.6 at 1/200 sec.
© 2008, Heather Bleeke, All Rights Reserved