Picture This!
Graffiti: On The Wall
Our Picture This! assignment this month was "Graffiti: On the Wall," and we asked readers to submit images that showed the best of a most decidedly urban and exterior art form. What we sought were mural artworks that by definition were mixed media, with the environment forming the canvas and the context often hinting at or defining content. We tried to avoid gang defacements and tagging images unless they seemed to be expressive of the vision of the photographer, and not just adding to the mess. We did concentrate on graffiti that could be seen as adding to the visual and cultural scene.

While photographing others' artwork can be seen as appropriation, it is the context of the work that counts and that can best be shown in a photo, and that guideline steered many of our choices. While the photographer appropriates the muralist's artwork, it is often the only record of works that are soon enough gone due to the wrecking ball, fading, or overpainting by others who work in that genre. Indeed, many of these images are the results of multilayered work by numerous artists. So once again, photography serves as both visual record and historical recorder of scenes and subjects that might be ephemeral in their nature or lost in the rush of change. This month's selections took us 'round the world.
Paint It And They Will Come
Sandra Wittman made this photo of highly mixed media around electric meters on an old apartment building in New Orleans. She wrote: "Someone painted it blue…then the fun began." She photographed with a Canon EOS 30D and a Canon 28-135mm lens with an exposure of f/16 at 1⁄13 sec.
© 2010, Sandra Wittman, All Rights Reserved
Berlin Wall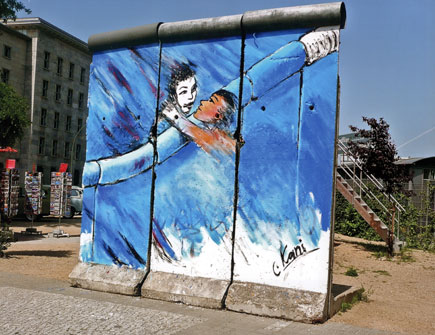 One of the longest graffiti projects in the world is the old Berlin Wall, which made concrete into political canvas. Howard Lipman made this shot of a segment using a Panasonic Lumix DMC-TZ3 with an exposure of f/3.9 at 1⁄640 sec.
© 2010, Howard Lipman, All Rights Reserved
Lovers' Walk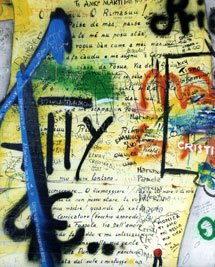 Phyllis Goetz wrote: "The section of the trail (in Cinque Terre, Italy) connecting Riomaggiore and Manarola is known as 'Via dell'Amore.' The walls of this path are inscribed…with colorful outpourings of love and devotion…" This photo was made with a Sony A700 and a Sony 16-105mm lens with an exposure of f/4.5 at 1⁄20 sec at ISO 800.
© 2010, Phyllis Goetz, All Rights Reserved
Mission District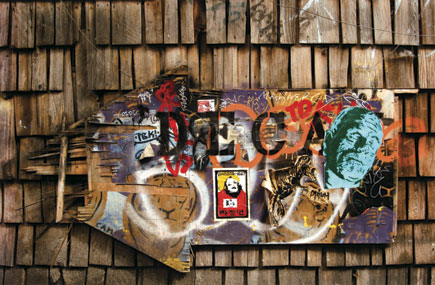 This gallery-worthy mixed media piece was photographed in San Francisco by Steve Greenwood with a Ricoh GX100 with an exposure of f/3.7 at 1⁄125 sec.
© 2010, Steve Greenwood, All Rights Reserved
SoHo Wall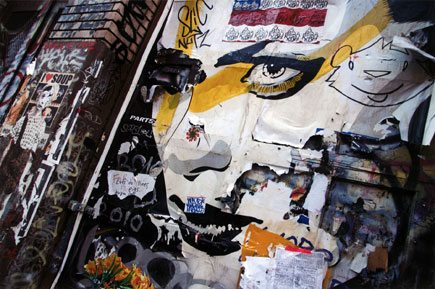 Layer upon layer of posters, paint, and brochures, many torn to reveal what's beneath, contribute to a cultural montage that the framing of the photographer reveals. Neil Hendelman made this photo with a Canon EOS Digital Rebel XTi and a 17mm lens with an exposure of f/7.1 at 1⁄30 sec at ISO 200.
© 2010, Neil Hendelman, All Rights Reserved
Moscow Door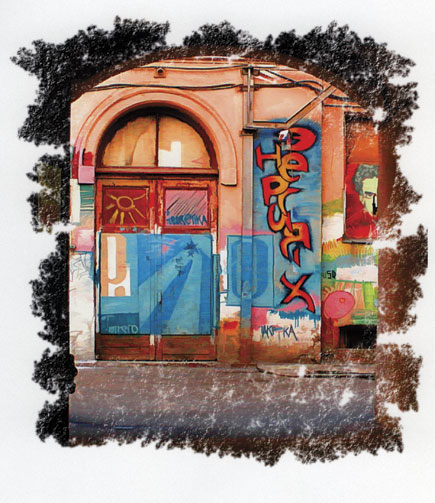 Sign, symbol, and exploded type on a doorway and building in Moscow make for a composition that Harold Bonacquist framed in an unusual and catching way. Exposure with an Olympus C-700 UZ was f/5 at 1⁄30 sec.
© 2010, Harold Bonacquist, All Rights Reserved
Real And Surreal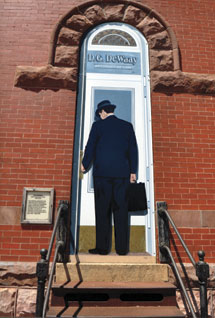 Eva Brown photographed this illusion, made more "real" by the shadow direction in both the railing and painting falling in the same way, in Rock Rapids, Iowa. Exposure with a Nikon D90 and a Nikkor 17-55mm lens was f/9 at 1⁄320 sec.
© 2010, Eva Brown, All Rights Reserved
Graffiti Framed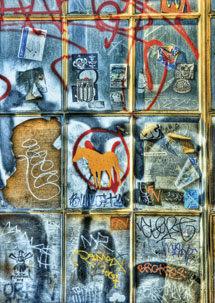 According to photographer Thomas Kirchen, this graffiti from the Mission District in San Francisco is made by artists who are given permission to do so by merchants and landowners in the district, such as this collection of work on a plywood-backed window. To us, each of these framed borders creates a unique work on its own. Kirchen photographed with a Nikon D300 and a 24-85mm lens with a three-shot HDR exposure.
© 2010, Thomas Kirchen, All Rights Reserved
In Chattanooga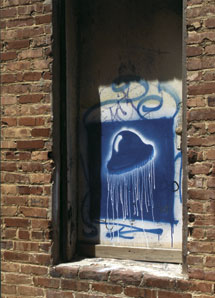 Artists seem to love a frame, and that's where lots of graffiti art seems to reside, such as this scene in Chattanooga, Tennessee, photographed by Raymond J. LaCroix with a Sony Cyber-shot DSC-R1 and a Carl Zeiss Vario-Sonnar T* 14-71.5mm lens with an exposure of f/9 at 1⁄200 sec.
© 2010, Raymond J. LaCroix, All Rights Reserved
5Pointz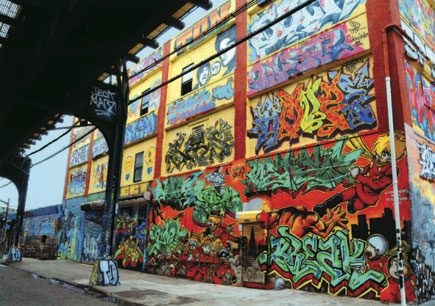 Photographer Steven Malecki wrote: "5Pointz Aerosol Art Center is an outdoor art exhibit space in Long Island City, New York, considered to be the world's premiere graffiti space. Artists from around the globe paint colorful pieces on the walls of a 200,000-square-foot building." Exposure here with a Nikon D300S and an 18-200mm lens was f/22 at 1⁄200 sec at ISO 3200.
© 2010, Steven Malecki, All Rights Reserved
Hearts On A Bridge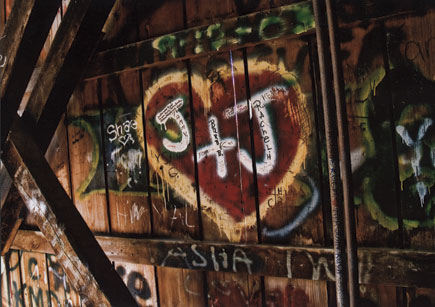 There are times when you regret seeing graffiti, such as inside this covered bridge near Hillsboro, Missouri. Despite our qualms, Nina Elliott made this intense shot of color and light of a hopefully heartfelt scrawl. Exposure not recorded but the shot was made with an Olympus E-3 and a 12-60mm lens.
© 2010, Nina Elliott, All Rights Reserved
Rochester Subway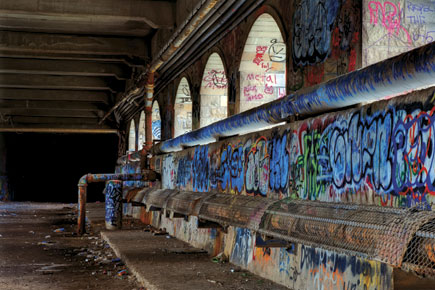 JP Cirre reports that there was a subway in operation in Rochester, New York, from 1927 through 1956 (!) and says now it's home to the homeless as well as graffiti artists. He approaches his work as archeological as he says the city is about to develop the area. His photo was made with a Nikon D90 and a Tamron 17-50mm lens. This is a three-shot HDR.
© 2010, JP Cirre, All Rights Reserved
Graffiti Dock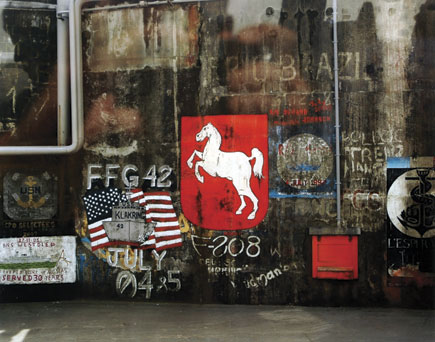 George Olsen tells us that this wall in the Azores is where sailors come to record their arrival and tales of the sea. The salt air has built layers of old and new messages. Exposure with a Nikon D70 and a Nikkor 18-70mm lens was f/15 at 1⁄400 sec.
© 2010, George Olsen, All Rights Reserved
Prague Lennon Wall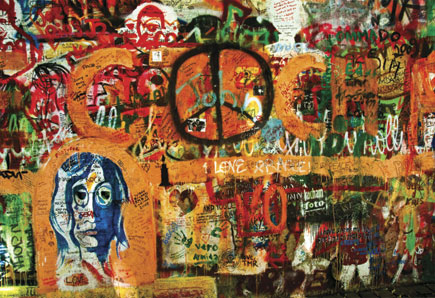 One of the best graffiti walls in the world is the John Lennon wall in Prague. Partially covered in recent floods, it still draws contributors from around the world. Gary Trumbo made this shot of a section using a Nikon D2X and a Nikkor 18-200mm lens. Exposure at f/3.5 was 1⁄90 sec.
© 2010, Gary Trumbo, All Rights Reserved
FEATURED VIDEO