Picture This!
Grab Shots
Our Picture This! assignment this month was "Grab Shots," those pictures that show up when you might least expect them, and that almost force you to grab the shot. Ready-to-shoot, fully automatic exposure and focus cameras make spontaneous picture taking easy--what's not always simple to figure out is why the picture picks you to take it. Readers sent in a wide variety of images, many that seem to be frames awaiting something to enter them, others spur of the moment shots that came up by surprise.
Exit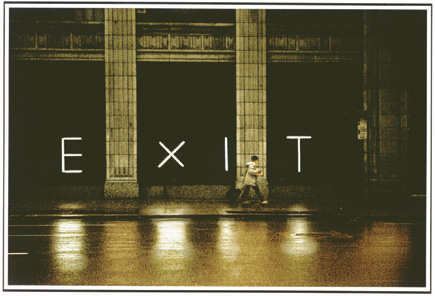 Kevin Lozaw of InnerVision Photography sent us a set of fascinating images that seem to be made somewhere between dream and reality. This photo was made with a Nikon D70 camera and a Nikon 18-70mm lens; exposure was f/4.5 at 1/30 sec.
© 2006, Kevin Lozaw, All Rights Reserved
After The Show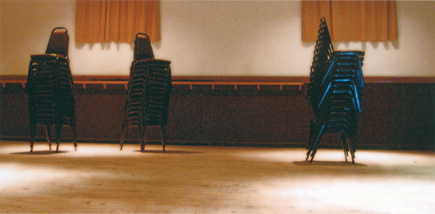 After a concert, Chris Jordan told us he wandered back into the old ballroom and saw this setup awaiting him. He worked with a Sony Cyber-shot DSC-F828 camera at ISO 200; exposure was f/2.2 at 1 second.
© 2006, Chris Jordan, All Rights Reserved
Get Out Of The Way!
Photographer James P. Budrakey, Jr. wrote, "I was just assembling my gear when a pack of bicyclists rushed by me on both sides. By the time I had regained my composure they were a ways down the trail." This autumn on the Erie Canal shot was made with a Canon EOS 20D and Canon EF-S 17-85mm lens; exposure at ISO 400 was f/8 at 1/200 sec.
© 2006, James P. Budrakey, Jr., All Rights Reserved
A Different Kind Of Friendship
Linda Wunner caught this dog meet and greet with a Canon EOS Digital Rebel with an exposure of f/7.1 at 1/125 sec at an ISO of 100.
© 2006, Linda Wunner, All Rights Reserved
Contemplation
Judd B. Fink caught this poignant moment of memorial with a Canon EOS Digital Rebel XT and Canon EF-S 18-55mm lens at an ISO of 400 and exposure of f/11 at 1/320 sec.
© 2006, Judd B. Fink, All Rights Reserved
"Security"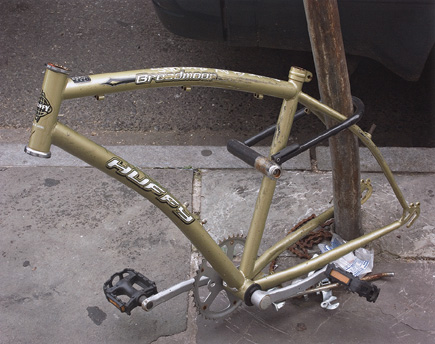 Well, the lock held the frame, at least. Bob Jones made this shot with a Konica Minolta DiMAGE A2 camera and 28-200mm lens with an exposure of f/8 at 1/50 sec.
© 2006, Bob Jones, All Rights Reserved
Watch Dog
This observant pooch is perfectly framed in this shot by Mitch Spence. He shot with a Nikon D100 and Sigma 28-300mm lens; exposure was f/13 at 1/180 sec with the camera set at ISO 400.
© 2006, Mitch Spence, All Rights Reserved
Rainbow On The Beach
This serendipitous image was made by Cal Mackenzie while walking down the beach in Zanzibar. He photographed with a Canon EOS D60 and Canon 28-135mm lens; exposure was f/6.3 at 1/160 sec.
© 2006, Cal Mackenzie, All Rights Reserved
Shark Watching
Edmond DiRenna caught the reaction of these shark watchers at the Sydney Aquarium with a Canon Sure Shot Z90W camera loaded with Kodak Gold 200 film.
© 2006, Edmond DiRenna, All Rights Reserved
FDR Memorial
The statue of the dog caught the attention of this young boy, and of Nancy-Jo Feinberg. She grabbed the moment with a Canon EOS 20D and 17-85mm lens; exposure was f/7.1 at 1/100 sec.
© 2006, Nancy-Jo Feinberg, All Rights Reserved
FEATURED VIDEO