Photo Bags You Can Take Everywhere: Our Favorite Compact Camera Cases for Planes, Bikes, & Automobiles
Shoes come in all colors, styles, and configurations. Some are ideal for the beach, others are only for formal wear, and still others shelter feet when it rains. Think of photo bags in the same way, only more so. You don't have to select a photo bag to match your outfit, but you do need different carrying solutions depending on your activity.
Here are five activities that call for photo bags with different characteristics: urban hiking, casual biking, auto travel, air travel, and excursions into wet environments. These are things that all of us do to one degree or another. And each can be made more enjoyable by carrying the right camera bag.
Urban Hiking
Sometimes called "street shooting," this type of excursion might involve one or two camera bodies and a bag full of lenses—an inconspicuous bag, that is. My bag of choice is the Think Tank TurnStyle 20. It's a one-shoulder sling bag with moveable dividers and it comfortably holds my Nikon D800 with a Tamron 70-200mm f/2.8 attached, an iPad or similar tablet, and numerous small items. When I'm working with my Fujifilm X-Pro1 system instead, there's room for a second body and five prime lenses. Although there is a small Think Tank logo on the front, this bag does not scream "cameras inside!" like so many other bags do.
On days when a sling bag won't do, my bag of choice is another Think Tank model—the Retrospective 7. It accommodates a detached 70-200mm f/2.8 and even my 11-inch MacBook Air—an important bonus. It comes with a generous supply of moveable internal dividers and a strong strap with a slip-proof pad. The overall configuration of the photo bag does little to attract unnecessary attention.
Casual Biking
For rolling along I use two bags simultaneously. I'm definitely not a serious cyclist—I've never been near Spandex (at least not from the inside) and I've never attempted a 100-mile bike trek. On my belt I wear a Manfrotto Stile Nano pouch. They come in various sizes, all small and all very comfortable. I have one that holds my Canon PowerShot S110 and a slightly larger one that easily fits my Fujifilm X10. The front flap is secured by not one but two large hook-and-eye tabs and covers a full-width pocket that can hold the X10's lens hood. Most belt pouches are simply too small to stow a compact camera's strap, but the Manfrotto Stile Nano series does so easily.
In addition to the belt load, I recently started carrying a Domke Crosstown Courier shoulder bag. It's one of the "Next Generation" designs from Domke and is based on my longtime favorite, the simple but uber-functional F-5XB. Like the proverbial clown car, this bag holds far more than seems reasonable, and if that's not enough, it comes with two removable pouches that securely fasten to either end. To be frank, I wasn't sure it would be worth the surcharge as compared to its predecessor, the venerable F-5XB. But it is an awesome bag, and the end pouches provide additional valuable storage space.
Keeping Gear Dry
If you're like me, you probably try to avoid wet environments as much as possible. That's just it—because we avoid them, we might be unsure how to cope with them. The Lowepro DryZone Backpack 40L has an IPX6 rating. Specifically that means that when properly closed, it provides complete protection against dust ingress and moisture even when hit directly by powerful water jets from all directions. IPX stands for International Protection Marking. IPX4 signifies "splashproof." IPX6 suggests Niagara Falls. Inside there's a pullout padded gear organizer that could almost double as a bag by itself. Bravo Lowepro.
More convenient to use is the Lowepro DryZone 200, the granddaddy of all waterproof photo backpacks. It fits a pro-size DSLR and a half dozen lenses, including a 300mm f/2.8. Built more like a traditional backpack than the 40L, it features a disappearing tripod holder and a fully customizable set of interior dividers. Even if you don't plan to get caught in a downpour, a bag like this is like an insurance policy—you don't need it until you need it.
Motoring
There are two places in my car for cameras. In the back I pack a Tamrac Ultra Pro 13 so full that I'm glad it stays in the trunk instead of on my shoulder. Previously I used a Tamrac Super Pro 14 for the same purpose, but switched to the newer Ultra Pro because its slightly slimmer profile allows it to slip behind the passenger seat when necessary. It also provides easy access to my notebook computer.
Between the front seat and the firewall I stuff a Mountainsmith Hobo FX. It's a compact shoulder bag that holds a medium DSLR and an extra lens, plus cased lenses, water bottles, or other items in drawstring pouches on either end. It keeps my camera within arm's length at all times, and I can quickly grab the whole works when exiting the car if necessary. While it's not my favorite bag for shoulder carry, it's not bad either.
When I stress-tested the prototype several months ago, I loaded it down with 10 legacy OM-1 lenses. The bag is well made, holds a lot, and is very light when empty.
Cameras On The Plane
Travel by airplane has become so fraught with TSA regulations and amateur traveler congestion that selecting the right bag can be a real challenge. Be aware that the de facto size limitation for carry-on bags is usually 45 linear inches determined by adding length plus height plus width. The typical accepted size is 22x14x9 inches but don't count on it, particularly if your flight is international. And there's always a chance that you'll be limited to one carry-on plus one personal item (e.g., briefcase or purse). I meet these challenges with a two-pronged solution from Tenba.
The Tenba Discovery shoulder bag meets size regulations, fits under the seat in front without punishing my feet, and provides excellent protection for an adequate amount of equipment. For my laptop computer, business papers, and the like, I carry a Tenba Messenger photo/laptop bag. In fact, I have been carrying this bag for general purposes for nearly seven years now. It's an excellent briefcase and features handsome cosmetic styling. I like the fact that when passing through airport security I can quickly unzip the full-length zipper on top and remove my computer without opening the bag in the conventional way.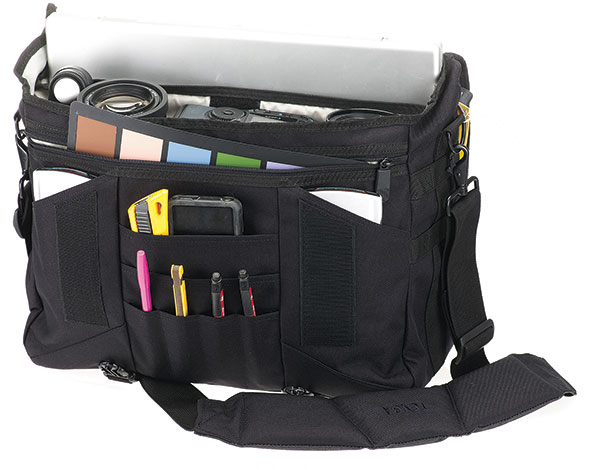 Are there other bags that work as well as the ones listed here? Of course! That's why that ice cream joint has 31 flavors. You might pick up some canvas reject at the Army-Navy Surplus store that fulfills your every need. There are as many possible combinations as there are photographers—and that's just one of the reasons why photography is such a great hobby.
Sources
Lowepro: www.lowepro.com
MAC Group (Tenba): www.macgroupus.com
Manfrotto Distribution (Manfrotto): www.manfrottodistribution.us
Mountainsmith: www.mountainsmith.com
Tamrac: www.tamrac.com
Tenba: www.tenba.com
Think Tank Photo: www.thinktankphoto.com
Tiffen (Domke): www.tiffen.com
FEATURED VIDEO