Memory Card Update: Today's High-Tech Accessories Meet And Exceed Capacity And Speed Demands
The performance parameters of today's cameras are flat-out astonishing. Many current entry-level and middle-tier D-SLRs provide image sensors with resolutions ranging from 12-18 megapixels (MP), burst rates of 5-7 fps, and full 1080p HD video capability. Sophisticated digital point-and-shoots are not far behind, with 10-14MP sensors, 720p or 1080p HD video, and respectable burst rates in the 3-5 fps range. Needless to say, pro and prosumer D-SLRs often exceed even these incredible specs, with sensors in the 20-25MP range, blistering burst rates up to 10 fps, deep buffers, and phenomenally rapid image processing software. Not surprisingly, flash memory manufacturers have responded with a veritable explosion of high-capacity, high-speed memory cards with incredible write speeds and an array of enhancements aimed at increasing reliability and security.
Memory card makers, including SanDisk, Lexar, PNY, Kingston, Sony, Panasonic, Delkin, Hoodman, Eye-Fi, Promaster, and others, are engaged in a ferocious battle to provide memory cards with greater storage capacity, write speed, and reliability than anybody dreamed possible just a year or two ago. Just as important, savvy shooters now realize that such cards are must-have items that can spell the difference between capturing a blazing high-speed sequence or extended HD video clip in all its glory or truncating it unexpectedly with missed frames or video dropouts. To bring you up to speed on this rapidly evolving technology, we've gathered the pertinent facts about high-speed, high-capacity memory cards.
Storage Capacity
The storage capacity of a memory card is given in gigabytes (GB) and the number in front of the GB is what determines the number of images (or the recording time of video files) the card can hold before the dreaded "Card Full" message flashes on the LCD. For example, since 1GB equals 1000 megabytes (MB), if you shoot Raw files of around 24.5MB size each with an 18MP D-SLR you can store about 650 full-res images on a 16GB card. The higher resolution (MP) ratings of today's digital cameras in all classes (including camcorders) are the reason why 16GB is now considered the threshold of "high capacity" and 32GB, 64GB, 128GB, and even larger-capacity cards are now very popular with pros and serious enthusiasts.
It's also an underlying factor that has ignited the memory card speed race—because the more capacity you've got, the more important a higher throughput rate becomes, especially if you want to shoot extended bursts of Raw+JPEG images at 5 fps and faster, or record longer 1080p HD video clips without the camera shutting down, dropping out frames, corrupting the files, or taking forever to display them. Of course, the camera itself, and its buffer, must be able to take advantage of super-speed cards, but in general, camera technology is busy keeping pace with card technology—all the more reason to opt for the latest cameras along with the high-capacity, high-speed, high-margin cards for which they're designed.
SD Speed Class Ratings
The Speed Class Rating of Secure Digital (SD) cards, the official basic unit of speed measurement defined by the SD Association, is defined as 8 megabits per second (Mbit/sec), which is equivalent to 1MB per second (MB/sec), and all minimum write speeds are "based on the best fragmented state where no memory unit is occupied." Since 8 megabits equals 1MB, a Class 2 card is rated at 16 Mbit/sec, or a throughput rate of 2MB/sec; Class 4 cards can record at up to 4MB/sec, Class 6, to 6MB/sec, and the current Class 10 to 10MB/sec.
The SD Association has recently announced a new UHS Speed Class 1 designed for a UHS (Ultra High Speed) bus interface, the fastest performance category currently available with possible bus-interface speeds up to an incredible 312MB/sec, for greater performance with host SDHC, SDXC cards. Please note that the aforementioned numerical speed classes are not interchangeable, and not all products (including card readers and cameras) are compatible. Always pay close attention to the units specified, since a megabit speed rating may seem faster than it really is.
While the Speed Class Ratings listed by manufacturers are important, they aren't generally verified by independent tests, so they may not always be attainable in devices that require sustained write throughput, such as video camcorders or full-frame D-SLRs capturing Raw+JPEG images at high burst rates. If the actual write speed falls below the speed required by, say, a camcorder or a D-SLR used in HD video mode, the recording could suffer dropouts or corrupted video. The good news is that in many cases the camera will warn the user if an inappropriate card is inserted or if the card's reported rate falls below the application's requirements. Obviously, one way to obviate potential problems like this is to buy a card having a higher speed rating than the minimum required—more expensive, but well worth it for critical applications.
X Ratings
Before there were Speed Class Ratings there were numerical X Ratings, still the most common system used for CompactFlash (CF) cards and also used by some brands of SD cards. Basically 1x is equivalent to 1.2 Mbit/sec, the same speed as a standard CD-ROM drive. This is equivalent to a throughput rate of 155 kilobits per second (Kb/sec). It follows that a 100x card would have a theoretical maximum throughput rate of about 15MB/sec and a 133x card would have a rate of 20MB/sec. The latest Ultra class or Extreme Pro CF cards now on the market can save data at the impressive rate of 100MB/sec. They often carry a UMDA rating, an acronym that stands for Ultra Direct Memory Access. For example, the latest SanDisk Extreme Pro CF card has a 100MB/sec maximum throughput rate and is labeled UDMA-7.
To convert a numerical X Rating into MB/sec, just multiply the rated speed number by 155,000 and convert the result to megabytes by moving the decimal point six places to the left. If you think 90MB/sec is fast, consider that one of the new SDXC cards is rated at 625x. That works out to a blistering 97MB/sec, and it gets better! Of course, everything from the cameras to the processors to the card readers, data transfer protocols, and maybe even the internal computer RAM may have to be updated to handle this amount of data at warp speeds, and Wi-Fi may have to be upgraded as well.
SDXC
The Secure Digital Extended Capacity (SDXC) format was launched in January 2009 and its maximum capacity is defined as 2TB (that's terabytes!), equivalent to 2048GB. Older Secure Digital High Capacity (SDHC) cards have a similar theoretical capacity but it's limited to 32GB by the SD 2.0 specification. The initial run of SDXC cards adheres to the SD 3.0 standard that still specifies the FAT32 file system. That limits its capacity and speed to a mere 104GB/sec. Some of the latest SDXC and SDHC cards conform to the SD UHS-1 protocol that uses the exFAT (Extended File Allocation Table) file system that has the inherent capacity to attain read/write speeds up to 312MB/sec. Most newly released D-SLRs and many point-and-shoots support SDXC memory cards.
Whatever you do, don't format an SDXC card in a non-SDXC device such as a computer. Once an SDXC card has been improperly formatted in a non-compatible device, essentially it is no longer an SDXC card and that indeed is a problem if you just shelled out a couple of hundred bucks or more for it. Early adopters beware! Fortunately, SDXC devices are backward compatible with SD and SDHC memory cards, but the reverse is definitely not the case.
A Card Sampler
Now that you have an overview of what's up in memory card land, here's a quick rundown on some of the coolest high-capacity, high-speed memory cards that have recently been introduced by top companies in the field:
Delkin (delkin.com) Elite 633 SDHC Cards: Configured to the latest UHS-1 spec, claimed to more than triple the speed of the previous Class 10, they provide transfer speeds up to 95MB/sec and write speeds to 80MB/sec using a UHS bus interface. When paired with UHS-enabled equipment such as the Nikon D7000 or Canon T3i, real-time broadcasting and simultaneous recording become available. MSRP: 8GB, $139.99; 16GB, $249.99; 32GB, $439.99.
Delkin also unveiled a new USB 3.0 Universal Memory Card Reader that boasts transfer speeds of up to 5GB/sec maximum with approximate actual average speeds of 3.2GB/sec or 400MB/sec, over 12 times faster than comparable USB 2.0 devices. Five slots provide compatibility for most cards, including CF, SDXC, Memory Stick, and xD, and the driver-free design works with Windows 7, Vista, XP, ME, and 2000 Operating Systems. MSRP: $39.99.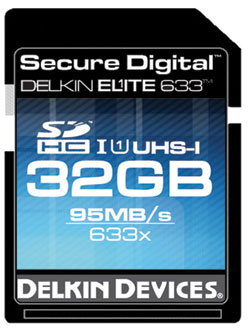 Eye-Fi (www.eye.fi) Mobile X2 Card: This 8GB Class 6 card has a read/write speed of 6MB/sec, Raw uploads, Endless Memory Mode, Geotagging, and of course direct upload via Wi-Fi networks when used with Wi-Fi-enabled cameras. Direct Mode combines the new technology in the card with a free Eye-Fi mobile app that's available for iOS and Android devices and tablets. As soon as your photos are uploaded, Eye-Fi makes room on your memory card—even if you're out of Wi-Fi range. MSRP: $79.99.
Hoodman (www.hoodmanusa.com) RAW STEEL SDHC Cards: Employing "chip on board" technology to miniaturize the internal SD card components so the card casing can be thicker and more robust, these ruggedized waterproof, steel-clad cards are claimed to be virtually indestructible. They're also fast at 200x, well above Class 10 specs, are said to be super-reliable, and they're made in the US. MSRP: 4GB, $49.99; 8GB, $69.99; 16GB, $119.99; 32GB, $209.99.
Kingston (www.kingston.com) SDHC UHS-1 UltimateXX Cards: With data transfer rates of up to 60MB/sec read (equivalent to 233x) and up to 35MB/sec write speeds, the cards are compliant with the SD Association UHS-1 spec for optimized performance with UHS-1-compatible devices, but they are also backward compatible with Class 4, 6, and 10 equipment. MSRP: 8GB, $69.99; 16GB, $179.99; 32GB, $349.99.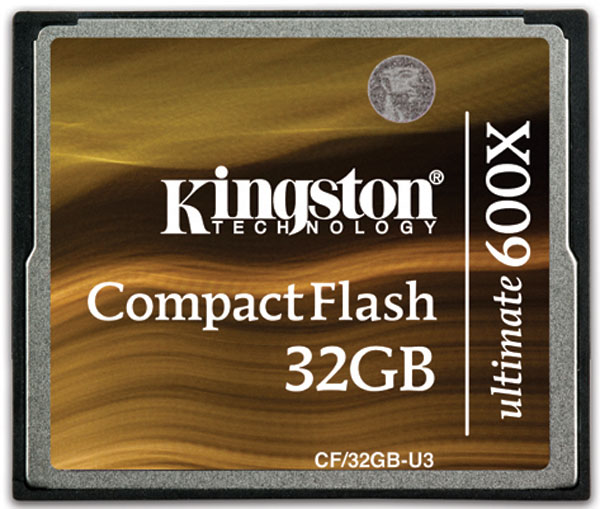 Kingston CF Ultimate 600x Cards: With read/writespeeds of 90MB/sec, these UDMA-6 class cards complement the performance parameters of high-res camera shooting of large Raw files and HD video. For added peace of mind, they include free downloadable data recovery software from MediaRECOVER, and have an auto-sleep mode to conserve battery power. MSRP: 16GB, $154; 32GB, $270.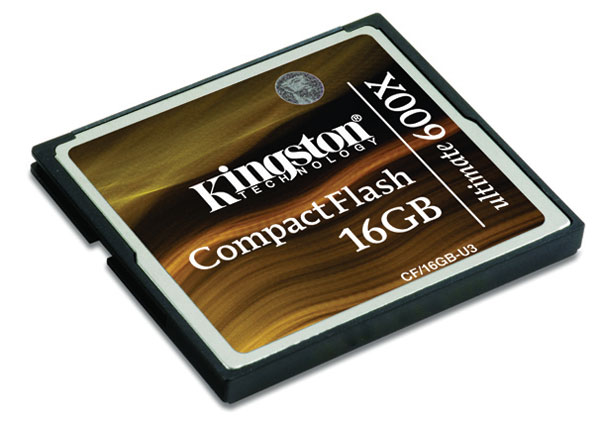 Lexar (www.lexar.com) Professional SDXC Cards: These 133x Class 10 cards deliver write speeds of 20MB/sec and come in class-leading 128GB and 64GB capacities for maximum data acquisition, and come with Image Rescue software to recover lost or deleted data. They're aimed at power users of high-end D-SLR cameras. MSRP: 64GB, $199.99; 128GB, $329.99.
Lexar Multi-Card 24-in-1 USB Card Reader: This USB 2.0 plug-and-play, one-push, pop-open card reader is equipped with status LEDs to indicate your progress, supports two dozen of the most popular cards, and enables concurrent downloads and card-to-card file transfer. MSRP: $35.99.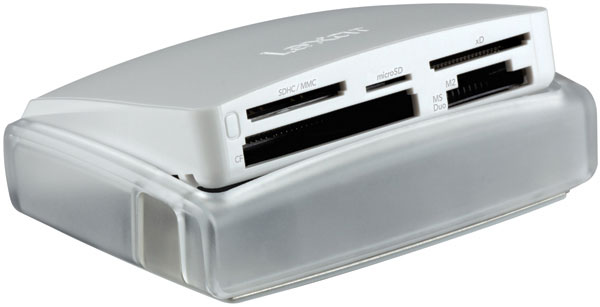 Panasonic (www.panasonic.com) "Gold Pro" SDHC UHS-I Memory Cards: With read and write speeds of up to 95MB/sec and 80MB/sec respectively, these new cards just won a TIPA Award in Europe. They're said to be ideal for shooting high-speed Raw+JPEG bursts and HD-quality video with D-SLRs. A Super Intelligent Controller (SICS) provides Power Failure Protection to protect data from sudden power failure while Smart Data Writing minimizes defect risks caused by intensive writing. They are also equipped with "Proof 5" protection (water-, shock-, magnet-, X-ray-, temperature-proof) to withstand severe conditions. The cards are available in 8GB, 16GB, and 32GB capacities in Asia and Europe but are not currently sold in the US. Prices: TBA.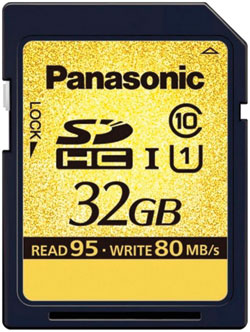 PNY (www.pny.com) High Speed SDHC Card: Offering Class 10 performance with read/write speeds up to 20MB/sec, an operating range from -13˚F to 185˚F, shock protection, and an internal RTV silicone coating to protect against moisture and humidity, they're available in capacities from 4GB to 32GB. MSRP: 4GB, $17.99; 8GB, $34.99; 16GB, $49.99; 32GB, $69.99. PNY also offers Class 10 Micro SDHC cards in capacities ranging from 8GB to 32GB. MSRP: $19.99 to $69.99.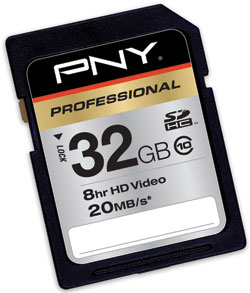 Promaster (www.promaster.com) UltraMax Premium AWXC CF Memory Cards: Designed to withstand weather extremes and rough handling, these fast 625x cards deliver a data transfer rate of 97MB/sec, are shockproof and waterproof, will operate in extreme temperatures, and are made in the US. MSRP: 4GB, $139.95; 8GB, $169.95; 16GB, $334.95; 32GB, $549.95. Promaster also offers ruggedized, weatherproof Class 10 SDHC cards with a minimum transfer rate of 10MB/sec in 4GB to 32GB capacities. MSRP: $79.95 to $389.95.
SanDisk (www.sandisk.com) Extreme Pro SDHC UHS-1 Cards: Manufactured to SD 3.0 specs, the cards have a UHS-1 speed rating and provide a read/write speed up to 45MB/sec and a proprietary Power Core Controller to distribute data rapidly and efficiently to boost long-term reliability. They also deliver a minimum sustained write speed of 10MB/sec for recording 1080p HD video and 3D content. The cards achieve their full performance potential with UHS-1-enabled cameras such as the Nikon D7000 and Canon T3i. The cards are available in capacities ranging from 8GB to 32GB. MSRP: $100.99 to $299.99.
SanDisk Extreme Pro CF Card: Claimed to be the world's fastest high-capacity CF card, it has a UDMA-7 interface and provides read/write speeds of up to 100MB/sec, enabling shorter wait times and faster continuous bursts, plus full HD video at a sustained 20MB/sec. The 128GB capacity offers sufficient room for Raw+JPEG images, sequential bursts, and full HD and 3D content. Like the Extreme Pro SDHC card, it uses proprietary Power Core technology. MSRP: $1499.99.
Sony (www.sonystyle.com) Memory Stick PRO-HG Duo HX: Sony's highest performance memory media offers data transfer speeds up to 50MB/sec, and features an intelligent flash memory controller which enhances data transfer efficiency by increasing the frequency of the internal data processing clock. It also includes AVCHD Memory Card File Rescue software as a free download. MSRP: 8GB, $44.99; 16GB, $79.99; 32GB, $149.99.
Sony SDHC Class 10 Memory Cards: With a transfer rate of 22MB/sec, these are the fastest SD cards available from Sony, and they're optimized for high data-transfer applications like high-speed burst in Raw+JPEG mode and full 1080p HD video. They're available in capacities ranging from 8GB to 32GB. MSRP: 8GB, $49.99; 16GB, $89.99; 32GB, $159.99.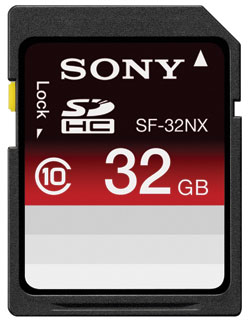 FEATURED VIDEO