Macphun's New Snapselect App Lets You Quickly Sort Good Photos from Bad Ones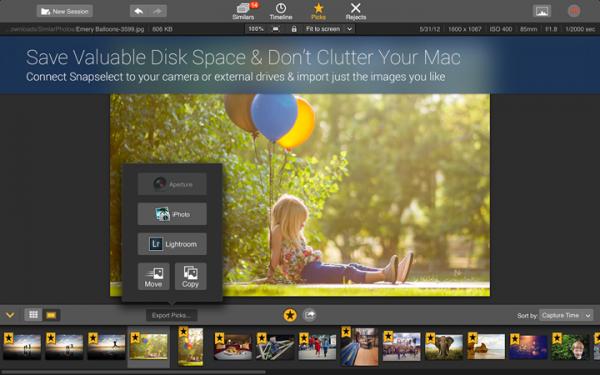 Macphun Software has launched Snapselect, a new app that helps you quickly pick your best images and easily get rid of unwanted shots to save valuable disk space on your computer. (If the name Macphun sounds familiar, it's because they're the company behind the Tonality Pro black-and-white converison software we reviewed in September.)
Whether you use iPhoto, Aperture or Lightroom to manage images (or keep your photos in folders) Snapselect is designed to let you trim your photo library to just the best shots you know you want. Snapselect is an easy-to-use app that's designed for the casual photographer to manage images of birthdays, special events and vacations. But it can also be used by more serious photographers looking to quickly grab the best few images from a shoot, or it can also help to manage expansive photo libraries.
Import photos from your photos folder, library or external drive, and Snapselect will use patented image recognition technology to automatically group similar images and duplicates (and sort the photos by the time they were taken). You can browse through the images, compare one photo to another, separate bad ones from great shots and instantly export the best images to a custom folder, library and popular image-editing apps, or share them on Facebook, Twitter or other social networks.
Features:
• Fast image browser with multiple viewing options
• Intuitive operation and keyboard shortcuts to quickly select the best photos and reject unwanted ones
• View images from an SD card, external hard disk, folders on your computer or from catalogs stored in iPhoto, Aperture or Lightroom
• Supports all popular image formats, including Raw, DNG, JPG, TIFF, PNG and more
• Intelligent algorithms sort and select duplicates based on image analysis, time range, colors and more
• Visual histogram and image data
• Export or copy the best photos to any location
• Image path readout with "Show in Finder" function lets you find the original photos fast
• Single-click to edit in Macphun Apps
• Easy image sharing to popular social networks and photo communities
• Retina-ready and Mac OS X Yosemite compatible; runs great on Maverick
Snapselect is available now as an electronic download from the Mac App Store. As a limited time special offer exclusively on the Mac App Store, Snapselect is available for just $14.99 (normal retail price is $24.99).
More info on Macphun's Snapselect here. You can also check out a video demo of Snapselect below.
FEATURED VIDEO