Is The iPad An Essential Tool For Photographers? Apps Help Fill Needs And Gaps
No question about it, the iPad was one of the coolest products launched in 2010, or any other year. The truth of that statement lies in the gazillions of units Apple has sold (over one million a month). But is the iPad a must-have for photographers, or just another tech gizmo?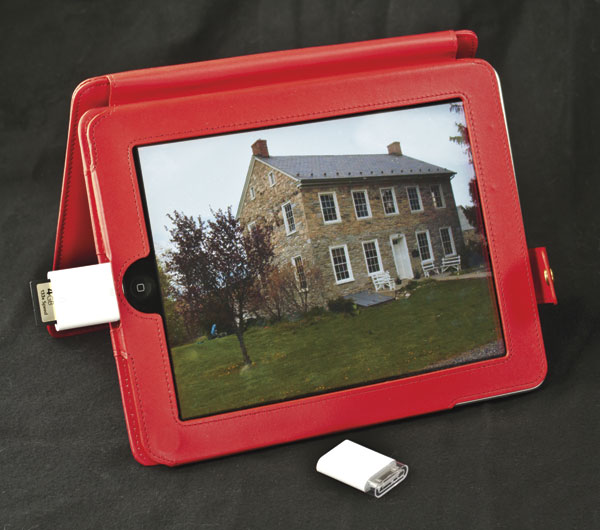 The answer is a mixture of yes, it's essential; no, it's not; and maybe, depending on your need for what it affords.
Whether by accident or intention, Apple's iPad is almost the same size and shape as an old-fashioned child's slate. Its somewhat awkward size makes the iPad just a little too large to slip into a back pocket or typical purse, though it does fit very nicely into most camera bags and small backpacks. The iPad is surprisingly heavy, just a shade lighter than a Canon EOS Rebel T2i D-SLR with an attached 18-55mm lens. You'll begin to feel the weight after you've lugged your iPad around for an hour or two.
What draws photographers to the iPad most is that gorgeous, bright 24-bit, high-resolution (1024x768) glass touchscreen, which seems to be tailor-made for showing off your pictures. (It's also what gives the device its heft and substance.) Besides, it's fun to flick through images with the swipe of a finger, or instantly enlarge a particular picture with the now familiar two-finger iSpread.
However, the screen does have problems. While the iPad is great for displaying your photos in normal or subdued light (as long as you frequently wipe your fingerprints off), it's almost impossible to see or read in sunlight. What's more, its surface is highly reflective. So, in bright environments (including well-lit offices), you might find yourself angling it to keep ceiling fixtures and background objects from appearing on top of your pictures. The glass screen is fragile, too, and can easily shatter if mishandled or dropped. We strongly recommend covering your iPad with an optional neoprene skin or leather case.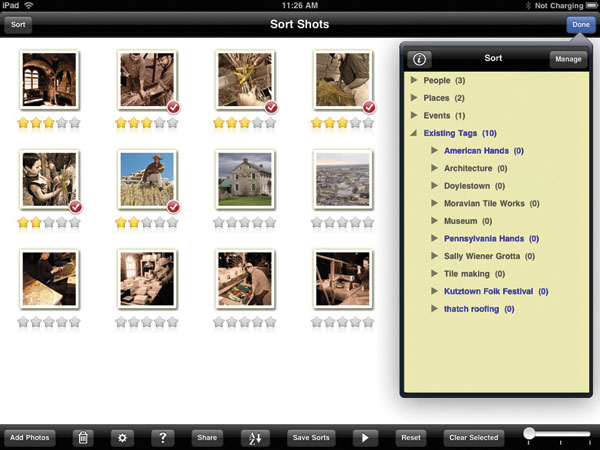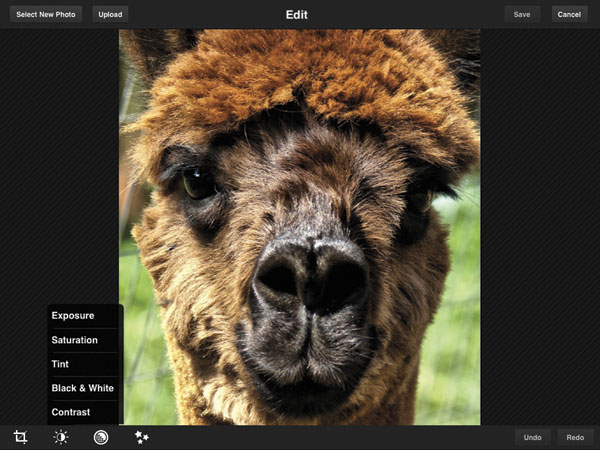 But the biggest problem with that beautiful touchscreen is that, at present, no solution exists to color calibrate it. So, if you plan to use the iPad for on-the-go editing, you'll want to avoid doing any exposure, tonality, or color-related edits until you get home to your properly color-managed system.
Being an Apple device, the iPad itself is a model of simplicity and ease of use. Aside from a wake-up/main menu button on the front, the only other physical controls are a small power button on the side, and an even smaller slide switch that locks in a portrait or landscape display mode. Of course, if you're going to use the iPad as a portfolio viewer, you'll want to keep that small switch unlocked. That way, no matter how a person holds your iPad, your pictures will orient themselves correctly.
Apparently, Apple purposely crippled the USB port so they can sell you a separate $29 iPad Camera Connection Kit. In other words, you can't use the USB port, as you do on just about every other device you own, to connect your camera or a memory card reader and directly upload your pictures. Not even an iPhone will physically connect to an iPad without the kit. Nor does the iPad have a memory card slot, so your memory capacity is permanently restricted to how much built-in RAM came with the machine at the time of purchase.
Using the iPad Camera Connection Kit involves simply plugging the dongle that you need (the SD reader or the USB connector) into the iPad's port. Thumbnails of your pictures will automatically display in iPad's native Photo app. Touch those you want to import (or select All) and then tap Import. If you are dealing with a good number of large megapixel images, now would be a good time to go brew a mug of tea. When it is finished, you have the choice: Delete or Keep the imported pictures from the attached camera (even when it's really a memory card). Your options (beyond using your photos in various apps you might have installed) are to view a slide show of your photos, e-mail a picture, set it as your wallpaper, copy it, or delete it.
In our tests, we found that iPad Photo stripped metadata from our photos when e-mailing them. In addition, when we selected an image that was shot at JPEG+Raw, it automatically e-mailed only the JPEG version. Depending on what model you purchased, your iPad will come with between 16GB and 64GB of memory; memory is not expandable. So, you'll likely want to off-load images on a regular basis to keep space available for new ones.
All models are also Bluetooth-enabled, and can easily couple with an optional physical keyboard and other accessories and functions, such as wireless remote shooting (if you have onOne's DSLR Camera Remote app). While it has no built-in direct printing capability, printer manufacturers and third-party developers are lining up to fill that app gap. The non-removable battery is good for about 10 hours use on a single charge.
FEATURED VIDEO