Is The iPad An Essential Tool For Photographers? Apps Help Fill Needs And Gaps Page 2
App City
Not surprisingly, a veritable avalanche of photo-related iPad apps are available, with new and interesting ones (and, alas, a good number of duds) released with alarming frequency. Unfortunately, the iTunes Store's Search is imprecise and difficult to use to zero in on pro-level photo tools. For that reason, a number of users find that they pay for and download many more apps than they will ever use. While most are quite inexpensive or free, unwanted $4.99 or $15.99 apps can add up, and the iTunes Store has no return policy. They also hog and hold onto some of your precious RAM unless you uninstall them.
Among the couple of dozen photo-related apps that we tested, we have found none that work flawlessly, though some definitely provide functionality and features that significantly improve the usefulness of the iPad for photographers. Given the realities of editorial space, we can cover only a handful of apps in this article. However, we will return to this subject, with reports on other apps that might help make your iPad a more useful addition to your camera bag of tricks. All of the following can be found on the iTunes Store unless noted.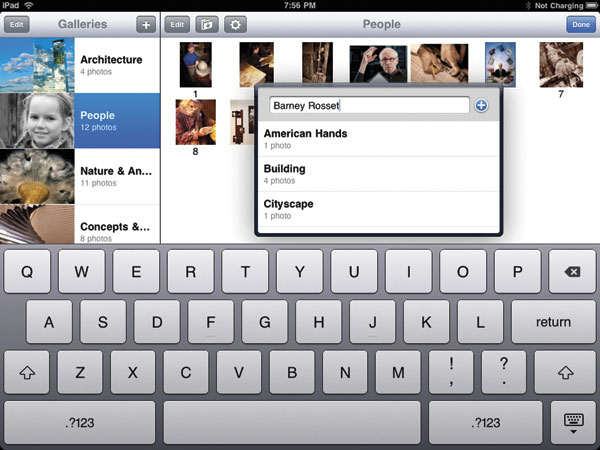 Photo Transfer ($2.99)
The good news is that iPad's crippled USB port isn't the only way to transfer photos. A number of apps use Wi-Fi for uploading and downloading photos between a computer and an iPad. (We haven't yet found a reliable app for transferring photos via Wi-Fi from a D-SLR or any camera beyond the one built into an iPhone.)
However, not all photo transfer apps are created equal. For instance, many upload your pictures one at a time rather than allowing you to select groups or folders of pictures for transfer. Others focus only on other iDevices (iPhone, iPod, or iPad) rather than connectivity with a brand-neutral computer.
Photo Transfer works almost effortlessly via Wi-Fi, allowing the quick exchange between an iPad and a computer (or other iDevices) of up to 50 selected photos. The new 2.0 version automatically discovers other devices running the app. Select the photos (or videos) you want to upload to your iPad, and very soon you'll hear a beep that the iPad has received them. However, on the return journey, Photo Transfer packages all the photos to be sent to the computer in a zip file, with no easy selectivity.
Photo Transfer is simple to use, and provides a boost in productivity by sending groups of pictures to your iPad with one click. Even more importantly, in our tests, it retained metadata rather than stripping it. Unfortunately, it offers no functionality other than import/export, it saves all pictures to the iPad's native Photo app, and it supports only JPEG, GIF, or PNG, not your camera's Raw.
Sort Shots ($4.99)
Transferring photos to your iPad is only part of the battle. Given that the iDevice operating system is so famous for its gesture editing and finger swipe manipulation of documents and images, we find it remarkable how difficult it is to sort and organize photos on the iPad. You can't even move photos from one folder (or album) to another, let alone try to use tags to file and find photos.
When you import photos from your computer to your iPad using Sort Shots, it holds onto and uses the keywords/tags assigned to photos by Adobe's Lightroom and Bridge, Apple's Aperture and iPhoto, Nikon's Capture NX, plus Microsoft's Expression Media and/or Photo Gallery.
But it will read ratings only from Lightroom, Bridge, Aperture, and Photo Gallery. In addition, the full-size resolution of the image is retained, though you do have the option of re-sizing a copy for use in the interface.
Once in the app, you can assign new tags. Sorting can be based on Tags, Rating, File Type (Photo, Video, or All), or Favorites. Sequencing (the order your pictures are viewed) may be by File Name, Date, Size, Rating, or Custom, in ascending or descending order. For Custom, you simply drag and drop photos in the order you want them and then save that sort. While it doesn't use albums or folders, the saved sorts work essentially in the same way. Tagging, rating, and sorting works well, with little or no lag.
Incidentally, the easiest way to import photos into Sort Shots is through the iTunes interface on your computer. On the iPad itself, you have to go through the iPad native Photo app or another import mechanism. Sort Shots supports JPEGs only.
Sort Shots definitely isn't a one-stop fix, but it's the first import and sort app we found that retains and shares metadata with key desktop imaging programs, and it works well. We'll be keeping an eye on this product to see how it continues to improve with future versions.
Adobe Photoshop Express (Free)
Photoshop Express (known more simply as PS Express) is a very basic program, with more in common with Photoshop Elements than the big daddy of image editing, Photoshop CS. Though limited, it is very smoothly implemented.
Edits are confined to linear controls over orientation (crop, straighten, rotate, flip), tonality (exposure, saturation, tint, black and white, contrast), surface (sketch, soft focus, sharpen), plus a handful of effects and borders. The only control on each involves finger swipes. For instance, to increase or decrease saturation, swipe to the left or right. To crop, drag the corners of the crop rectangle where you want them, then tap the OK. No subtlety or finesse is involved.
Nor can you e-mail directly from PS Express. Instead, you must upload the images to your Photoshop.com account or to Facebook. Once they're on Photoshop.com, you can then e-mail them. (As with iPad's own Photo app, the e-mailed JPEG is stripped of metadata.) Note: We strongly recommend against doing any color, exposure, or tonality editing on the iPad, until and unless someone comes up with a reliable and effective method for color calibrating the screen.
SmugMug (Free)
Smugmug.com is one of our favorite portfolio sites, so we were looking forward to checking out their iPad app. The first surprise was that the app isn't currently organized according to the galleries you create on your website. Instead, it uses the categories you've defined for your various photos. In other words, it doesn't take advantage of all the careful organization and design you did in creating your SmugMug site. However, the app does give you access to all your photos, whether or not you have an Internet connection, and allows you to present them as an appealing slide show on the iPad.
While other portfolio apps are more sophisticated, SmugMug has the advantage of not only being free, but a quick conduit from import to use. This is because you've already done the categorization work when you first uploaded the pictures to your website. Naturally, it's appropriate only for those photographers who have a SmugMug site.
Dropbox (Free For 2GB At www.dropbox.com)
Rather than worry about connectivity or jumping through hoops with file format limitations, we like Dropbox for getting our photos to and from the iPad to and from our other devices, including our various computers (but not our cameras).
While Dropbox works quite well on the iPad, it isn't an app, per se. Instead, it is a service and program that creates a local folder on your various devices. When you save a file or picture to your local Dropbox folder, it will automatically sync through the "cloud" to your Dropbox folders on your other devices, as well as save to your private folder on the Dropbox server. In other words, if you save a folder of images on your computer to your local Dropbox folder, it will also be automatically saved on your iPad. Similarly, say you're on a location shoot. You can upload your photos to your iPad Photo app, via the iPad Camera Connection Kit. In Dropbox, you can pull them into your local folder from Photo. Then, whenever you connect to the Internet, they will automatically be saved on your studio computer. If you don't leave your studio computer connected while you're away, the pictures will still be saved in the cloud on your secure folder on Dropbox's server. Then, when you turn the computer on, it will pull the photos down from the Internet. A nice, neat solution. However, when uploading from the iPad, we continued to have difficulty with stripped metadata. (In all other syncs, metadata remained intact.)
The first 2GB of storage is free. You'll pay $9.99/month for 50GB of storage and $19.99/month for 100GB.
Portfolio For iPad ($14.99)
Seeing is believing, which is why photographers' portfolios have always been important marketing tools. No question, the iPad is the defacto standard for today's portfolios. Naturally, a number of portfolio apps have been released. One that we particularly like for its ease of use and direct link to Dropbox (see above) is Portfolio for iPad.
When you load your pictures into this app, you have the convenient choice of pulling them from iPad's native Photo, loading from URLs, or loading from Dropbox. Portfolio supports JPEG, PNG, and TIFF, though JPEG is recommended by the developer for its speed on upload. Portfolio supports IPTC keywords on import, as well as ones added within the app, plus you can use the keywords to filter your views of the galleries.
On first creating a portfolio, you upload your logo design—for both landscape and portrait viewing, to take advantage of iPad's ability to be viewed from any orientation. Then, easily create individual galleries, and upload pictures into them. When you select the image that you want used as the cover picture for a gallery, you are prompted to select the crop, using a finger swipe. Similarly, you reorder your pictures with drag-and-drop. The only other options are to rename a photo or number them.
Using Portfolio is so easy that you'll have a nice-looking presentation very quickly—once you've prepared your images on your computer. You can also control the timing of your slide show and add music.
Portfolio's resulting presentation is attractive, with an index of galleries displayed next to your logo. Tap on a thumbnail to view the pictures in the gallery, either using a filmstrip and manual advance, or an automatic slide show (chosen at the time of viewing). Limit the slide show, if you wish, using keywords. If your iPad is connected to an auxiliary monitor or projector, Portfolio will automatically display on it.
By the way, Portfolio doesn't currently have the standard iSpread (pinch/zoom). Instead, it has a double-tap that doesn't zoom in very much, but the developer has said that they will be switching over to pinch/zoom in the near future.
FEATURED VIDEO