HP's Photosmart B8550; A 13x19" Desktop Option
The new sweet spot for printer sizes appears to be 13x19", or A3+/Super B. Large enough to print 11x14" photos, while still fitting on the average desktop, these printers offer much more versatility than a letter-sized printer does. It also opens up the possibilities for different papers that can be used as many fine art and premium papers are not found in smaller sheet sizes.

The drawback for many users, however, has been price. Just a year ago, printers in this size typically started at $599 and went up from there. Until today, the entry point has been the $349 Epson R1400. With the Photosmart B8550 (#1), HP is looking to take over the low-end price point at $299 (I've seen it at various sites for as little as $199). For this price you'd expect quite a few compromises to be made, and while there are a few that I'll cover here, I was surprised at the level of printing power a couple of hundred dollars will get you these days.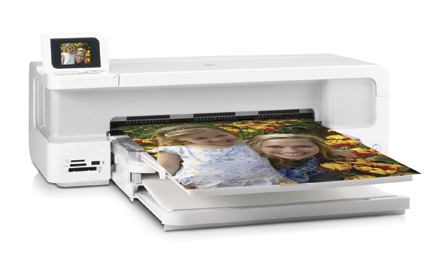 The B8550 is compact for a 13x19" printer, measuring about 23" wide and 15" deep, so it should fit on most desks. On-board you'll find a card reader with a full complement of slots—CompactFlash, SD/SDHC, xD-Picture Card, Memory Stick/Memory Stick Duo, and MMC. The card reader can be used to print photos directly from the printer with no computer, or attached it can also be used as a standard card reader. You'll also find a standard PictBridge port to connect your camera directly to the printer.

Connection to your computer is via USB 2.0. Up top are a control panel and a small color LCD (#2). The LCD keeps you informed of current tasks and works as a navigational system when viewing and printing images directly from a memory card. The control panel has buttons to browse through images and make menu selections, zoom in or out, and access an extensive help system. Other built-in features include a handy School Papers option that will print out standard rule paper, graph paper, and several other types.
A Create option has presets for printing albums, wallets, passports, and panoramas. On-board editing includes basic image adjustment as well as monochrome conversion, cropping, redeye removal, and framing.
Using The B8550
Printing is handled by HP Vivera inks (#3). The B8550 uses four dye inks—photo black, cyan, magenta, and yellow for photo printing, and has a larger pigment black for text documents. It's obvious that HP is aiming for the general market here with only four colors, but I was impressed with image quality on the test prints I made. The ink cartridges are small and you'll burn through them too quickly. I got my first low ink warning with the yellow cartridge after only three 13x19" prints. Ignoring this warning, I was able to get another five prints before actually changing out the cartridge. After printing 11 13x19" prints, I had replaced all four of the color cartridges. Inks are less expensive than the competitors at $9.99 each. HP does offer an XL version of the inks with 2.5 times the capacity for $14.99. This would be the much better option if you intend to do more than occasional printing.
The pigment black is quite a bit larger and since it's only used for text it should last quite a while. HP sells supplies for the B8550 in "Photo Value Packs" with a set of four inks and paper. For about $35, you can get the inks with 150 sheets of 4x6 paper, or a bit more for larger size papers. There are two feed paths for paper on the B8550. An upper tray holds up to 20 4x6 or 5x7 papers and the standard tray holds up to 125 sheets of everything else. So, you can have multiple types of media loaded at one time and choose which tray to print from in the driver. The printer uses HP's Auto Sense technology to detect paper types that use HP's bar coding system on the back.
FEATURED VIDEO