Fujifilm X-T30 Mirrorless Camera Review: Compact Quality at a Reasonable Price
As the popularity of mirrorless cameras continues to grow, it's no surprise that prices have come down while features and value-for-the-dollar have increased. Enter the new Fujifilm X-T30—a small powerhouse of a compact mirrorless camera with a rather affordable price tag of $899 (body only).
Like the Fujifilm X-T20 from 2017 in relation to the then higher-end X-T2, the new Fujifilm X-T30 can be considered the younger sibling to the current X-T3 ($1,500, body only), which I reviewed last year (and was one of Shutterbug's favorite cameras of 2018). In fact, the X-T30 is built around the same excellent 26MP, APS-C sensor of the X-T3, so you get many of the image quality benefits in this new "step-down" model.
Although in many ways similar to its predecessor, the Fujifilm X-T30 features a new sensor, faster processor, better AF and improved video specs, to name a few. And that's good news since the X-T20 was—and still is—an excellent camera. Let's take a closer look in this Fujfilm X-T30 mirrorless camera review.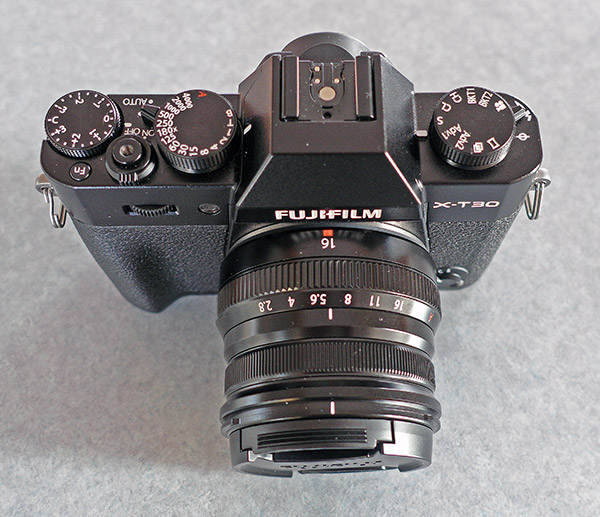 Camera Build, Layout and Handling
The Fujifilm X-T30 is extremely well built and feels solid and well balanced in your hand. It's not weather-sealed like the more expensive X-T3 but the new model withstood a wet and windy day at the beach with no ill effects. At the same time, the X-T30 is small and lightweight, measuring 4.66 x 3.26 x 1.84 inches and weighing just 13.5 ounces with battery and memory card. I often paired it with the Fujinon XF 16mm R WR lens ($399) for an impressive combination for all-around shooting while keeping the kit compact and light.
The Fujifilm X-30's retro-style controls may seem foreign to those who haven't shot with Fuji's X-series mirrorless models, or even with classic, 35mm SLRs for that matter. Drive mode, shutter speed and exposure compensation dials sit atop the new camera, and aperture is controlled via the lens aperture ring. (Front and rear dials can be customized to adjust aperture and/or shutter speed for those who prefer to not use the dials or aperture ring).
There's also a tiny Fn (function) button along with a small shutter button surrounded by a petite on/off switch on top. The latter two may be an issue for photographers with larger hands, though I had no problems. In addition, there's a small lever to switch to auto mode.
The back of the Fujifilm X-30 camera is fairly streamlined, and Fuji added what they call a "Focus Lever" (more commonly known as a joystick) to the rear. It's responsive and made it easy to navigate the 425 available focus points that cover the entire frame, from edge to edge.
The Fujifilm X-30's Q button for quick access to settings has been re-positioned to the upper right of the rear panel. I found this a little awkward to use and would prefer it fell more naturally under my thumb.
A tilting 3-inch LCD on back was particularly useful, if only for its responsive touch operations. Touch focus, touch shutter, menu navigation and swiping through images in playback all proved very handy. Although I prefer a fully articulated LCD, it seems like a reasonable compromise to have a tilting LCD to maintain the Fujifilm X-T30's slim profile. In keeping with the camera's compact size, a small pop-up flash is available on top of the camera when you need a little fill for your subject.
The Fujifilm X-T30's electronic viewfinder (EVF) pales in comparison to the crisp, detailed EVF of the X-T3, in terms of sharpness and refresh rate, but is certainly usable. Additionally, there's only a single SD card slot and it's UHS-1, which seems a little behind the times.
Features and Performance
Although the Fujifilm X-T30 has an "auto" feature, this camera reaches its full potential when using all of its manual and semi-manual controls. For some, this may mean there's a learning curve. But because of all of the camera's custom options, many more people will probably need to reference the manual to figure out all the options.
For example, more than 50 different options can be assigned to the function buttons. The Q menu can also be customized, there are seven custom group settings (each one changes the Q menu options) and the forward and rear control dials can be customized as well. The Fujifilm X-T30 may look simple from the outside with its minimal external controls but once you dig into its capabilities, you'll quickly learn just how extensive the photographic options are.
The Fujifilm X-30 camera is speedy, too, capturing burst of images of up to 30 frames per second (fps) with the electronic shutter (albeit with a 1.25x crop), which is more than twice as fast as the X-T20. The mechanical shutter continuous capture is the same as the X-T20 at 8fps, but not quite as fast as the X-T3's 11 fps. Still, the camera can move along rapidly.
Given the Fujifilm X-T30's increased sensor resolution compared to the previous model, it's no surprise the buffer capacity has dropped to 18 uncompressed Raw images on the X-T30, from 25 uncompressed with the X-T20. Naturally, we'd prefer a larger buffer so the camera doesn't slow down while we're firing off shots of fast-moving subjects, such as the kite surfers I photographed.
The Fujifilm X-T30's autofocus was generally responsive and accurate. Having the focus lever/joystick on back made easy work of choosing a focus point or zone. Face detection was a little wonky at times and even attached the "face detected" message to a still life of a seashell that, even in one's wildest imagination, did not look anything like a face. At other times, face detection worked well and there's even an option to prioritize a specific face.
I tried my hand at some night sky photography and found the zoom-in-to-check-focus feature when focusing manually was very helpful. Just turn the focus ring slightly and the camera automatically zooms into the subject, so you can fine-tune focus. While I used the long exposure shutter speed settings, there are Bulb and T (time) options and the shutter button can accommodate a manual release cable, which is very convenient for extended exposures.
Of course, the Fujifilm X-T30 is equipped with Fuji's standard (and useful) film simulation modes, along with the new Eterna mode. And, you can now tweak the Acros and Monochrome modes.
These are only the highlights of the Fujifilm X-T30's feature set and ones that I found most useful.
Image Quality
It's no surprise that the Fujifilm X-T30's image quality is excellent given that it uses the same sensor as the top-ranked X-T3. Using the Standard film simulation mode, colors in images shot with the X-T30 were vibrant but not overly saturated. At the same time, the colors were also accurate and natural looking—a perfect combination.
Detail capture by the Fujifilm X-T30 was excellent as well. My X-T30 test images, a few of which you can see in this review, were sharply focused and fine details were visible throughout most photos—from the individual hairs of a subject's mustache to the wood grain of an old shipwreck on the beach.
Exposures were, for the most part, accurate. I shot in manual mode and while the meter and my eye tended to agree on the exposure, there were times in a wooded area where I needed to punch up the exposure compensation dial by a half stop. Using the EVF to eyeball exposure is one of those benefits of having a live view of the scene right in the viewfinder.
The Fujifilm X-T30 also delivers the goods when it comes to dynamic range—at least in most cases. And you can adjust the camera's dynamic range mode (100%, 200% and 400%) to ensure that highlights are not blown out. This works pretty well, although it has some limitations, so I left mine set at the default 100%.
With an ISO range of 160-12800 (expandable to 51200), the Fujifilm X-T30 offers enough range to shoot in low light conditions. And the camera does a pretty good job of keeping noise levels down, although you might want to cap your ISO at around 3200 for the best results. Of course, what constitutes "best results" depends on the end usage and your personal preferences vis-à-vis noise levels.
Conclusion
For $899, you'll get a lot of value for your dollar with the Fujifilm X-T30, given the camera's overall solid performance and its stellar image quality. This compact mirrorless camera is feature-rich and while, in my opinion, it would be a waste of money to use the X-T30 in auto mode, that option is there for anyone who wants it.
But the X-T30 will do its best in the hands of photographers who either know the ins and outs of photography or who want to learn how to truly control their image capture. Either way, the Fujifilm X-T30 is solid choice for those looking for high quality images in a small package.
Fujifilm X-T30 Scorecard
Pros
+ Excellent image quality
+ Solid performance
+ Extensive customization
+ Responsive, fully functional touchscreen
+ Good price
Cons
- Not weather resistant
- No in-body image stabilization
- Mediocre EVF
- Ergonomics may not be good for those with larger hands
Pricing:
Buy the Fujifilm X-T30 (body only) on Amazon for $899.
Buy the Fujifilm X-T30 in a kit with the 18-55mm lens on Amazon for $1299.
FEATURED VIDEO