Cameras; More 3D Digital Than Film Cameras
The weirdest camera at the show, the GFAE, wasn't even recognizable as a camera, not least because it was a view camera with the bellows left out in order to show its construction more clearly. We'll come back to it later, but first, let's look at some more conventional offerings.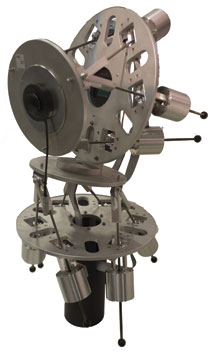 It's a camera, Jim, but not as we know it… The Swiss-made GFAE.
Unlike in previous years, we've lumped all cameras together: amateur and professional, digital and film, large and small formats. There are two reasons for this. One is that when you get down to basics, they are all about the same thing: recording pictures in one medium or another. The other is that, increasingly, crossover is where it's at. One of the big trends was accessories and lenses for shooting movies with high-end digital "still" cameras, most notably Canon but also Nikon. More and more compacts shoot video, too. The one thing we didn't attempt to cover at all was camcorders, partly because we know very little about them and partly because most of them are pretty generic anyway, much like still camera point-and-shoots.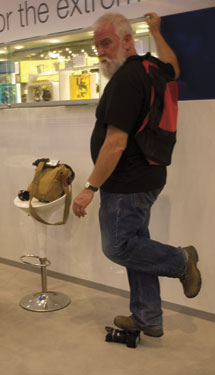 Visible means of support: the Olympus E5.
© 2010, Roger Hicks Ltd., All Rights Reserved
The Olympus E5 offers solid construction and waterproofing-cum-dustproofing that really are very impressive. They had one camera nesting in sand and another being splashed; four of them supported a sheet of tempered glass big enough for several people to stand on; and with any luck, there's a (small, not very sharp) picture of Roger standing on it here. Second, the menus and controls appear significantly more intuitive than on many cameras. Third, in the hand, it feels like a real camera—which isn't always the case with D-SLRs, especially Four Thirds SLRs.
Pentax K-5: most D-SLRs look pretty much alike, so kudos to Pentax for providing an interesting press picture.
Quite honestly, the only other 35mm-style D-SLR that impressed us, and which may not already have been discussed to death on the Internet, was the Pentax K-5. This is a solid-feeling machine that can (like other Pentax D-SLRs) be used with a huge raft of "legacy" lenses, right back to the screwmount of the 1950s. We hope to do a test of this camera with a load of ancient lenses such as our 135mm f/1.8 Porst (much like a Soligor). Its baby brother, the K-r, is a perfectly good entry-level SLR, at less than half the price, but it is hard to get excited about it except for the "legacy" capability: a bargain ticket to a possibly unique "look" with the right lens(es).

Pentax K-r: an entry-level camera with access to a vast range of "legacy" lenses—and a choice of colors!
Canon's latest, the 18-megapixel EOS 60D, is no doubt a fine camera but it's essentially a new blend of existing features, and a slight improvement on the previous upper-mid-range model, if you like Vari-angle LCD screens. At the Nikon stand they couldn't be bothered to tell us about their new introductions even after we pointed out that journalists do not attend trade shows to be given an electronic press release and told to queue up at 20 different islands to ask at each island what is new. Trade show reporting shouldn't have to be investigative journalism. In any case, reading the press release later, the D3100 is a low-end D-SLR and the D7000 is upper mid range, though the fact that they specifically mention the glass penta-prism of the D7000 is a useful reminder that the reason why so many cheaper SLRs have such murky viewfinders is that they use mirrors rather than proper penta-prisms.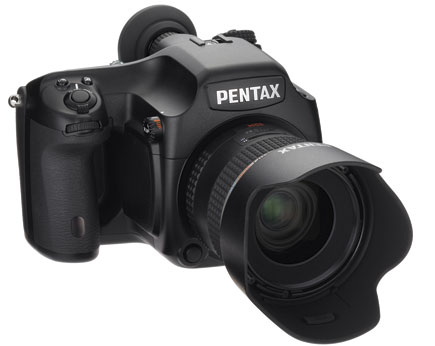 The Pentax 645D: a professional studio pixel count and compatibility with legacy Pentax 645 lenses.
The main professional news was the Pentax 645D, with its Kodak 33x44mm sensor (mega Four Thirds?) and "40 effective megapixels." No low-pass filter and bigger pixels (6mm) should make for high sharpness and low noise; dual SD card slots are increasingly the standard for professional SLRs; and although the maximum ISO (1000 on auto, with 1600 "extension") is low, it's not exactly a low-light reportage camera anyway. It is, however, very much in the "digital camera" style (lots of buttons and menus) rather than the simpler, more traditional style pioneered by the Leica S2, with which it is a (very much less expensive) competitor.

As so often, there were some really interesting cameras outside the SLR market. Leica's made-in-Germany X1 now has newer, faster autofocus, and with its APS-C sensor, optical viewfinder, and 24mm f/2.8 lens it delivers the sort of results you'd expect from Leica. This is a much bigger sensor than in most compacts, with the 24mm lens equating to 36mm in full-frame terms.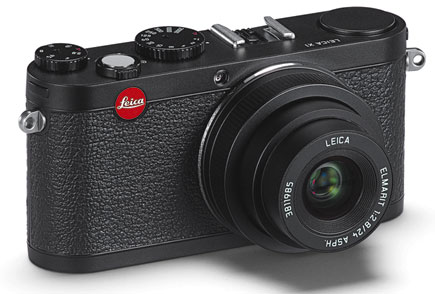 Leica X1: traditionalists will much prefer it with the optional (if expensive) 36mm optical finder—or just use an old 35mm finder.
Still more intriguingly, Fuji's FinePix X100 is set to take on the X1 on its own territory. Indeed, it is a camera many reckoned that Leica should have introduced. With its retro styling, 23mm f/2 lens (35mm equivalent on the APS-C sensor), easy manual control, and revolutionary dual viewfinder (optical and electronic), many considered it the hit of the show. There were no fully-functional cameras at the show, just partially-working prototypes. The much-vaunted dual viewfinder is very good indeed, but it is distinctly deranging when you switch from optical to electronic and find a different scene in the viewfinder from the one you've been looking at!

Let us explain. At the show, there were two cameras outside glass cases, and both were firmly fixed to tripod heads. One was focused on a bowl of flowers, which could be seen in both the optical and electronic viewfinders, while the other was focused on a picture of a mountainscape. No problem with the optical finder, but when you switched to the electronic viewfinder (EVF) you got…the bowl of flowers! We managed to lift one off its mount, only to be reminded, kindly but firmly, that the weight of the final camera will be different. Even so, it felt quite close to the estimated weight of 500 grams (about 18 oz) which is pleasingly solid in the hand.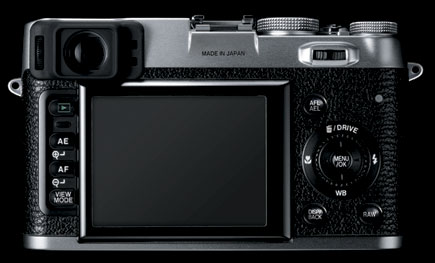 Fuji X100: the future of high-end compacts?
At first, we couldn't really see the benefit of the EVF, apart from the read-outs in the viewfinder (essential for the manual focus option), but then the extremely helpful young lady who was guarding the cameras used the magic word: "preview." With manual shutter speed, aperture control and focus, this is very much a "real" camera, even without its retro styling. And even with the APS-sized sensor, the f/2 lens offers quite good possibilities for control of depth of field.

Ricoh's "semipro" GXR adds another lens/sensor module to the line-up, a 6mm f/1.9, the equivalent of 28mm (in 35mm terms) on the 10-megapixel sensor used. The GXR is a brilliant new approach but it remains to be seen whether people will take to it. Ricoh has always made excellent cameras with first-class lenses, but too often they have been a little too original for the mass market.

Samsung makes another contender for the "semipro," no-frills market with the NX100 (APS-C again) and, to begin with, two lenses: 20mm f/2.8 (31mm equivalent on full frame) and 20-50mm f/3.5-5.6 (31-77mm equivalent). The camera does, however, seem to have been designed for maximum ease of use in the hands of the inexperienced, rather than for maximum control in the hands of a photographer who knows what he or she is doing. The EVF still has some way to go, too.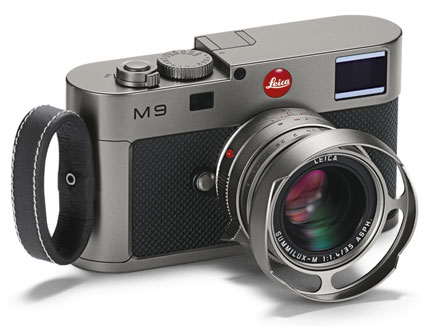 Leica M9 Titanium in solid titanium: a "concept car" among cameras.
Olympus's excellent Pen series (Micro Four Thirds), also needs a slightly better EVF before we'd consider it as an alternative to a "real" (optical) finder, though it does have two new lenses equivalent in 35mm terms to 40-150mm f/4.0-5.6 and 75-300mm f/4.8-6.7. Fortunately, Leica, Fuji, Ricoh, and Olympus all offer good optical finders and prime lenses to go with their offerings in this category.

Which is just as well. We have yet to see any EVF that is not either slightly jerky or very jerky, like bad stop-frame animation. The general consensus is that optical-quality EVFs are still some way down the road. Two or three years is a figure many quote, but given the current rate of improvement, it may be a lot sooner. Or a bit longer…

The only other small format digicams that impressed us were the new Casio Exilims, especially the ones with the 1000 frame per second (fps) movie capability. These are incredible for motion analysis, especially in sports, but quite apart from that, they're just plain fun.
Leica no. 4,000,000 is presented to Steve Sasson.
FEATURED VIDEO