In Brief; Nokia's N86 8MP Phone+; How Does 8MP Look From A Camera Phone?
While we don't normally review camera phones and similar devices, when offered a test period with the Nokia N86 and its 8-megapixel capture we wanted to see just how far one could take the image. Because the device captures in JPEG only there is of course a good deal of compression on every file, but still, 8 megapixels in this device reaches into the realm of point-and-shoot digicams from a few years past, plus offers all the convenience of a do-everything multimedia device.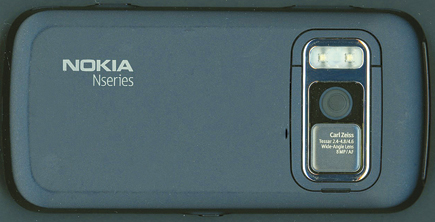 The phone is about 3.75x2x0.5" closed and in picture mode. You access the 8-megapixel chip by sliding down the cover on the Carl Zeiss Tessar lens, as shown here. Styling is utilitarian and somewhat anonymous, but the unit is chock full of multimedia capabilities.
A quick rundown of other features gives just a hint of what you can do with this pocketable device—still and video recording and messaging, GPS (with the ability to add locations to photos), FM radio, Bluetooth and WLAN connectivity, music play and podcast viewing, web connectivity, a built-in compass (!), and more. Clearly the kitchen sink concept has been a large part of this design, something seemingly demanded by buyers these days.

But this test is not about any or all of that—it's about image quality. Note that there are two "cameras" in this device—the higher-res taking lens on the back of the phone and the lower res on the front. You activate the high-res camera by sliding down the lens cover to reveal the Carl Zeiss lens. You then choose video or still, and then you can set up the still picture to create a color effect, use exposure compensation and adjust contrast, sharpness, and light sensitivity. There's a very tiny built-in flash and even a Panorama mode with guide.
On Auto and using the Zeiss lens, the Nokia gave me f/3.2 at 1⁄125 sec at ISO 132 for this parade shot on the shady streets of New York. The camera is great for these kinds of grab shots when events are passing by. File yields an 8x10 at 300dpi right out of the box. All images were sent to a MacBook Pro via Bluetooth.
All Photos © 2010, George Schaub, All Rights Reserved
Images are viewed "live" on the back screen, one that will have you approximating framing in bright sunlight, since reflectivity causes a good deal of glare. If you want to add locations to the image file info you can set that up with the camera apps and options. Once you have taken an image you can store it in an album and even create tags for each shot. You can even share images online right from the phone.

Given that you are shooting in the least steady position when holding a camphone, and that the sensor is tinier than even the smallest digicam, image quality was pretty good. I shot with both the low-res and high-res options, then downloaded images from the Album in the camera via Bluetooth to my MacBook Pro—transfer was quick and easy.
On a bright snowy day the Nokia chose f/4.8 at 1⁄1000 sec at ISO 107. Exposure, as with most images, is right on the button and impressive for a camphone, though the sky, when enlarged, shows more noise than you'd expect from an ISO 100 shot.
The 8-megapixel images opened at 22MB and compressed (in file) were about 2MB, a 10x compression. All were at 300dpi. Image quality for a camera phone was quite good, with some variables in lines and edges, which I often put down more to the way you hold and shoot the camera, and to the fact that there is no way not to vibrate the camera when you release the shutter. In fact, the Nokia's image quality is close to lower-end digicam quality of a few years past. This is quite an improvement over past results I've gotten with camera phones, and, given the other options it affords, it will certainly do for grab shots and casual event shooting.

However, and this has always been my problem with this and similar devices, the very design—the way you view images and snap the shutter—is guaranteed to degrade image quality, as is the fact that flare is inevitable with this exposed lens face. While the camera will certainly not win any style awards, being drab black and quite anonymous in its markings, I can see its appeal as a convenient shooting companion. Does having 8-megapixel capture capability set it apart? I guess it can't hurt, even though I can't see making 13x19 prints from the files.
You can use the phone "side" for a camera as well, but frankly it's not worth it when you have the Zeiss lens and 8-megapixel chip available. This low-res shot is edgy; "ghosty" makes for almost jagged lines. At ISO 100, f/4.8 at 1⁄320 sec.
For more information, visit Nokia's website at: www.nokiausa.com.
FEATURED VIDEO