Bigger LCDs, Super Zooms, And Major Megapixels In The Latest Advanced Models
According to a report published by the Photo Marketing Association (PMA), some 82 percent of cameras sold in 2005 will be digital. The study also indicates that many consumers are already buying their second or third digicams, making the full-featured, high-resolution models increasingly popular. Consequently, I was not surprised to find numerous new cameras at PMA 2005 with at least 5-megapixel resolution and an increasing number of compact models boasting 7-megapixel sensors. Even within this range, there were a multitude of new models, far too many to include in this report. Consequently, I'll concentrate on the cameras targeting the photo enthusiast, with a full range of advanced capabilities and/or long telephoto lenses.

While exploring the numerous options, I identified a few meaningful trends. First, an increasing number of digicams boast "super zooms": 8x, 10x, or 12x optical lenses. That has lead to greater use of Image Stabilizer devices, essential for sharp images at long focal lengths in handheld shooting. Sony introduced their first 12x zoom camera with an Optical Stabilizer and Panasonic announced that all of their digicams--even the affordable models with shorter zooms--would incorporate the "MEGA Optical Image Stabilizer" system. These include three new Lumix models not discussed in detail: the 4-megapixel DMC-LZ1 with 6x zoom ($249, street price), the 4-megapixel DMC-LS1 with 3x zoom ($229), and the 5-megapixel DMC-LZ2 with 37-222mm zoom ($299).


Particularly in the mid range and higher-priced models, larger LCD monitors are also becoming common. This was made possible through the development of more energy-efficient image processors and superior batteries that can provide long life regardless of LCD monitor size. A large, bright monitor is especially important with cameras that do not include any type of viewfinder. That feature (the viewfinder) will be missing from an increasing number of cameras in the future, because it is assumed most digicam users prefer to compose with the LCD monitor and the form factor of tinier digicams won't allow a big LCD and a viewfinder in one.

During photokina 2004 last fall, I noticed a trend toward faster start-up times and reduced shutter lag: a substantially shorter delay after pressing the shutter release button. This trend has continued; several new cameras are capable of taking a shot within 0.1 second after focus acquisition and a few are even quicker. Naturally, some digicams focus more quickly than others, particularly in low light; hence, shutter lag alone is not the only indicator of actual responsiveness. Do note that some manufacturers have not published specifications as to shutter lag so we cannot provide full data for every camera. In any event, all of the major manufacturers are working to solve the problem of missed candid photo opportunities caused by the long delays common with many older digicams.


And more good news: digicam prices have continued to drop. Concord, the industry's low-price leader, made headlines with their new 5-megapixel camera (Concord 5042) with 36mm lens selling for $99.99. The sticker price on their 5-megapixel model with 3x optical zoom (EasyShot 500z) is $179, while their 8-megapixel digicam (EasyShot 820z), with 2.4" LCD monitor, is priced at $249. Cameras of other brands are not this affordable, but all offer even better value than previous models within the same line.
Super Zoom Cameras
Not everyone needs a digicam with a lens that extends to a 300mm or 400mm equivalent, such as the new 4-megapixel Rollei dk4010 with 37-370mm D-VarioApogon zoom. (All focal length data in this report is based on the 35mm format equivalent.) But this category is growing quickly, perhaps to satisfy those who want to take pictures of their children involved in sports events. Do note however that very few of these cameras include true tracking focus capability and that most are slow to focus in low light at long focal lengths. All employ an electronic viewfinder that's less than ideal for following a moving subject while trying to shoot a series of images.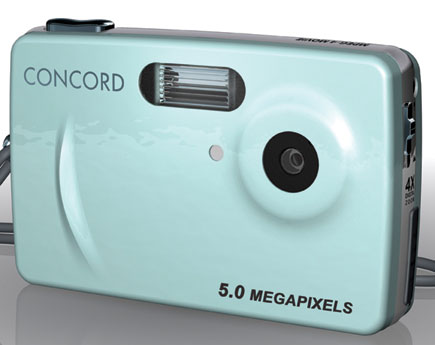 Konica Minolta's DiMAGE Z5, with 35-420mm APO GT zoom and Anti-Shake (CCD-shift) Image Stabilizer does boast a true Continuous tracking focus system great for sports photography. An upgrade over the earlier Z3, the Z5 provides higher 5-megapixel resolution, newer CxProcess III image processor, larger 2" LCD monitor, and a faster, more reliable Rapid AF system. In spite of a novice-friendly design, this is a serious shooter's camera with Program, Manual, and Semiautomatic modes, a full slate of user-selectable overrides, 2.2 fps Burst mode for six full resolution JPEG photos, plus a 5-point autofocus system. (Street price: $499.)


A more affordable camera, the 5-megapixel DiMAGE Z20, features a shorter (8x) 36-290mm zoom--without the Anti-Shake system--and a smaller 1.5" LCD monitor. There are other differences, too: there's no hot shoe for accessory flash, the framing rate is slower (1 fps for four shots), and the external focus sensor is not as effective in some conditions as the dual (passive and active) autofocus system of the Z5. Continuous tracking focus is available, however. In most other respects, this smaller camera is just as fast and as versatile, great for those on a tight budget who want a high-tech digicam with an 8x optical zoom and many user-selectable features. (Street price: $329.)


Panasonic indicates that it has eliminated the "screen-freeze" problem in consecutive shooting with two of its new Lumix models when used with the single point normal speed autofocus option; this is a definite benefit in a digicam with an electronic viewfinder. The first of these cameras, the 5-megapixel DMC-FZ5, with Leica DC Vario-Elmarit 36-432mm aspherical zoom, MEGA Optical Image Stabilizer, and 1.8" LCD monitor, is an upgrade over the DMC-FZ20 with a longer lens, much faster autofocus, and more manual controls though not for focusing. The processor has also been upgraded to the LSI Venus Engine II to provide superior resolution and instant response without noticeable shutter lag (0.008-second delay). The 4-megapixel Lumix DMC-FZ4 is similar in many respects but incorporates a Leica 35-420mm zoom and a smaller 1.5" monitor. Both of these Panasonic digicams are incredibly versatile, including many of the modes and features we expect in an SLR camera. (Street price: $499 and $449, respectively.)


Sony's new 5-megapixel Cyber-shot DSC-H1 incorporates a 36-432mm zoom with built-in Super SteadyShot Image Stabilizer to compensate for camera shake. (The system employs a gyroscope to detect motion and shifts lens elements as required.) Although simple to use in any of the seven subject-specific Program modes, the camera includes a Manual option as well as five-step manual focus, overrides for ISO, white balance, and exposure for serious photographers. Other DSC-H1 features worth noting include an electronic viewfinder, large 2.5" LCD monitor, five-point autofocus system, and Real Imaging Processor for greater speed and battery efficiency. (List price: $499.)
7-Megapixel Cameras
During 2004, a surprising number of 8-megapixel cameras--mostly prosumer models--were introduced, but this trend has virtually ground to a halt, at least for now. That may be because the 8-megapixel cameras did not become best sellers due to their expansive size and weight as well as their relatively high price. At PMA 2005, I found only a single 8-megapixel camera: the very small Concord model mentioned earlier. Several compact 7-megapixel cameras were announced instead; these provide nearly as much resolution as the 8-megapixel prosumer models but at a more moderate price, size, and weight.

Canon's diminutive Digital ELPH series has always been a best seller, and that's likely to continue thanks to the addition of a 7-megapixel model with 37-111mm zoom lens in an ultra-thin metal body with an ultra-bright 2" LCD monitor. The incredibly fast PowerShot SD500 shoots numerous frames at 2 fps, provides 55 percent faster autofocus than its predecessors, and boasts increased card writing speed plus superb image quality with the new DIGIC II processor. (List price: $499.) Designed for ease of use, the SD500 has 13 shooting modes, including Auto, Manual, nine Scene Mode programs plus Stitch Assist for creating panoramas. Great versatility is assured by other features: a 50 percent more powerful flash, nine-point autofocus sensor, three light metering patterns, plus controls for adjusting ISO, color saturation, sharpness, white balance, exposure, and shutter speed. (The 5-megapixel PowerShot SD400, with 35-105mm zoom, includes many of the same features and similar speed but is even smaller/lighter; $399.)


The primary manufacturer of 7-megapixel sensors, Sony has introduced their third camera with this CCD chip, the Cyber-shot DSC-W7 with Carl Zeiss Vario-Tessar 38-114mm zoom in a compact aluminum body with large 2.5" LCD monitor. Like all W-series models, this one is full featured, offering a wealth of advanced capabilities such as a histogram display for exposure evaluation, Manual and Semiautomatic operating modes, five-point and central autofocus sensor, five-step manual focus, and all essential overrides. For simplified operation, the camera also includes seven subject-specific Program modes. Fast response is assured by a Real Imaging Processor that allows for a short shutter lag of 0.3 second. (List price: $449.)
FEATURED VIDEO