A Bag for All Seasons and All Reasons: Gura Gear Chobe 2.0 Everyday Carry Bag
Gura Gear is back in the photo shoulder bag game in a big way with 13- and 16-inch Chobe 2.0 Everyday Carry bags. Roomy, functional and extremely durable, these handsome bags appeal to travelers, photographers, businessmen and students, and everyone else who appreciates absolute top-shelf quality.
After a brief fling with Tamrac, Gura Gear returned to their roots and we are all better for it. The brand name itself was briefly retired when the company purchased Tamrac and the management team, in their own words, "…focused on the larger Tamrac business and Gura Gear lost its way." But that's all in the rearview mirror now, we're happy to say. (And Tamrac has a happy new life of their own, too.)
Introducing Gura Gear Chobe 2.0
The exciting new Gura Gear Chobe 2.0 is a hybrid camera bag plus everyday briefcase that's available in two sizes (13-inch and 16-inch). Resembling the kind of bag businessmen and salespeople use to haul their laptop, order pad and everyday needs, the Chobe 2.0 is anything but ordinary. The overall quality, fit and finish are as fine as you will find anywhere. Constructed of the best (and most modern) materials, the Chobe 2.0 proffers a nonchalant, undercover persona that belies its well-organized capacity to haul camera, computer and other daily necessities.
The Chobe 2.0 is named for the Chobe National Park in Botswana, one of the most celebrated wildlife preserves in Africa. Home to Africa's largest elephant population, Chobe is fondly known locally as "Land of the Giants."
We were fortunate enough to receive an early sample while the product was still in crowdfunding. We've been using the smaller 13-inch version for a few months now and it's extraordinary. Although we usually lean toward photo-only bags for personal use, there are times when carrying a multipurpose solution trumps everything else, especially when traveling (yes, even by car) and when dealing with the business side of photography. Planning air travel? Start by packing a Gura Gear Chobe 2.0 everyday carry bag.
Feature Summary
The 13-inch Gura Gear Chobe 2.0 accommodates our 13-inch MacBook Air, Fujifilm X-T4 and three lenses, Sony RX100, thick folder full of rejection notices, several Zebra Kado ballpoint pens, a fat Ziplock full of disposable surgical masks and a large assortment of miscellaneous batteries, filters, one Altoids tin survival kit, a large multi-tool, an ever-present X-Rite ColorChecker Passport and – okay, you get the idea. Out of the box, the Chobe 2.0 13-inch model holds roughly 7.7L (Liters) and that capacity can be expanded to hold an additional 5L of stuff by simply unzipping the expansion track. The 16-incher holds 11.2 Liters and can expand by about the same amount.
The exterior material is VX-21, a multilayer textile that starts with a 210 Denier, abrasion-resistant nylon surface, backs that with strong X-Ply polyester, sandwiches in a 0.25 mil waterproof layer of PET film and finishes the inside (the lining part) with 50 Denier polyester taffeta for strength and supple durability. While we deeply admire the simplicity of cotton canvas that some bagmakers use, when the thunderstorms start we prefer this space-age fabric.
External dimensions are 14.2 x 6.3 x 9.4 inches (36 x 16 x 24 cm) and the empty weight is amazingly light—only 1.8 pounds. Zippers are all YKK and feature laser-cut Hypalon zipper pulls for speedy and fumble-free opening. The 16-inch model measures 15.7 x 6.5 x 10.6 inches (39 x 14 x 24 cm) and weighs in at 2.1 pounds. The light weight is very impressive.
The beefy shoulder strap has an excellent nonslip pad and steel snaps, and there is a pass-through on the back for luggage wheelies.
Quick refresher about how the volume of camera bags is measured, L stands for Liter. One L equals 61 cubic inches, slightly smaller than a cube that's 4 x 4 x 4 inches. The volume of a standard half-gallon milk carton is about 2.2 L. The 13-inch Gura Gear Chobe 2.0 is nearly 13 Liters when expanded.
Quick Tour
There are 20 pockets, enough to stow just about anything you can think of plus a few you haven't thought of yet—like the tiny survival kit mentioned above (you really should get one). Two optional camera cradle units enable you to arrange your camera and lenses as you prefer. The padding throughout is substantial—despite the low empty weight of the bag.
Inside the main compartment we find pockets for accessories and such. The front inside panel features one large document pouch. The opposite side has two zippered mesh pockets and two larger pockets that secure with hook-eye fasteners.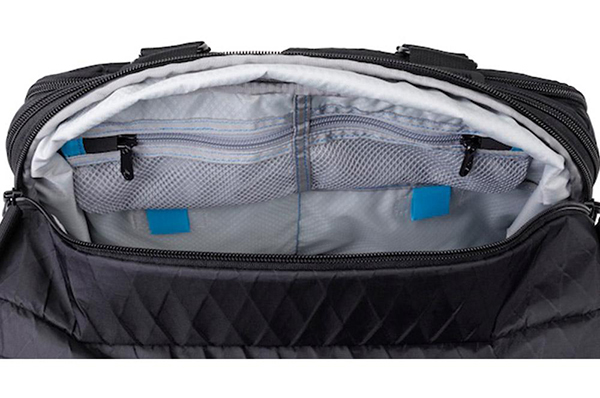 Moving to the outside now, on the front there are two zippered pockets that contain internal organizational pouches, nooks and crannies. And on the backside, a padded laptop or tablet sleeve. The bottom is finished with X-Pac VX-42 fabric, a waterproof and scratch-resistant material that is said to provide 10-times the abrasion resistance of already-tough X-Pac VX-21 nylon stratified composite. In other words, don't worry if you have to set the bag down on a damp surface, or if your pet reptile tries to chew his way to freedom through the bottom.
The left and right haul handles are covered with premium grade real leather and securely attached. The aforementioned adjustable shoulder strap is sturdy and connected via all-metal hardware. The shoulder pad is perfect: thick but not too thick, nicely padded and covered on one side with a very effective slip-retardant surface. Other bagmakers should look to this strap pad as the archetype.
Conclusion
Veteran photographers know about the legendary quality and durability of Gura Gear camera bags and photo backpacks. Gura Gear products are as durable as an iron anvil yet as comfortable as an old pair of jeans. If you are in need of an everyday-type bag to carry camera equipment, a notebook or large tablet, papers, pens, beaucoup accessories and a folded newspaper, etc., Gura Gear Chobe 2.0 bag is ideal. It's strong, light when empty, weatherproof and handsome.
Travelers—whether frequent fliers, daily commuters or occasional day-trippers—will appreciate the utility and functionality as well as the thoughtful care that went into the design and manufacture of the Chobe 2.0. It would be very hard to find a better travel bag.
Prices and Availability
Available now in any color you want as long as it's black. You can buy the Gura Gear Chobe 2.0 Everyday Carry Bag directly from Gura Gear. The 13-inch model retails for $274.95 and the larger 16-inch size for $324.95. Gura Gear also offers a line of five Etcetera Cases that you'll find abundantly useful.
A Bit More About Gura Gear
While we're on the subject of Gura Gear, their series of photo backpacks is legendary, and now their widely acclaimed Kiboko bag is available in version 2.0 in three sizes (16L, 22L and 30L) at prices starting at $185.95 (this may be a temporary price reduction). Order from Amazon.
—Jon Sienkiewicz
(As an Amazon Associate, Shutterbug earns from qualifying purchases linked in this story.)
FEATURED VIDEO