Anza-Borrego Desert State Park; Photo Ops In A World Biosphere Reserve Page 2
Blair Valley lies to the southwest at 2400 feet off the S-2. The Kumeyaay people inhabited this dry desert region and about three dozen pictographs are found on a granite boulder where an old trail connects Little Blair Valley and Smuggler Canyon in the Vallecito Mountains. Expect to use a wide-angle lens that will capture the entire boulder. The pictographs range from 200 to 1000 years old and were painted in red and yellow.

Bring an arsenal of lenses for the desert. Although a wide-angle lens may be the most useful lens for desert landscapes and a 300mm IS for bighorn sheep, also consider a macro for wildflowers, insects, and reptiles like the banded rock lizard, granite spiny lizard, and side-blotched lizard. A 70-200mm lens also comes in handy with these subjects and three types of rattlesnakes. Protecting your camera gear from desert dust will be a big challenge. Bring blower brushes and plenty of wipes for lenses and cameras. Desert winds can blow hard out of the canyons. Consider employing Zip Loc baggies for protecting your gear. Be prepared while photographing the desert, particularly in the canyons. Begin hiking early in the morning and bring plenty of water, food, sunglasses, sunscreen, and a hat.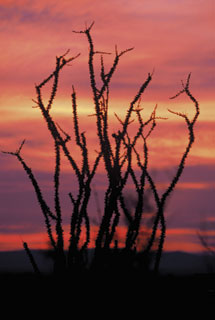 Ocotillo silhouetted in Borrego Palm Canyon.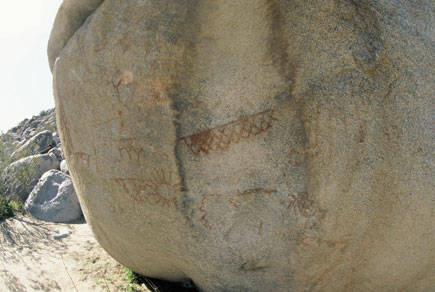 Pictographs in Little Blair Valley.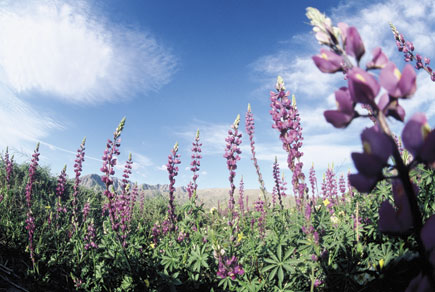 Arizona lupine in Coyote Canyon.
If You Go
From San Diego take Interstate 8 east to S-2 then S-3. From Los Angeles take Highway 15 south to Highway 76 to S-2 to S-22.

Anza-Borrego Desert State Park is one of the best wildflower destinations in the state. Beginning in March, call the wildflower hotline at the Theodore Payne Foundation at: (818) 768-3533. The hotline is updated each Friday through May. Their website is www.theodorepayne.org.

A camping fee is required to stay at the Borrego Palm Canyon Campground. Reservations are available online at: www.reserveamerica.com. There is free camping in Coyote Canyon and out along the Salton Sea Scenic Byway.

Anza-Borrego Desert State Park is managed by the state of California (www.parks.ca.gov; (760) 767-5311). The Visitor Center is open daily through April 2011 (9am to 5pm). Starting May 1, 2011, the Visitor Center will begin its summer hours and will be open weekends and holidays only from 9am to 5pm, through September 30, 2011. For more information, call the Visitor Center at: (760) 767-4205.
FEATURED VIDEO