Adobe Updates Creative Cloud with New Features for Photographers in Photoshop CC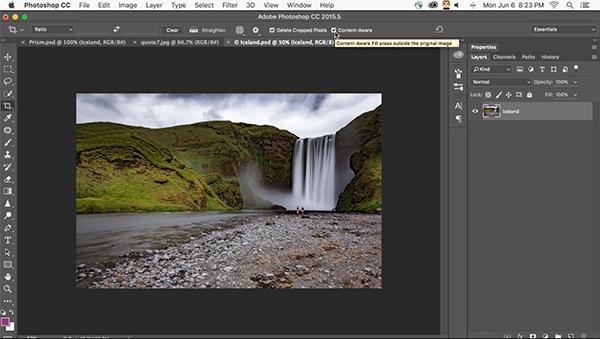 Last month we gave you a sneak preview of Adobe's forthcoming Content-Aware Crop feature that auto straightens horizons and fills in the blank space in your photos. Well, that impressive tool is now a reality for Photoshop CC users.
Adobe just updated its Creative Cloud service with new features and tools for photographers in Photoshop CC including Content-Aware Crop, which you can see demoed below. Here's a rundown of some of Photoshop CC's new photography-focused features from the Photoshop blog.
Content-Aware Crop

Don't you hate it when you straighten a horizon in Photoshop and ended up cutting off important parts of the photo in the process? Well, Adobe has an answer for that with its new Content-Aware Crop feature in the updated Photoshop CC.
With the Content-Aware Crop tool, Photoshop will fill in the gaps when you rotate or expand a canvas beyond the original image size using the Crop tool.
Here are some possible uses for it:
• Move the horizon by adding more sky or ground
• Change the aspect ratio by adding content around the edges of your image
• Fill in the corners when you rotate an image so you don't give up any of your pixels
See it demoed in the video below.
Selection and Masking Space
Selection and Masking Space in Photoshop CC is a dedicated work space that brings several Photoshop selection tools together into one area, while updating them with new and improved algorithms designed to make creating selections and masks easier, more exact, and more efficient.
Adobe designed the new work space to minimize clicks, mouse movements and user interface clutter. Here are a couple of new features inside the work space:
Visualization controls: A Transparency slider and "Onion Skin" view mode more predict results with new visualization and controls that make it easier to see the edges and other qualities of the selections you are creating in real time while you are making them.
Refine Edge Brush: Get more precise results with the new Refine Edge Brush that helps to more accurately separate foreground and background for complex selections. A simple brush to more precisely control exactly which areas of an image are selected or masked. This tool can be used for manual control.
See this new work space demoed in the video below.
Face-Aware Liquify
Retouchers and anyone taking photos of people should find a use with this new enhancement to the Liquify tool. First introduced last year in Adobe's mobile application Photoshop Fix, the company improved that algorithm and brought it to Photoshop CC.
Now within the Liquify tool, you can use the new Face-Aware technology to automatically identify and adjust facial features like jaw, nose, lips and eyes to retouch them or add artistic effects.
Read more about the new features in Photoshop CC here. Read more about all the updates to Adobe Creative Cloud here.
Pricing and Availability
Updates to CC desktop apps are now available for download by Creative Cloud members as part of their membership at no additional cost. Membership plans are available for individuals, students, teams, educational institutions, government agencies and enterprises. For pricing details, visit: https://creative.adobe.com/plans.
FEATURED VIDEO