7 More Great Holiday Gifts for Photographers – New and/or Unique Edition
Looking for photo gifts that are a little different for the photographers in your life? Start here with our list of the 7 greatest new and/or unique photo gifts in the universe.
If you are into digital photography or cameras of any sort yourself, odds are you'll find something on this list of photo gifts that you'll want to call your own. We did. (If you're looking for more photography gift inspiration, check out our other story with 7 fantastic holiday gifts for photographers: stocking stuffer edition.)
Boris FX Plugins & Standalone Apps
If the phrase creative post-production means anything to you, you must look into the Boris FX software lineup. We'll tease you by saying that their five products have more than 1-million users. We don't have space to cover them all today, but we'll mention that one of them, Silhouette 2020.5, is an Academy and Emmy Award-winning toolkit that's used on many Hollywood productions (including The Mandalorian and Avengers: Endgame).
On today's New and/or Unique Gift List we cover Boris FX Optics 2021. This amazing product (standalone and PS plug-in) simulates optical camera filters, specialized lenses, film stocks and grain, lens flare, optical lab processes and color correction, plus natural light and photographic effects. There are 160 filters in all, including 75 Boris FX Sapphire filters. These filters include lens flares, light leaks, glow, night sky, clouds, moon effects, lightning, free lens, rack defocus, digital damage and more. There is an exhaustive library of 294 color and black & white still photography film stocks, motion picture film stocks and historical photography processes. And if that's not enough, 751 gobo lighting effects categorized into abstract, doors, elements, foliage, snowflakes, textures, and windows groups.
Boris FX Optics 2021 is for Mac and Win computers and can be purchased for $149 or licensed on a subscription basis ($99/year or $9/month) whichever suits your pocketbook. Download the Free Trial Version and if you like it (you will) buy the license.
Lensbaby Spark 2.0
Do you Lensbaby? You should. And Spark 2.0 is one more reason why you should. Back in 2013 we reviewed the original Lensbaby Spark. Read that short report here. We got some very creative results but the lens had some shortcomings. Fast forward to 2020 and voila! Lensbaby Spark 2.0 has arrived. Here's what's been improved.
The original Lensbaby Spark was a starter lens that came with a fixed-aperture 50mm f/5.6 sweet spot lens. Spark 2.0 is a flexible body lens that comes with the Sweet 50 optic which has an internal bladed aperture adjustable from f/2.5 to f/22. The original Spark had a tilt limiter that caused some issues we needn't explore here. The offending tilt limiter has been removed from the Spark 2.0. Also, the original Lensbaby Spark was available only for Canon and Nikon SLRs and came with plastic lens mounts. The Spark 2.0 comes in more mounts including mirrorless and has the same metal mount that Lensbaby uses on all of their standalone and Optic Swap lenses.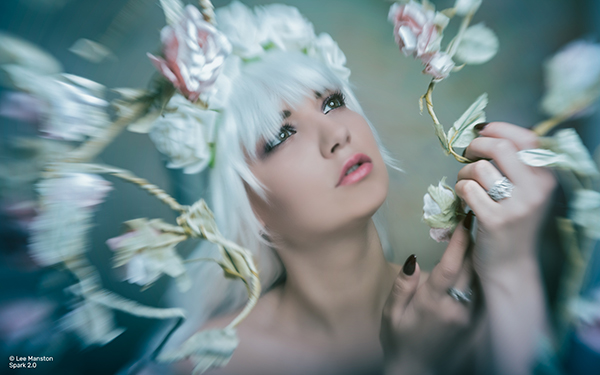 It's so simple to use. Set your camera on Aperture Priority and attach the Lensbaby Spark 2.0. Focus by squeezing or stretching the flexible lens barrel. Within seconds, focusing becomes easy and fast. Adjust the aperture keeping in mind that smaller f/stops mean less blur, all else being equal.
Order your Lensbaby Spark 2.0 directly from Lensbaby. Price is $159 but subject to change after the holidays. Anyway, you don't want to wait until after the holidays because if you do you'll miss the chance to use the Spark 2.0 on colorful holiday lights – a subject the Lensbaby Spark 2.0 was born for.
Moveable Camera Blind
From our friends at Japan Hobby Tool, home to some of the most fascinating camera tools, accessories, covers, parts, jewelry and other stuff this side of Osaka, comes Camouflage Tent II which I can describe only as the best place for a photographer to hide in plain sight. It's a tent, as you can see, and there are entrances in the front and the back, plus black mesh windows on the left and right sides. You can open and close everything while you are inside. Best of all, the bottom can be opened with a zipper, so you can move the entire blind simply by grabbing the edges and walking.
The Camouflage Tent II stores conveniently in a small (19.6 x 2 inch) circular bag, folded up like a fabric reflector. It's light (3.85 pounds) and easy to set up, too. Open it measures 39.3 x 39.3 x 55.1 inches, so you are not going to stand up inside (probably) but it's roomy nonetheless. If you photograph birds or other wary wildlife, you must try this. Or if you want to drive your neighbors crazy with curiosity, set one of these up in your front yard and leave it there for a few days. Order from Japan Hobby Tool which is located in Tokyo. Price is $130 including shipping.
Heat Gloves
If you live below 35th parallel or can wait for global warming to shift your seasons, you don't need to read this. It's about gloves, things that we Northerners wear in the winter to prevent our fingers from turning blue, becoming brittle and breaking off like fake nails in a window fan. Those of us who routinely brave cold temperatures three to five months out of the year know that the most effective gloves consist of a very flexible inner pair and a heavier weatherproof outer pair worn together. And that's exactly what we love about the many glove varieties available from The Heat Company.
The Heat Company offers a very broad selection of liners and outer shells. The glove set that caught our fancy – and that we've been wearing to scoff at December weather in New York – consists of the Wind Pro Liners on the inside and the Shell Mitten over them.
The Wind Pro Liners are wind and water repellent and made from Polartec Wind Pro materials and are – most importantly – compatible with touchscreens. No need to remove them when navigating a smartphone or other touch menu. They're 4X more wind resistant that traditional fleece and have a pouch that holds a optional chemical hand warmer packet. On warmer days they can be worn by themselves without the Shell Mitten. The underside has a grippy surface and they're ideal for driving.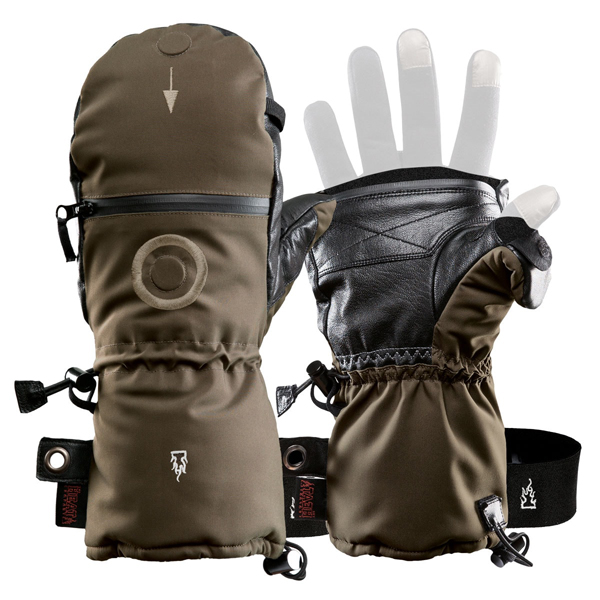 The Shell Mitten is worn over the liners. The Shell Mitten comes in six colors. They're breathable, highly wind proof and water repellent, and have goatskin palms. They're also available in full leather.
In addition to what are probably the world's best gloves, The Heat Company sells insoles and other accessories that will keep you as warm as your sweetheart's smile. Glove and liner prices vary by model, but we can say with confidence that the products are extremely high quality and reasonably priced. You can order directly from The Heat Company.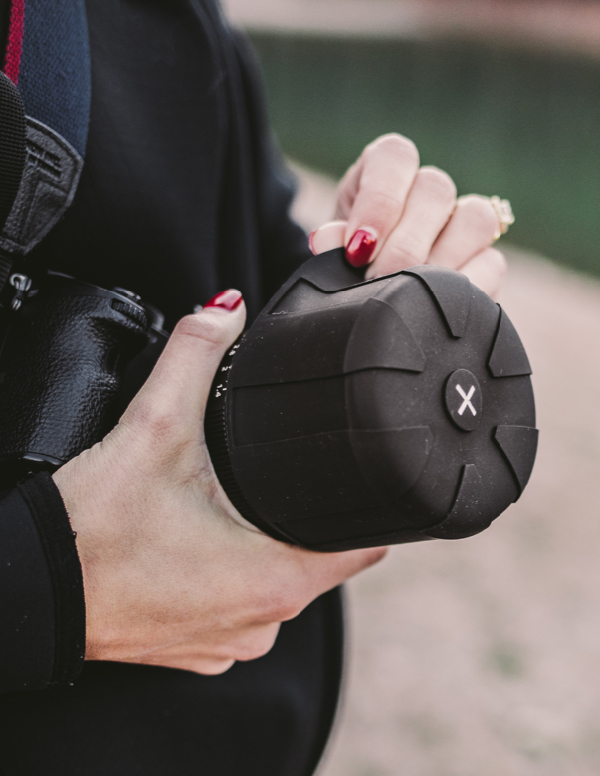 Kuvrd Universal Lens Caps and Hoods
Hrd to wrte abt Kuvrd because spell check keeps mocking me. I don't know why they spell it that way. I didn't sleep during Marketing class (much) but I just don't see the point. Anyway, the good news is that although they skimped on the vowels, they didn't leave anything out of the terrific camera accessories they sell.
The Kuvrd Universal Lens Cap is made from durable rubber and looks like a large, flexible crutch tip. Kuvrd ULCs stretch to fit and surround lens barrels between 60mm and 120mm in diameter – that's about everything that swims. They can be used over the front of the lens, as a rear cap, or both. You can stack them in layers for added protection. And when not on a lens they can be wadded into a ball. Kuvrd ULCs are waterproof, dustproof, shock-absorbent and even look a little high tech. Kuvrd claims that their Universal Lens Caps are protecting over 40,000 lenses for over 9,000 photographers worldwide. Kuvrd ULCs sell for $20 each but it's cheaper to order two at the same time for $35 total. Order more and pay less per each.
Kuvrd Universal Lens Hoods come in two sizes (I guess that makes them semi-universal) and follow the design concept of the Kuvrd caps, that is, they're useable on a very wide variety of lenses. The overall length can be folded down to prevent vignetting on wideangle lenses and can be folded into a thick collar to give your lens a fair chance of survival should you bang it into something. Both the Small (54) and Medium (72) cost $45 each and can be ordered from Kuvrd. Once again, if you order more than one you pay less per each.
Hex X Jim Lee Artist's Backpack and Portfolio
If you know DC Comics, you know about Jim Lee, Chief Creative Officer of DC and Publisher for the company. No bio necessary, but it's worthy to note that after graduating cum laude with a BA in Psychology from Princeton University in 1986, Lee started his professional career at Marvel Comics where his work on the X-Men continues to hold the all-time sales record for single-issue sales at an incredible 8 million copies sold in one month. (Yeah – I think I'm in the wrong business.)
The Hex Artist's Backpack and Portfolio that bears Jim's name includes a removable 11 x 17 inch artist portfolio. While many photographers can carry their demo reels on a USB thumb drive, some actually have prints and it's for that group that we highlight this bag and the large portfolio therein.
Measuring 19.5 x 13.5 x 5.5 and consuming up to 23L, the outer skin of this bag is water resistant 400 denier Twist Doby Polyester with snag and drip resistant PU coating. The inside fabric features a custom Jim Lee design pattern. There is a padded laptop pocket that accommodates computers up to 15 inches and the typical assortment of pouches and pockets one expects to find. There are no special modifications for cameras or lenses, so photographers might look at the Hex Ranger series for camera conveyance. But if you need to safely haul large pieces of artwork, order the Hex X Jim Lee Artist's Backpack and Portfolio from Hex for $279.
Platypod Max Macro Bundle Plus!
Some of the best accessories come in small packages. Take Platypod for instance – the world's most compact tripods for photographers and filmmakers. Platypod's Max and Ultra compact flat tripods offer strength, stability, adaptability and ease of use. They securely support compact cameras and larger DSLRs and lighting equipment, are ideal for low-angle photography, allow for unusual camera set ups in tight spaces, are light and thin (saving space for additional lenses and lighting accessories in a camera bag) and are compatible with most ball heads. Perfect for macro photographers is the $279 Platypod Max Macro Bundle + Free Multi & Free Ultra.
Platypod first hopped on our radar back in 2015 (article here). We called it "…the coolest camera support around." Then in 2016 we reviewed the Platypod Pro Max, another awesome product.
The Platypod Max comes with the plate, four spike feet and removable storage box, ¼-inch male-to-male crossnut, a microfiber pouch, and a five year USA Limited Warranty. Platypod Max weighs only 13 oz and is about the size of a mini tablet, 5.25 x 7.75 inches and 0.2 inches thick. Available from Amazon for just $99.
After the Holidays
Did you get money for a holiday gift? Just sayin'…
—Jon Sienkiewicz
(As an Amazon Associate, Shutterbug earns from qualifying purchases linked in this story.)
FEATURED VIDEO