7 Great Deals on Amazon Basics Photo Accessories
Here are 7 photo accessories that offer high value and very attractive prices. All have been selected from Amazon's stable of private label products, Amazon Basics. And all cost less than $30.
Chest Mount Harness for GoPro
Compatible with all GoPro cameras including GoPro HERO6, HERO5 Black, HERO5 Session, HERO4 Black, HERO4 Silver and HERO Session. Fully adjustable to accommodate a wide range of adult sizes, this Amazon Basics chest harness holds GoPro cameras at chest level for convenient hands-free recording.
Available from Amazon for $12.12
UV Filter, 52mm
To reduce effects of UV radiation and to protect the front element of your lens, this Amazon Basics screw-in filter helps eliminate impact of haze and can be left on the lens at all times. Atmospheric haze consists mainly of scattered blue light. By slightly suppressing the blue, haze is reduced. Available in several sizes, price below is for 52mm. Price for 67mm is $7.99.
Available from Amazon for $6.99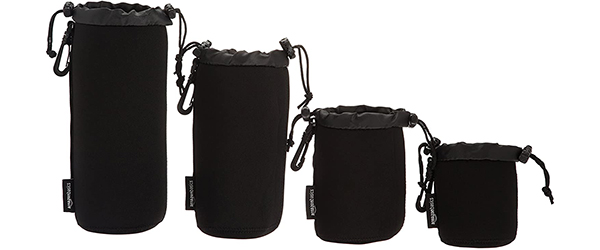 Neoprene Camera Lens Pouches, Set of 4
We all need extra lens cases, no? This is a set of four pieces that collectively fit a very wide assortment of lenses. Water-resistant neoprene Amazon Basics pouches provide 5mm thick padding and include cord closure and belt loop. Small pouch is 3.1 x 4.0 inches, medium pouch 4.0 x 5.5, large is 4.0 x 7.1 and extra large measures 4.3 x 8.7 inches.
Available from Amazon for $14.66
Tabletop Tripod
Not for big DSLRs, but for point-and-shoot and smaller mirrorless cameras, this Amazon Basics mini tripod is ideal for travel photography when you don't need extended height. Compact size folds down to fit in your carry-on or handbag. Features non-slip rubber feet and adjustable, removable ball head.
Available from Amazon for $13.48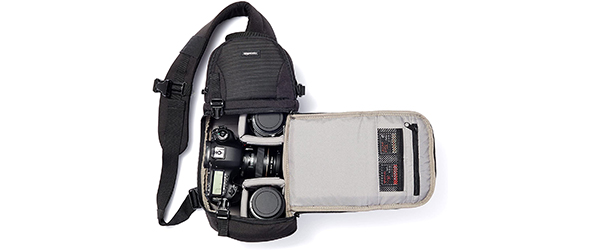 Sling Bag
Measuring about 8 x 6 x 15 inches, this black Amazon Basics camera sling pack provides easy access to contents and fits smaller DSLR or mirrorless camera with attached zoom lens plus one or two additional lenses or accessories. Top compartment stows accessories or personal items.
Available from Amazon for $29.99
Camera Shoulder Sling Strap
Designed to fit most cameras, this attractive Amazon Basics camera sling strap attaches directly onto the base of your camera via the tripod mount, allowing camera to rest securely at your side with lens facing down. Included camera safety tether provides a backup connection point between camera and strap for additional security. Reinforced metal mounting screw has anti-slip rubber pad for a secure fit. Padded shoulder strap with breathable air mesh is shaped to conform perfectly around your shoulder for maximum comfort. Also has a zippered accessory pocket allows you to store small items for quick access.
Available from Amazon for $18.49
Rechargeable AA Batteries, Pack of 16
Boasting 2000mAh, these AA-size Amazon Basics rechargeable cells arrive pre-charged and are said to maintain 80% capacity for 24 months, so they're perfect to have around for emergency use. Delivered ready to use, they can be recharged up to 1000 times with minimal power loss. This is a box of 16 pieces, so unit price is less than $1.50 each. Amazing.
For More Amazon Basic Deals
Highly rated products at low prices. For more great deals, visit the Amazon Basics Store.
(As an Amazon Associate, Shutterbug earns from qualifying purchases linked in this story.)
FEATURED VIDEO