7 Best Point-and-Shoot Compact Digital Cameras You Can Buy Today
Each and every one of these best-in-class compact digital cameras delivers big camera performance in a small camera package. Light enough to carry with you every day, everywhere, these are high quality digital cameras that are perfect for travel, discreet street shooting and casual family snaps.
No doubt about it, these cameras perform. If you're like us you keep a camera nearby at all times. But a stocky DLSR—or even a svelte mirrorless system camera—can be too cumbersome for some occasions. That's one reason why owning an upmarket point-and-shoot camera makes so much sense. You want to shed equipment weight and bulkiness, not image quality.
About that "point-and-shoot" moniker: back in the day, cameras that were easy to use were often lumped in with cameras that were deficient in features and marginal in quality. So "point-and-shoot" came to suggest cameras that had few manual controls; instead, the user simply pointed and pressed a button. Times have changed. When we say "point-and-shoot" in this Buyer's Guide we are referring to cameras that are small but have fast-acting autofocus, autoexposure, fast handling and a full complement of features including, in most cases, full Wi-Fi connectivity, Raw image capture and optional manual settings. The only thing these cameras don't have is lens interchangeability.
We've listed the 7 Best compact digital cameras in alphabetical order because each has at least one benefit that makes it #1 in the eyes of many. They are all outstanding; which you buy depends on how you work, the types of photos you take and your personal brand and/or feature bias. If you want to toss big cameras into the mix, take a look at our roundup from last fall, These Are the 10 Best Cameras You Can Buy in 2020.
Canon PowerShot G5X Mark II
Legions of Canon fans who have enjoyed legendary Canon products have a couple outstanding compact PowerShot models to choose from, but the Canon PowerShot G5X Mark II gets our nod as their best compact offering. The list of features begins with a supremely-useful pop-up EVF (Electronic Viewfinder) and Canon's fast, 5x optical zoom lens (24-120mm f/1.8-2.8) with Optical Image Stabilizer. The Canon PowerShot G5X Mark II has a 20.1-megapixel, 1.0-inch Stacked CMOS Sensor and Canon's famous DIGIC 8 image processor. Video shooters appreciate the quiet operation and 4K 30p / FHD 120p recording capabilities. One of the smallest and lightest cameras in this group, it's easy to carry. And it performs close-up Macro photography down to 2.0 inches.
Dimensions: (W x H x D) 4.37 x 2.4 x 1.81 inches (110.9 x 60.9 x 46.0 mm)
Weight: 12 ounces (340g) including battery and memory card.
Available from Amazon for $899
Fujifilm X100V
Photographers worldwide praise the subtle brilliance and rich fidelity of famous "Fuji Colors." If you've ever wanted to experience them for yourself, the very best place to start is with the Fujifilm X100V. The fifth generation of the original Fujifilm X100 that took the world of photography by storm with its classic, retro design back in 2010, the X100V features a 26.1-megapixel, APS-C size, BSI (Back-Side Illuminated) X-Trans CMOS 4 sensor and a powerful quad-core CPU. The newly-redesigned 23mm f/2.0 prime (non-zoom) lens is small and keeps the overall camera shape thin and compact. Unlike its predecessors, the Fujifilm X100V sports a two-way, tilting LCD touchscreen in addition to the dual purpose eyelevel EVF. For movie makers, the X100V delivers 4K 30p and FHD 120p video recording.
Dimensions: (W x H x D ) 5.0 x 2.94 x 2.1 inches (128 x 74.8 x 53.3 mm)
Weight: 16 ounces (478g) including battery and memory card.
Available from Amazon for $1399
Leica C-Lux
Featuring a Leica DC Vario-Elmar 8.8–132 mm f/3.3–6.4 ASPH 15X optical zoom, the equivalent of 24-360mm if full-frame, the Leica C-Lux has a 1-inch 20.1-megapixel MOS Sensor, fast autofocus, 49 metering points and a continuous shooting rate of 10 frames per second. Robust video capture functions include UHD 4K (3840 x 2160) at 24.00p/29.97p [100 Mb/s], Full HD (1920 x 1080) at 59.94p [28 Mb/s] and more. Available in stylish midnight blue or lustrous light gold colors, the Leica C-Lux offers 5-axis optical image stabilization and superb images shot after shot. The classic feel of Leica quality in a compact, easy-to-carry package can be yours today.
Dimensions: (W x H x D ) 4.4 x 2.6 x 1.8 inches (113 x 67 x 46 mm)
Weight: 12 ounces (340g) including battery and memory card.
Available from Amazon for $1195
Nikon CoolPix A1000
The Nikon CoolPix A1000 is fitted with a 24-840mm equivalent (35x) optical zoom Lens with macro capability and a 16-megapixel BSI CMOS sensor, plus Nikon's trusted EXPEED image processor. It has a 3-inch tilting LCD display with anti-reflection coating and captures 4K Ultra HD videos with stereo sound. The advanced autofocus capabilities feature Target Finding AF which automatically evaluates the scene, recognizes intended subjects and then adjusts the AF area according to the subject's size to assure sharply focused images. Despite being the lowest priced top-rung compact camera in this roundup, the Nikon CoolPix A1000 is chockfull of features, creative editing options, and provides a very positive feel in the hand.
Dimensions (W x H x D): 4.5 x 2.8 x 1.6 inches (114.2 x 71.7 x 40.5 mm)
Weight: 11.64 ounces (330 g) including battery and memory card.
Available from Amazon for $477
Panasonic Lumix DC-LX100 II
Centered upon a large 17-megapixel high-sensitivity multi-aspect Four Thirds sensor, the sleek Panasonic Lumix DC-LX100 II features a fast Leica DC Vario-Summilux f/1.7-2.8 zoom lens that covers 24-75mm (35mm equivalent) and captures excellent 4K video at 24 or 30 fps. The combination of extreme macro capabilities (focuses to 3cm at the wideangle end and 30cm at the tele setting) and the high resolution (2,764k dot) EVF make the Panasonic Lumix DC-LX100 II the perfect choice for close-up shots. Like the other cameras included in this Buyer's Guide, the LX100 II offers built-in Wi-Fi and Bluetooth connectivity options for pairing the camera with your mobile devices.
Dimensions (W x H x D): 4.5 x 2.6 x 2.5 inches (114 x 66 x 63 mm)
Weight: 12.31 ounces (349 g) including battery and memory card.
Available from Amazon for $798
Ricoh GR III
Heralded as a member of Shutterbug Top Clicks, the Ricoh GR III has a 24-megapixel APS-C format CMOS image sensor, wideangle 28mm f/2.8 (equivalent) prime lens and a host of features normally found on professional DSLRs. Looking for stealth? Look no further. Perfect pocket camera (just 9 ounces) for serious street photography, travel companion or advanced backup camera, the Ricoh GR III is small but comfortable to handle and has clean and simple controls, including front and rear dials and a five-way controller that collectively provide access to all major functions. There is no viewfinder but the 3-inch LCD offers a remarkable range of adjustability including a setting that makes it easier to use in bright daylight. The LCD is a capacitive touch screen, and you'll find the touch-to-focus option fast and convenient.
Dimensions (W x H x D): 4.3 x 2.4 x 1.3 inches (109.4 x 61.9 x 33.2 mm)
Weight: 9 ounces (257g) including battery and memory card.
Available from Amazon for $639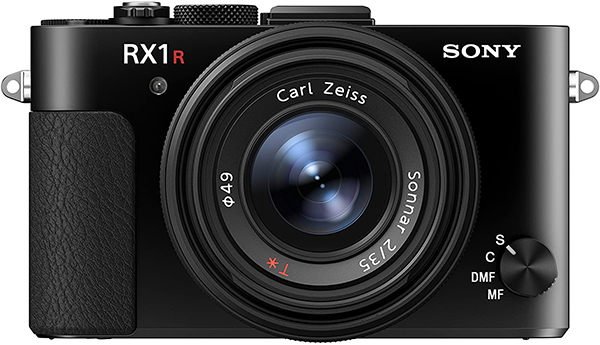 Sony Cyber-shot RX1R II
Maybe it's a coincidence that the Sony Cyber-shot RX1R II is the last model in this roundup—and maybe we've saved the most remarkable model for last. Not to be confused with the Sony RX100 series (which are outstanding cameras in their own right), the RX1R II is the only model here that features a full-frame sensor (i.e., same size as 35mm film frame) so by definition it's in a class by itself. In addition to that 42.4-megapixel full-frame, BSI (Backside-Illuminated) Exmor R CMOS sensor, the Sony RX1R II includes a prime 35mm f/2.0 Zeiss Sonnar T* lens with macro capability down to 7.8 inches (20cm). This incredible camera features the world's first user-selectable optical variable low-pass filter, Fast Hybrid AF with 399 focal plane phase-detection AF points, retractable 2.4-million dot XGA OLED Tru-Finder with Zeiss T* coating and uncompressed 14-Bit Raw format capture option for unsurpassed image quality. In many ways, including manufacturing precision, optical performance and image quality, the Sony Cyber-shot RX1R II is the most exalted example of the camera maker's art.
Dimensions (W x H x D): 4.5 x 2.6 x 2.8 inches (113.3 x 65.4 x 72 mm)
Weight: 17.8 ounces (507g) including battery and memory card.
Available from Amazon for $3898
—Jon Sienkiewicz
(As an Amazon Associate, Shutterbug earns from qualifying purchases linked in this story.)
FEATURED VIDEO