The 6 Best Travel Tripods You Can Buy Now
You don't have to be planning a trip to Mount Fuji or a hike through the Adirondacks during the Geminids Meteor Shower to have genuine need for a travel tripod. Their defining characteristics—small size, light weight, easy to deploy—make travel tripods perhaps the most versatile tools in your kit.
As seen in the accompanying images of a Benro Bat being put through the paces, travel tripods can be flexible, versatile and useful problem solvers when you need to hold a camera steady in an unusual position. Even if you have a studio tripod, a travel pod is a worthwhile investment.
Here's our rundown on six of the best, in no particular order. Each brings its own strengths and weaknesses to the carnival.
1. Benro Bat
The Benro Bat is part of Benro's new animal collection that includes a Tortoise and a Rhino. I applaud the attempt to add some colorful names to the all-too-blah world of tripods, much in the way that 3 Legged Thing (described below) and a couple other brands are doing. Tripods are arguably the only accessory that can improve every single photo you take. Unfortunately, from a distance most tripods look alike, like Angus cattle.
The Benro Bat is a carbon fiber beauty that offers five-section legs, each with five preset angles of adjustment for unprecedented flexibility. Max height is 65 inches and maximum load capacity is about 30 pounds.
The center column can be inverted quickly and easily for close-up work and can be removed and coupled to one leg to create a monopod. The extended locking knob makes it easier to torque up the strength of the two-part center column when it's used conventionally. Especially useful: the Pull &Twist Safety System knob that locks the Arca Swiss compatible quick release plate is nearly impossible to mess up.
The Benro Bat has three accessory mounts and is protected by a five-year warranty (two standard plus three extended with registration). Shipped complete with a Benro VX20 ballhead, quick release plate and padded case. Available from Amazon $399
2. Manfrotto Befree 3-Way Live Advanced
Small but mighty, the Manfrotto Befree Live Advanced tripod, when combined with their 3-way fluid head, is the nearly ideal video/photo travel tripod, with the emphasis on video. I say video first because the fluid head provides silky-smooth pans and tilts that are so desirable when shooting movies.
The Manfrotto Befree Live Advanced features the QPL Travel lever leg locking system for easy and secure setup and adjustment. The tripod can be set to three independent leg angle positions thereby providing greater versatility indoors and out. Maximum height about 59 inches, max load capacity is about 13 pounds. Ships complete with 3-way fluid head. Available from Amazon $279
3. Platypod Max
Look at the world from an entirely new angle—the Platypod Max is the world's finest close-to-the-ground camera support and has already established an enthusiastic following among professional and advanced amateur photographers everywhere.
Max has a base that measures about 5.25 x 7.75 inches. Add your own ballhead or use as is, the Platypod Max is easy to carry and quick to set up. It includes four spike feet that are independently adjustable to match uneven terrain or irregular surfaces. Platypod Max weighs only 13 ounces and supports the heaviest camera you could possibly own (up to 300 pounds). Read more about Platypods here.
Protected by five-year limited warranty, the Platypod Max is just about my favorite camera accessory. Available from Amazon $99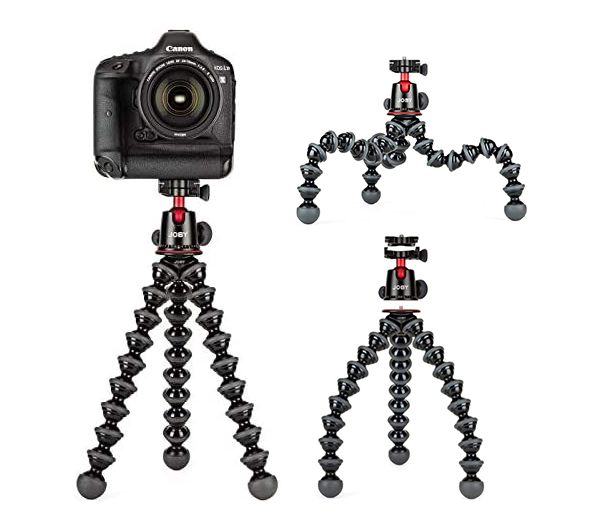 4. Joby GorillaPod 5K Kit
At last count there were only 14 people left in the world who could not recognize the iconic shape of a GorillaPod. Seriously. If you are one of those uninformed few, let us enlighten you. The classic GorrilaPod shape features flexible legs that can wrap around a branch, water pipe or fence post. The legs can be splayed also, like a traditional tripod. In either configuration, a GorillaPod holds a camera (or LitraTorch or GoPro) in place on just about any surface. Light enough (17 ounces) to be handheld like a selfie stick, this little big GorillaPod stretches to a length of about 15 inches.
The Joby GorillaPod Professional Tripod 5K Stand includes a Joby Ballhead 5K and is significantly larger and heftier than its brother GorillaPods. It's suitable for DSLR cameras and can securely support up to 11 pounds (5 kilo). It has over two dozen leg joints with rubberized ring and foot grips that allow you to bend and rotate each 360 degrees for increased stability in difficult terrain. Made of durable anodized aluminum, it also features an Arca Swiss compatible quick release plate for speedy deployment. Available from Amazon $99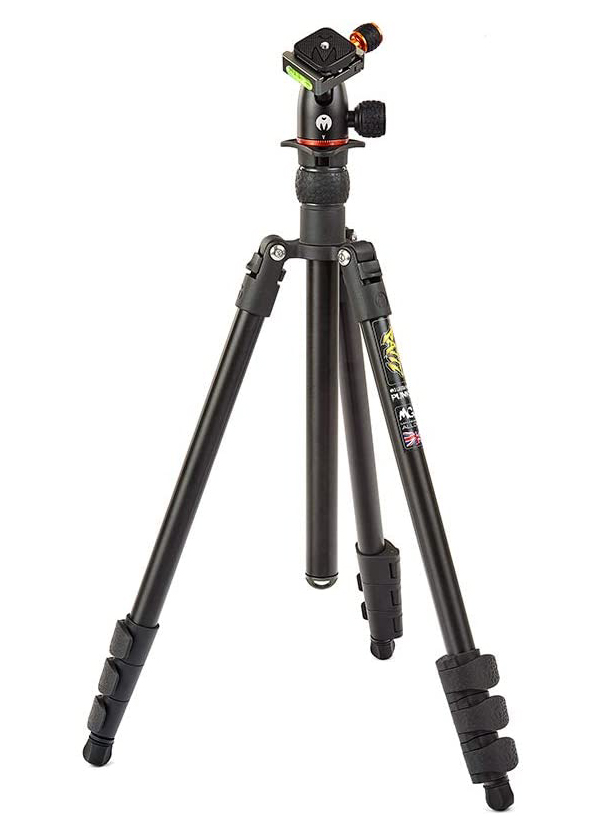 5. Three Legged Thing Punks Anarchy Patti with Airhead ballhead
Featuring 4-section legs and providing a single column load capacity of 22 pounds, Patti is pretty but she's also all business. Designed and built by the creative maniacs at 3 Legged Thing, Patti is the first 3 Legged Thing tripod to use flip leg locks. Formed from rugged, hard-wearing ABS plastic, Patti's flip locks have smooth action and secure her legs in position quickly and easily.
Patti includes a reversible and removable center column and folds up to just 17.7 inches, versus her maximum extended height of 64 inches. Comes with a five-year global warranty. Available from Amazon $119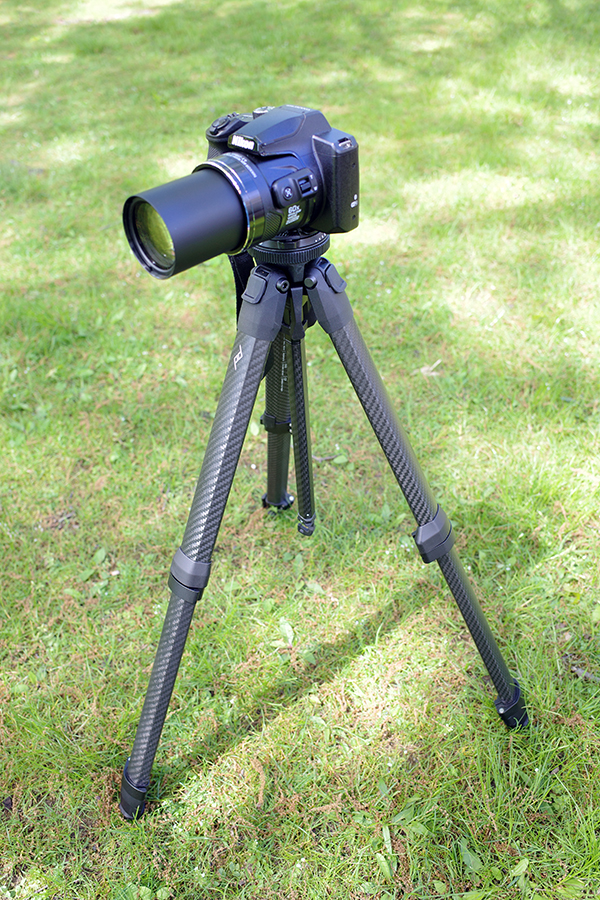 6. Peak Design Travel Tripod
Peak Design consistently disrupts the staid and sometimes stodgy world of camera bags with an amazing array of backpacks, shoulder bags and slings that lead the challenge of innovation. And their camera straps ain't so bad, either. So it comes as no surprise that the Peak Design Travel Tripod is something special.
The Peak Design Travel Tripod delivers professional-level stability, load capacity (20 pounds), and deployed height (60 inches), yet packs down to the diameter of a water bottle. Total weight is 3.4 pounds and packed length is just 15.5 inches. Now this is disruptive.
We could go on, but instead you can read our in-depth review of Peak Design's Travel Tripod and learn how the size stacks up against a foot-long hot dog.
Includes a padded, weatherproof case. Guaranteed for life. Available from Amazon $599
Conclusion
Since the global health crisis reared its ugly covid head, travel for most of us is an optimistic plan for the future, not part of the present. No matter. Travel tripods offer many advantages over their full-size brethren because of their nimble flexibility, small size, light weight and speed to deploy. So even if you stay at home, keep to your studio or never wander any farther than your backyard, you need a travel tripod.
If you'd like a word about buying any other type of tripod, or exploring what's right for your specific needs and budget, read What Type of Tripod Should I Buy? Buying Advice: How to Buy a Tripod.
—Jon Sienkiewicz
(As an Amazon Associate, Shutterbug earns from qualifying purchases linked in this story.)
FEATURED VIDEO