5 Home Photography Tips: How to Capture Beautiful Backyard Bird Photos & Other Local Wildlife
(Editor's Note: Exploring Light is a monthly Shutterbug column featuring tips, tricks, and photo advice from professional photographers in Canon's Explorers of Light education program. This month's column is by Charles Glatzer with five tips for photographing backyard animals.)
As a professional wildlife photographer, I am typically on location seven to eight months a year. As we all know, COVID has put overseas travel plans on the back burner and a major damper on domestic travel, especially to those areas frequented by crowds.
In truth, we all want to travel to exotic locations, and most of us, myself included, have never taken the time to see what is in our own backyards. And guess what, the more I looked the more I saw…nesting robins, bluebirds feeding young, white squirrels on the feeder, butterflies, and some very cool patterns on plant leaves.
Being on the verge of going stir crazy, I thought, why not use this time at home to try new techniques, test gear limits, hone the techniques used on location, experiment with lighting, and more. The time at home would also provide an opportunity for me to get familiar with the newly released Canon EOS R5 and R6 mirrorless cameras and RF lenses.
With new gear showing up almost weekly it was like an early Christmas! And I could not wait to immerse myself in manuals (yeah, right). Anyway, who does not like playing with new gear?
Here are five of my tips for better wildlife photography in your own backyard.
#1 Nature Has Its Routines

Every year the bluebirds' nest in the box we set up near the end of our driveway. Quite often if the weather cooperates, they will raise two clutches of young.
It had rained the day before and I noticed the adults taking turns actively feeding the young worms that had been brought to the surface of the ground. I approached this photo opportunity as I recommend to others; see the image first in your mind, then figure out the tools and techniques necessary to capture the vision.
Before setting up the camera gear I checked the lighting direction, background, and the position of the bird when feeding. I set the tripod up at box height, and positioned myself accordingly, so as not to disturb the birds' natural behavior. It was then a waiting game, he with the most patience and eye to the viewfinder wins.
#2 Watch & Listen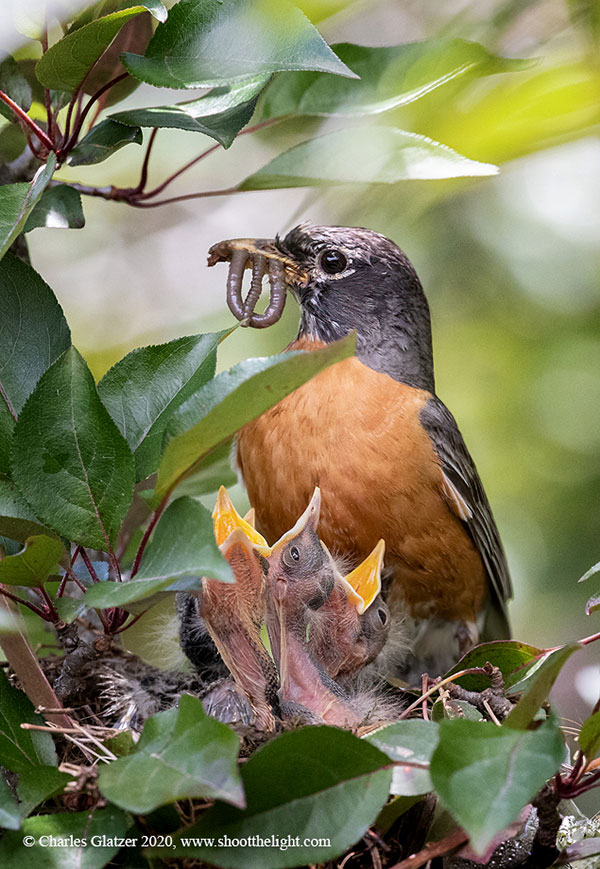 While sitting on my deck I noticed a slight movement in the tree not far away. To my surprise it was a robin sitting on a nest at eye level. Hoping to photograph the chicks hatching I checked the nest over the next two weeks a few times each day.
As nature would have it, a few leaves obscured just enough of the nest to block my view of the newly hatched chicks. And so I waited; in another week the chicks having grown strong enough to sit up and stretch their necks above the leaves would come into clear view.
Overcast skies provided the soft almost shadowless lighting on the birds without creating distracting bright highlights on the leaves. A high shutter speed was necessary to freeze the chicks wobbling heads. I used Live View with Silent Shutter to ensure I did not alter the birds' behavior.
#3 Look Up

Photographing the moon is easily done at home. It is also a great way to see how your gear performs with/without mirror-lock up, with IS on/off, and at various ISO's. You can also practice exposure using Live View with the histogram. It is also a great way to see how the various in-camera meter patterns compare with regard to exposure recommendations.
#4 Seek Action

We are fortunate to have a pair of white squirrels frequenting our backyard feeder. Their antics are never ending, and they are great fun to photograph.
I positioned myself parallel with the squirrel and feeder to make best use of DOF (depth of field). Being proactive I checked the exposure for the white highlights and manually set it in camera prior to the decisive moment. Setting the exposure manually allowed me to alter my composition without having to worry about the camera recommending a new exposure when the tonal values change percentages in the meter pattern.
#5 Always Be Ready

We have a planter on our deck with a small sunflower. While eating breakfast I noticed a goldfinch sitting atop the flower picking out seeds. That was all I needed, Game On!
It seemed the best available background was through our kitchen window, so I grabbed my camera and lens, and slowly opened the window. My wife was a bit surprised when she came into the kitchen and saw me standing hunched over atop a chair in the kitchen shooting out the window. I simply said a man's gotta do, what a man's gotta do…lol. She just shook her head and smiled.
Charles "Chas" Glatzer Bio
Since founding "Shoot The Light," an instructional photographic workshop and series, in the mid-nineties, Glatzer has cemented his place in the world as one of the top wildlife photographers working today. His dynamic and inspirational teaching has also made him one of the most sought-after educators and keynote speakers in his field. Glatzer's diverse work experience over his 37 years as a professional photographer provides workshop participants and seminar attendees with an unparalleled resource. His images are recognized internationally for their lighting, composition, and attention to detail and have appeared in many publications worldwide including National Geographic, Shutterbug, Outdoor Photographer, Popular Photography, National Parks, and many more.
See more of Glatzer's work at the Shoot The Light website and his Instagram page.
Read Shutterbug's 2016 profile on Charles Glatzer here.
FEATURED VIDEO