5 Easy Tips for Sunrise Photos with Maximum IMPACT
When it comes to improving one's photographic skills, some of the best advice is both simple and straightforward. That's exactly what you'll find in the quick tutorial below, as a successful landscape photographer provides his five best tips for capturing sunrise photos with maximum impact.
Based in Arizona, Mike Perea has a portfolio of gorgeous images shot in the American Southwest. He's also a popular workshop instructor who knows how to keep things simple. In this eight-minute video he reveals five favorite tips that he considers the cornerstones of great landscape photography.
While Perea's advice is geared toward beginning landscape shooters, more experienced photographers can also improve their results by employing his tips and techniques—specifically when shooting sunrise scenes.
Perea isn't someone who just grabs his gear, heads out into the field, and hopes for the best, and his thoughtful preparation has a lot to do with his success. His first tip is one you may have heard before, but it bears repeating: "Wake up early!"
As Perea says, this just isn't about having time for a quick breakfast and coffee, but rather giving yourself enough time to arrive at a location, choose a good vantage point, set up your gear, and consider various options for composition—well before the sun peeks above the horizon. As he says, "I usually arrive an hour before sunrise, because there's nothing worse than having to hurry and rush to take a photo."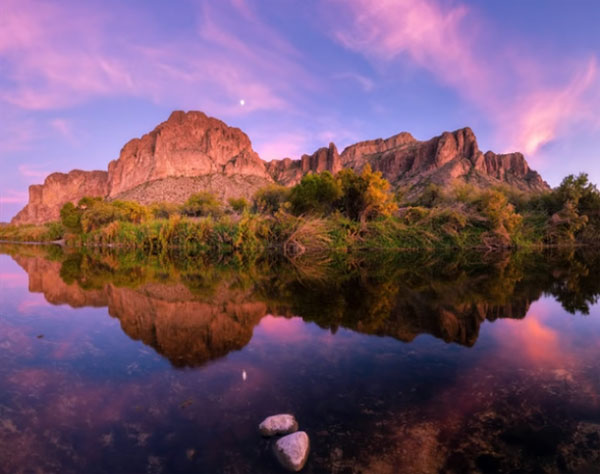 Because of his penchant for preparation, Perea always has his gear packed the night before a shoot, and makes sure he know exactly where and when the sun will rise. He also frequently scouts a location a day or too in advance, so he knows what he's going to photograph without scrambling around in the dark.
Perea's other tips include researching the weather and understanding the clouds to expect on the day of the shoot, the importance of using a Manual white balance setting for photographing colorful sunrise skies, and bracketing exposures when shooting into the sun.
These are all simple tips that you can put to work today. After watching the video head over to Perea's YouTube channel where you'll find more tips and tricks. And be sure to check out the tutorial we posted from another pro recently, explaining the three "essential" elements of great landscape photos.
FEATURED VIDEO