3 Legged Thing Goes Small With Redesigned Brian & All-New Iggy Tripods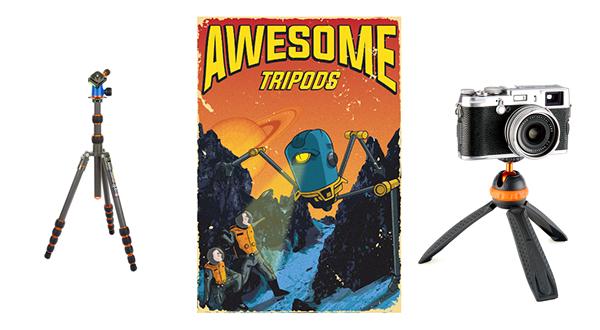 There is only one accessory that improves 100% of your images: the tripod. However, traveling with an extra set of legs can be cantankerous. Ask any centipede. Our friends across the pond have a couple new products that eliminate the temptation to leave the tripod at home.
British tripod manufacturer par excellence 3 Legged Thing has just made your spring travel tripod plans easier with a carbon fiber reincarnation of the archetypical Brian and an all new, well-mannered tabletop model named Iggy.
I've been a big fan of 3 Legged Things products since my first review of Punks Corey which you can read here.
3 Legged Thing Punks Brian Tripod
Whoever says you can't improve on an icon is full of beans. The first-ever tripod offered by 3 Legged Thing was the Brian. The basic design endured four intermediate upgrades before it was retired in 2015. Brian is back as a member of the Punks lineup, and he's ready to travel.
Meet Punks Brian the travel tripod. Light in weight at only 3-pounds and compact for easy portability, Brian measures just 16.5-inches when folded and extends to a maximum height of 74-inches. The design features five sections and supports a maximum of 30-pounds (pretty hefty, indeed).
Designed and engineered in Stagsden, England, Punks Brian is made from eight layers of 100% pure pre-preg (pre-impregnated) carbon fiber and includes all the features we expect from 3 Legged Thing. These include a detachable monopod leg, patented Tri-mount plate which allows the attachment of accessories, removable and reversible center column, ultra-low-level shooting using the widest 80º leg angle and ergonomic, hydrophobic bubble grips that provide a tighter grip, even when wet.
Punks Brian is available in grey and blue with copper accents, or matte black with accents of British Racing Green. Like the Punks Corey we referenced above, Punks Brian includes an Arca-compatible AirHed Neo ballhead which features a pair of spirit levels. Additionally, Brian features user-changeable feet called Heelz, Clawz and Stilettoz that roughly match their name and accommodate virtually any surface from shag carpet to rocky terrain.
3 Legged Thing Punks Brian tripod is available now for $299 from your favorite retailer.
Iggy and The Cradle
Iggy is a mini tabletop tripod made of durable ABS plastic and featuring an adjustable ballhead. Max weight capacity is 3-pounds. Iggy can be folded to 7.25-inches to create an ergonomic grip for handheld applications or for use as a selfie stick. Major Bonus: Iggy is packaged with a very useful GoPro adapter.
The Cradle is an expandable accessory smartphone holder that fits flexible sizes including the iPhone 8 Plus and Samsung Galaxy S8, for example, in both vertical and horizontal orientations.
Combined, Iggy and The Cradle create some powerful stability for compact cameras, cell phones and GoPro action cameras.
Iggy and The Cradle are available in various combinations to match your needs. For example, Iggy is available from Adorama for $22.99, while The Cradle costs $12.99. At B&H, for instance, you can buy Iggy bundled with The Cradle for $27.99.
—Jon Sienkiewicz
FEATURED VIDEO