10 New Photography Accessories That Caught Our Eye
If you're like us you're always on the lookout for a photo accessory that can make picture taking better, easier or more fun. Here's a roundup of 10 items we've recently spotted.
Peak Design Field Pouch 2
The newly redesigned Field Pouch is one of the most versatile small bags you can buy. It's three bags in one: wear it with the included shoulder strap as a minimalist carry-all sling bag, stow it inside your camera bag or backpack as a compressible in-bag organizer, or if wear it on your belt. Naturally it has built-in tether for a Peak Design Capture Clip.
Available in black, charcoal (gray) and midnight (blue). See it on Peak Design's website and order it for $44.95
Lexar Professional 633x 128GB (UHS-I) SDXC Card
High-speed, Class 10 performance and 128GB for less than $20. If you don't know what this is, you don't need it. If you do know, you also know that this is one hell of a bargain. Available now from Amazon for only $18.99. That's less than 15¢ per gigabyte. Seriously, at this price there's no need to reformat full cards—put them away in a safe place and you have an archival copy just in case.
Okko Pro Circular Polarizer CPL
Pronounced "ock-koe" (ock as in octopus), these new filters from a New Zealand company stand out because they use only the very best optical glass (Japanese AGC or German Schott) and come with a lifetime "you break it, we replace it" guarantee on their professional line.
The Professional circular polarizer prices start at $90. Order directly from Okko.
Updated Neck Straps from Peak Design
Everyone loves Peak Design camera neck straps. Be the first kid on your block to own the new updated 2021 model! All updated straps are available in new colors, including a covert midnight (blue) and earthy sage (green). Updates include new silicone grip, upgraded webbing and lower profile strap/hardware transitions. Anchor connectors have been updated to be smaller, faster and more secure.
Strap styles include the Slide Lite ($49.95), the Leash ($39.95), the Cuff ($29.95) and the perennial favorite the Slide ($64.95) which can be can be worn as a sling, neck or shoulder strap with internally-padded nylon webbing for smooth gliding over clothing and a grippy side to prevent slipping in shoulder mode. Tip: use the grippy side.
Pelican Rugged Camera Lens Cover
Although it bears more than a passing resemblance to the KUVRD Universal Lens Cover we wrote about back in 2019, the Pelican cap is brand new. Available in black or coyote (military tan), Pelican says its silicone product is designed to protect every lens you own and fits most pro level camera lenses on the market.
Available for $25 from Pelican with free shipping. BTW, the KUVRD product can be ordered from Amazon, two (2) caps for $29.
Mini Photo Studio Light Box
Attention all ebay sellers: buy this light box and post better pictures in your listings. Available for just $16.94 from Amazon in the small (20cm) size, you can shoot small objects with your phone (or a real camera, of course) thanks to the very bright built-in LEDs. The 60cm size is $99, still a bargain. Compare to the Fotodiox light box we covered previously (link here).
If you're as metrically challenged as we are, here's the math. 20cm equal 7.9 inches; 60cm are a hair less than 2 feet. For reference, a 12 ounce can of soda (Chicagoans, "soda" is the same thing as "pop") is 4.83 inches high.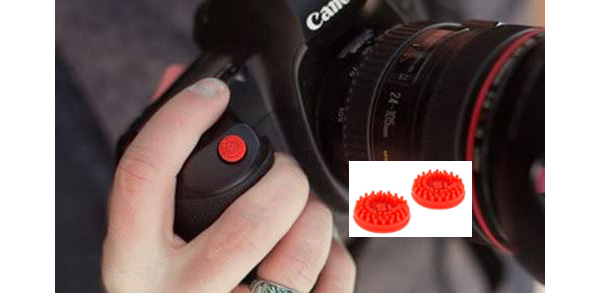 ProDot Shutter Button Skid Pads
Also known as a soft release button, this little guy provides positive tactile feedback so you know when your finger is on the shutter release. Don't laugh—on some cameras it's damn hard to tell. Self-adhesive, applies easily to any clean, flat surface with a residue-free stickum. Measures 9.8mm in diameter and fits most camera shutter buttons. For size comparison, a dime is 17.9mm.
Available from Amazon, a pair of these ProDot Shutter Button Upgrades will set you back $7.95.
Sigma WR Ceramic Protector Filter
If you use a protective filter on your lens, don't use a cheap one. Buy the best. The world's first clear glass ceramic protective filter, the Sigma Ceramic Protector, is made from chemically strengthened material that has greater flexibility than sapphire crystal glass, as per Sigma, and achieves more than 10 times the strength of a conventional protective filter. Available where you buy Sigma lenses, and from Amazon. Popular 67mm size is $89.
Mantis Vlogger Tripod from Pgytech
Not widely available yet; nonetheless, this is one of the coolest combination mini-tripod, selfie stick, video studio camera holder that you'll ever find. Manufactured by Pgytech, a forward-thinking small company we've covered many times in the past.
The Mantis provides seven (7) modes to capture every angle: Extended Mode, Lowered View Mode, Elevated Tripod Mode, Mantis Mode, Mobile Vlogging Mode, Vertical Shooting Mode, and Handheld Mode. Order from Pgytech for $149.
Camera Designs from 6DollarShirts
You won't believe this until you look for yourself—high-quality shirts with prices starting at $6. This creative collection of entrepreneurs buys up overruns from high end manufacturers like Gilden and customizes them with some of the best messages you can imagine.
Order this and a bunch of other very cool tee shirts from 6DollarShirts. Depending on imprint, a variety of colors and several wearables including hoodies, tanks, hats and more are available. Prices start at $6 for tee shirts.
(As an Amazon Associate, Shutterbug earns from qualifying purchases linked in this story.)