Tenba Axis Camera Backpack Review
"Born in New York." That's what is says on Tenba's website about their Axis camera backpack lineup. "…tough enough to withstand the rough and tumble city streets and hardcore enough to get you—and your gear—to the other side of the globe for your next big adventure." For my money, this isn't just marketing hyperbole—in fact, they left out a lot of compelling adjectives that equally apply, like innovative, stylish and versatile.
It's been a turbulent decade for camera bags and backpacks. Consolidations, business closures and competition from inexpensive imports all have played a role in the turmoil. On the bright side, younger companies like Cecilia, Gillis London, Hex, Peak Design, Shimoda and Think Tank Photo (to mention a few in alphabetical order) have all brought exciting new designs and remarkable value-for-dollar paradigms to the marketplace.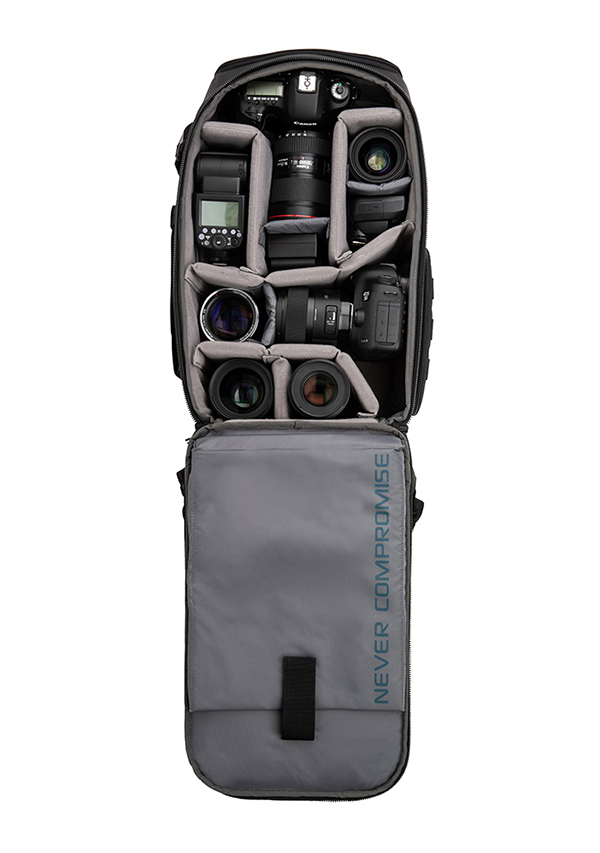 Throughout it all, Tenba stands like a pillar of consistency. High quality, great designs and competitive pricing are the reasons why. And just when you start to think that there's nothing new under the sun, at least in the Camera Bag Cosmos, Tenba proves you wrong with another innovation.
Shutterbug recently met with Peter Waisnor, vice president of Tenba and Shimoda Designs. Peter walked us through the new Tenba Axis line and shared colorful insight into some exciting new products that will debut a bit later this year.
The three new Tenba Axis camera backpacks take their design cues from popular military-style tactical bags but without overdoing it (like some bags do). Available as the 20L, 24L and 32L (the name denotes the capacity in liters) all three models are fitted with MOLLE-compatible webbing on the front.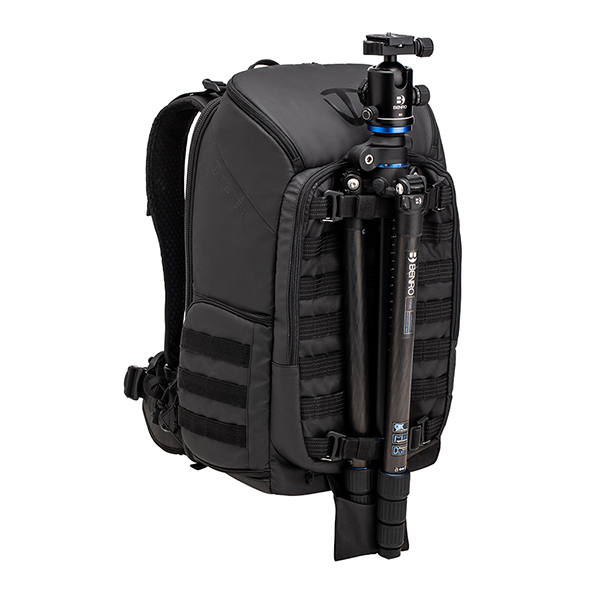 MOLLE is a military acronym for MOdular Lightweight Load-carrying Equipment. The webbing supports the lineup of optional Tenba Tools (lens cases, battery pouches and memory card wallets) as well as all standard military MOLLE pouches and accessories. Thanks to the cleverly designed tripod carrying system you can securely lash a tripod to the MOLLE webbing, with two of the feet resting inside a hideaway holster concealed at the bottom. The webbing is embroidered with reflective thread to lend an extra measure of safety when the bags are worn in dim light.
Security, Comfort and Excellent Accessibility
Equipment can be accessed easily and quickly through a zippered flap on the top as well as from the side. The entire back (the side where the shoulder straps attach) opens fully for easy loading and unloading. All zippers and clips are YKK, the best available, by the way. The exterior skin is made from a specially coated water-shedding material. All stitching is clean and sturdy. Fit, finish and overall craftsmanship is all top notch.
Inside you'll find plenty of cushioned dividers that can be repositioned to create the storage compartments you need. A nicely padded pouch for notebook computers is built into the back and is opened from the top. The bags are beautifully designed and very well made. They're not likely to wear out in one owner's lifetime.
Innovative Adjustment Concept
So here is the "something new under the sun" that I mentioned. The Tenba Axis series camera backpacks have height-adjustable shoulder harnesses. This is not a simplistic set of buckles and straps. You can adjust the actual top attachment points of the two shoulder straps independently. Given this level of customization, it should be possible for everyone to find a fit that's most comfortable for their physique.
How does it work? The Axis backpacks are supplied with a thin plastic spatula that can be guided down into the hook-and-loop attachment channel, disengaging the hooks along the way. You can visualize it like this: if you're wearing a jacket that has a hook-and-loop (Velcro-like) fastener you could disengage it by slipping a plastic credit card between the hooks and the loops. Same deal with these shoulder straps, and Tenba provides a blade that is exactly the right size to do the job. Very cool. Once loosened, the straps can be adjusted to the proper height and the fasteners pressed securely back in place.
Specifications
Axis 20L Camera Backpack will fit two DSLRs, five to seven lenses (up to 300mm f/2.8) and a 15-inch MacBook Pro. Weight is 4 pounds. Exterior dimensions are 12 x 19.5 x 8.75 inches, so it's ideal for airline carry-on.
The Axis 24L also holds a pair of DSLRs, six to eight lenses (up to 400mm f/2.8) and a 17-inch MacBook Pro. The exterior mesaures 12.5 x 20.25 x 9.5 and it tips the scales at 5 pounds even.
The largest of the trio, the Tenba Axis 32L, weighs in at 6 pounds and is 13.75 x 22.25 x 9.75 inches in size (exterior dimensions). It can tote two DSLRs, seven to nine lenses and a 17-inch MacBook Pro or equivalent size laptop.
Pricing and Availability
Pricing is as follows: Tenba 20L is $199, the 24L is $225 and the 32L runs $249. These and other Tenba bags can be ordered from Tenba's online store and are available via most camera specialty stores.
If a high class, super luxurious shoulder bag is more up your alley, you can read my review of the Tenba Cooper collection here.
—Jon Sienkiewicz
FEATURED VIDEO