Striking Autumn Images
Autumn is a season of change, accompanied by colorful foliage, pumpkin patches, and costumed children decked out for Halloween. Days become shorter and the sun is positioned lower in the southern sky, creating warmer light than in the summer months.

If you want to photograph fall colors, find out when the peak time will be. If you're planning on going to Colorado, New England or another popular fall-color spot, check with ranger stations, tourist offices or the local chamber of commerce in advance to inquire about "leaf-peepers" updates. The Internet can also serve as a good source of information. It's a good idea to give yourself a spread of several days to photograph optimum fall colors.
A soft, romantic look at fall trees in the fog--a subtle, painterly effect that was created in Photoshop.
Autumn's color palette is so striking, it can make almost anyone's photos look good. But don't forget about composition--it's just as important when photographing fall colors as it is with any other subject. After shooting a broad expanse of trees with red and yellow leaves, get closer. Move in on just one or a few colorful leaves (many cameras offer a close-up mode, which is indicated by a flower symbol in your camera's shooting modes). Check your manual to see how close you can focus on an object. Mixing broad views with more-intimate close-ups will give your pictures a lot of visual variety. And don't overlook reflections! Fall colors are dramatic when mirrored in a smooth lake or river surface.

Autumn colors photograph well in a variety of lighting conditions. On sunny days, it's best to shoot early and late in the day. In addition to photographing fall colors straight-on, position yourself so that the low-angled sun backlights the leaves. Since leaves are translucent, backlighting will make them seem to glow from within. However, try to avoid lens flare, which can occur when you're shooting towards the sun. Use your hand or a hat to shade the lens (just make sure it's out of your frame). Overcast days can also be great for shooting fall foliage because you can capture a more-muted, even color palette. Cloudy days are best for photographing close-ups, as you'll want to exclude the gray sky from your photos.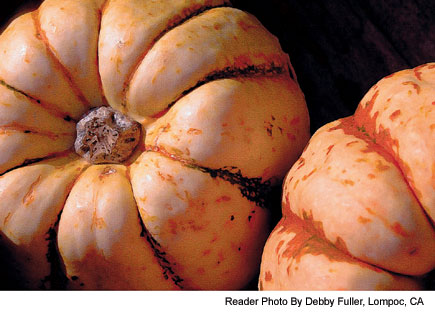 Moving in for a close-up often results in a simpler, more-powerful composition than you'll get with an expansive view.
Aside from trees that are changing colors, there are many subjects that say "fall" in a photo. Pumpkins at a roadside stand, a squirrel preparing for winter, or a beautiful building framed by fall foliage can all make for great photos. Also, autumn color changes aren't only limited to aspen, maple and oak trees--photogenic subjects can be found in other flora.

FEATURED VIDEO