Sony RX10 III Superzoom Camera Review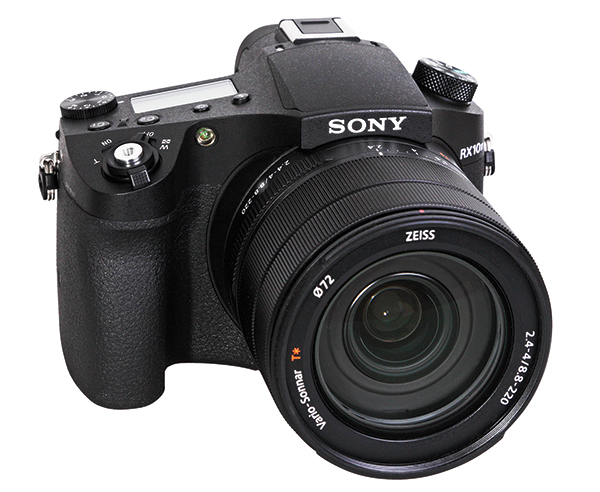 (Editor's Note: Lab Review lab tests and comments are supplied by BetterNet, Shutterbug's TIPA-affiliated testing lab and edited by George Schaub. Shutterbug is the sole U.S. representative within TIPA, a worldwide association of photo and imaging magazines. You can read our Field Review of the Sony RX10 III with full-resolution test images at this URL: http://bit.ly/2borfPb.)
In 2015, Sony presented their second version of a high-end compact camera with a one-inch-type sensor and an 8.3x zoom that offered a lot of professional functions. This year the company announced an equivalent camera, but with an ultra-zoom lens. The new Sony RX10 III uses a one-inch-type sensor (13.2x8.8mm) with 20MP resolution. The large integral lens has a focal length of 24-600mm (35mm film equivalent). The new camera has an SLR-style body, but uses an electronic viewfinder with 2.36 million RGB dots. An LCD on the back with 1.3 million RGB dots can be flipped up- and downward.
Features, Build & Handling
The fairly heavy body (nearly 2.5 pounds, including battery and storage card) has a very handy design. The large grip on the right-hand side and the large lens allow the user to work as if they were handling an SLR system. Albeit with some differences. The camera offers three lens rings for focus, focal length, and aperture settings. The focusing ring and focal length are adjusted via servo systems, thus both rings have no limiting stops and work "indirectly." This is an unusual way of working for most photographers, but with a little practice most users will become accustomed to it.
The aperture ring offers an additional switch for choosing photo and video mode. In photo mode, the aperture will move in 1 and 1/3 EV steps (which is usual for integral lens systems with manual lens rings); in video mode aperture change can be switched to a setting that allows the user to change aperture size seamlessly while recording the movie.
The camera offers a mode dial on the top to change exposure modes or to activate additional modes like panorama or video mode. In addition, the camera offers an "MR" mode for custom-defined camera settings. "HFR" is used to record slow-motion sequences as high frame rate shots. Just like a professional system, the camera offers a large status LCD on top and an additional dial to change automatic EV settings by +/- 3 EV stops.
Most setup dials and configurable function buttons offer very intuitive and fast setup of all settings. A setup dial on the back can be easily reached by the thumb of the right hand; this allows for setup of shutter speed settings in manual mode. Aperture size is controlled by the lens ring. A second dial on the back is also used for changing image parameters and menu navigation.
The camera uses Memory Sticks and all types of SD cards to record videos and still images. A fast SDHC/SDXC system (UHS-I, U3, Class 10) is recommended for fast continuous shots and 4K video mode. The camera worked well during the test with Transcend's 32GB SDHC UHS-I U3 Class 10 card and similar cards by Lexar. The camera uses a lithium-ion rechargeable battery. Sony supplies the camera with a USB recharger: The battery has to be recharged inside of the camera.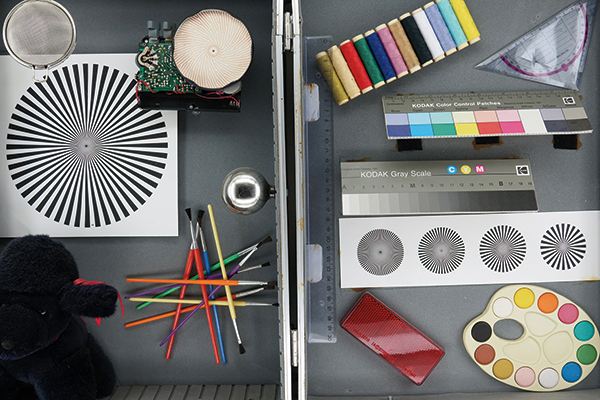 Comments on Image Quality
Color: The Sony RX10 III created images with perfectly saturated colors (average saturation: 100 percent). Some nuances show a little shift off their given value—see the yellow thread spool in the upper right, for example, that has a slight greenish look. Skin tones are reproduced very well with nearly no aberrations off their given values in the test chart: "live" scenes bear this out and are very good.
Sharpness: Even though the camera uses an ultra-zoom lens it offers very sharp images with a lot of fine details, even in the image corners. The ISO 12.233 chart was reproduced with 3,321 of 3,648 lines per picture height, which is very good. The camera boosts the result by an intense sharpness filtering, especially on hard contrast lines. This was detected as a "clipping effect" by our Imatest software, but real-life scenes look very crisp and natural. The zoom lens also showed a very good performance in optical tests. Light falloff (vignette) and distortion effects are on a very low level. The image processor of the Sony RX10 III seems to correct these optical effects quite well.
Noise: The camera performed very well in our noise tests, especially in the ISO 100 to 1600 range. Luminance noise will cross the 1.0 percent line between ISO 1600 and 3200. The camera uses an intense anti-noise filtering in images taken with ISO 3200 and higher. While images taken up to ISO 1600 look very clean and crisp, anti-noise filtering effects become visible at ISO 3200 and higher. At ISO 12,800, fine details become smoothed and differences between the gray patterns of the Stouffer grayscale gradient get blurred. The camera showed a good performance in the dynamic range test with a maximum of 10.9 f/stops; dynamic range drops drastically when shooting in the ISO 6400 to 12,800 range.
Comments on Video Functions
The Sony RX10 III can record 4K video with up to 25/30 frames per second (PAL/NTSC mode) and 3840x2160 pixels. These files are recorded in Sony's "XAVC-S" file system that is based on H.264 compression but allows higher bit rates than standard AVCHD files. The camera records bit rates up to 100 Mb/s. The camera also offers Full HD videos in MP4 or AVCHD format. In these modes it is able to record up to 50/60 frames per second, which is better for recording fast-moving elements in a scene. It supports AVCHD 2.0 with recording bit rates up to 28 Mb/s.
The camera can use all standard exposure modes (P, S, A, and M) for video recording. In addition, the photographer is able to set up ISO speed (up to 12,800) manually. The swivel LCD on the back is very helpful when recording videos, but using the EVF may be even more comfortable because the camera offers additional functions like focus peaking and a focus magnifier function. When setting up focus manually the very high resolution of the EVF (2.36 million dots) is very helpful. However, when using the EVF and holding the camera to the eye it can be difficult to push the video record button, which is located near the viewfinder.
The camera offers excellent slow-motion capabilities. It is able to record up to 1,000 frames per second for extreme slow-motion effects. HFR recordings are done in reduced resolution and interpolated to standard HD formats. The 250 frames per second mode produces very nice results with good sharpness.
Comments on Video Quality
The Sony RX10 III showed very good performance in 4K mode and a disappointing result in Full HD mode. In 4K mode the camera reproduced the ISO 12.233 chart with 1,750 of 2,160 lines per picture height, which is a good/average result for photo cameras with a video recording function. But in Full HD mode it showed only 790 of 1,080 lines per picture height, which is a little disappointing.
The color reproduction is very good. The white balance system created good-looking neutral nuances; only the brighter tones showed a little shift into the yellow area of the color space. The color error level is very low; nearly all colors show only minor aberrations to their given values.
The noise results in video are very good. The y-factor in all scenes taken with ISO 100 to 12,800 is a little lower than when taking still images (perhaps by using pixel binning and combining pixel information for the 8MP/2MP scenes when recording video instead of using the full 20MP resolution of the sensor). The dynamic range results are very good for a video camera. The Sony created videos with a maximum of 10.1 f/stops at lower ISO speed settings.
Scorecard
Pros
› Large bridge camera system, but still very handy
› High-quality ultra-zoom lens (25x)
› High-quality images due to large image sensor
› Sophisticated video features, including 4K video and slow-motion modes
Cons
› Very heavy
› Quite expensive
› Positioning of video recording a little unhandy when using EVF
› Battery recharged by USB cable
The Sony RX10 III has a list price of $1,599. For more information, visit sony.com.
(Lab Review is where we publish web-exclusive lab reports on cameras. To read more Lab Reviews, click on the Reviews tab on the top navigation bar of this page. New photo gear reports are published frequently, so check Reviews for more equipment evaluations from Shutterbug writers.)
FEATURED VIDEO