Sigma 35mm f/1.4 DG HSM "A" Lens: A Fast & Sharp "Street" Lens
There's something about a fixed focal length lens that brings the photographer out in me. It forces me to move in and back from compositions without resorting to a zoom. Yes, there are times when a zoom is most appreciated—especially the fast constant aperture zooms now available—but a prime puts me in a mindset that a zoom has yet to match.
And for me 35mm is just right—it affords a fairly wide view without introducing too much edge distortion and somehow matches my peripheral vision, probably more than a 50mm, which many call "normal." Add a fast maximum aperture, in this case f/1.4, and the fun of shooting a prime is enhanced even further. All this rhapsodizing speaks to the subject of this article, a "street" test of the Sigma 35mm f/1.4 DG HSM "A" lens (MSRP: $1400, shop for street price), which I had the pleasure to work with on a recent trip to Madrid, Spain.
Depth Of Field
35mm f/1.4 Specs
First some specs. The lens is for use with full-frame cameras, although you can use it with appropriate mounts for APS-C sensors, which would make it about a 52mm equivalent focal length. The lens focuses as close as 11.8"; weighs in at a fairly hefty 23.4 oz (all that glass); sports a fast HSM drive; is about 3x3.7" in size; has 13 elements (with superior FLD coatings) in 11 groups; has a nine-bladed diaphragm; plus has "floating internal focus," said to enhance close-up performance.
Minimum aperture is f/16 and there's that lovely f/1.4 on the other end, plus you can override AF anytime using the knurled ring at the end ofthe lens.
Filter size is 67mm and the front element, though slightly bulbous, recedes within the outer barrel so you can easily screw in filters. The fit and finish are substantial, with a rubberized focus ring and knurled grip on the right side for firm handling. By the way, the "A" in the name refers to a lens in Sigma's "Art" lineup, a classification system that we have covered in our photokina report and that can be further explored on their website.
Depth Of Field
Bubble Play
DOF Scale
There is a depth of field scale "window" but the only marking is for f/16, which it shows can hold focus from about 5" to infinity using a hyperfocal setup. (That is, place the 16 at the right end on infinity and put the lens in manual focus using the AF/MF switch and then don't change focus as you work.) The knurled inner ring helps avoid the temptation to grasp the lens at the outer ring (which will change focus distance) to hold the camera. Would a more comprehensive depth of field scale help? I think so.
Street Shooting: Demonstrations
Interior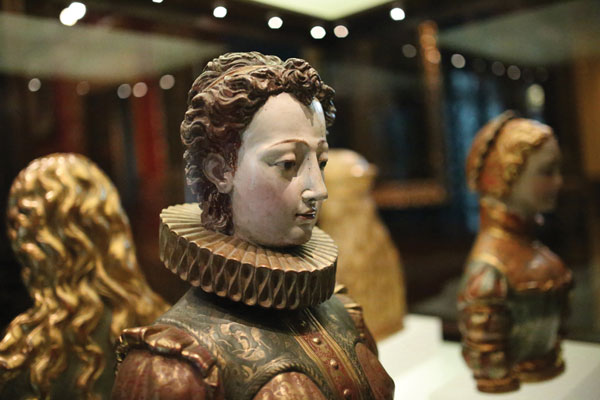 Field Test Comments
I will let the photo captions tell the rest of the story here, but I do have some quick overall comments. The sharpness of this lens is astounding. At f/8, the sweet spot of course, it had a kind of etched edge quality to it. It is very fast; I worked with a Canon EOS 6D (it's available in Sigma, Canon, Nikon, Sony, and Pentax mounts for full-framers, but of course can be used with APS-C units as well), which is no shirker when it comes to AF speed anyway. I also shot video with the 6D using the lens and I have to say it produced excellent, sharp movies every time.
I used the maximum aperture quite often, mainly because it was there, but it certainly came in handy in some dimly lit museum interiors where "sin flash" (no flash) was the rule. Being an f/1.4, I benefited from both the added extra light gathering ability and the shallow depth of field. (Going up a stop or so from the max always helps, but doing so here only brings you to about f/2, still plenty fast.) You will note that there is no image stabilization on the lens, but it's questionable why you might need it in today's world of high ISO quality, especially with the 6D. Nevertheless, some may wish stabilization was incorporated.
The price of the lens may seem prohibitive to some, but keep in mind that the quoted price is the MSRP (with "suggested" the operative word), and I have shopped it for considerably less at reputable stores. Besides, I am fairly certain it's a good investment that will pay dividends for many years. In all, as a fast, sharp prime it is certainly worthy of consideration as a creative and fun lens that will bring the best out in both stills and movies on whatever camera you mount it. And as a "street" lens, it is superb.
Street Shooting: Markets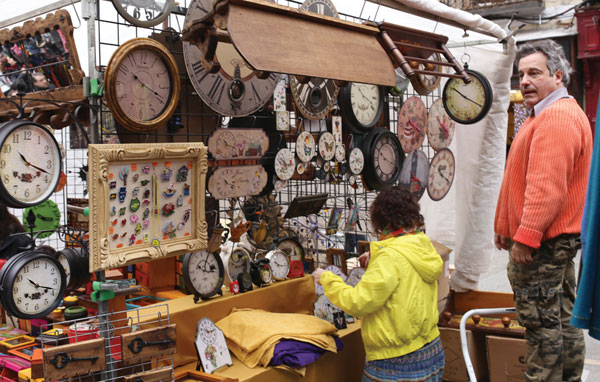 Wall Art
Micro Adjustments
Sigma makes the following statement: "Due to the extreme sensitivity of the digital camera mirror box, it may be necessary to adjust the AF data in your Sigma lens. At Sigma, all lenses are set to a neutral focus point during manufacture. Your camera may require micro adjustments to correspond with the lens. This is common and many companies have included Micro Focus Adjustment capabilities on their cameras. If you are able to do this with your camera and lens there's no need to send your equipment in for adjustment." This is quite honest and actually quite helpful, plus shows that Sigma wants you to get the best results from this lens you can and speaks to our current capability to obtain max quality from our optics. In short, test the lens with your gear and see if this is necessary. Maxing AF sharpness, which this lens certainly is capable of, is to your benefit, so check it out. I did not apply this in my testing as I checked results and felt the adjustment was unnecessary.
For more information, contact the Sigma Corporation of America at www.sigmaphoto.com.
FEATURED VIDEO