Shutterbug Photo of the Day: "Winter Wake Up Call" by Sheryl Saxton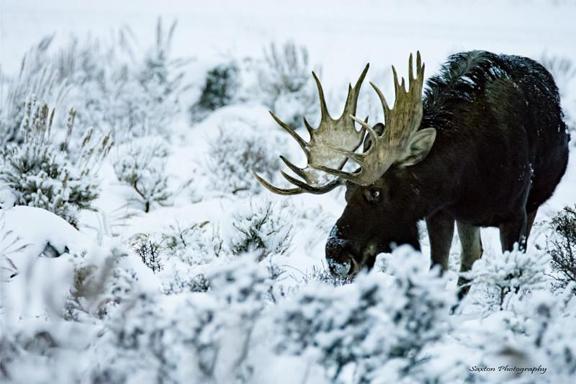 Our Shutterbug Photo of the Day by Sheryl Saxton features the dark form of a moose as a stark counterpoint to the snow dusted winter landscape.
"My husband spotted this moose at about a hour before light crossing the back side of our local reservoir. He could see the black outline against the snow. He pulled over and woke me up. He told me he saw an animal crossing and it looked massive. I said it's too dark to take a picture and he said lets wait. It was a cloudy snowy morning and our light was no good. I waited for over two hours and hid behind many different bushes as he worked his way across and close enough to get this capture," writes Saxton.
This image was captured with a Nikon D7200 and and a Tamron 150-600mm lens at 1/250 sec, 5.31 EV, f/6.3, ISO 12800.
See a larger version of the photo in the Shutterbug Photo of the Day gallery here.
If you want to enter Shutterbug Photo of the Day, post an image in the Shutterbug Photo of the Day Gallery and include your real name and some background on the image (how and where it was shot; the story behind the image; gear and settings used etc.) in the description field to qualify.
We will select one Shutterbug Photo of the Day image every month to run as a full-page feature in the magazine.
LATEST VIDEO