On The Road; What I Learned; My Journey From Fashion To Far Away
My route to travel photography was not direct, but looking back, I realize the direction was set fairly early.

While attending the Art Center College of Design in Pasadena, California, I got a chance to spend a semester break photographing in Arkansas at the oldest bluegrass festival in the US. I never forgot how much I'd enjoyed photographing the festival and the local people. After finishing Art Center I came to New York City and worked for a little over a year as first assistant to Richard Avedon. I worked on set, holding lights and loading cameras and learning the business of fashion and beauty photography. As famous as Avedon was, I marveled at how incredibly professional he was in dealing with everybody. There was no fooling around, no big ego. He was adamant that whoever came into the studio be ready to work.
Women Walking. Getting in step with their rhythm was a key factor here.
All Photos © 2009, Maynard Switzer, All Rights Reserved
One day Vogue sent over a young model to test for a cover. Hair and makeup were done and she was sitting on the stool as we were getting ready, setting up the 8x10 camera. It was obvious the girl was tired; maybe she'd partied the night before. She started yawning just as Avedon came in. Very politely he said to her, "I don't think you're really ready to shoot today; maybe you should go back to the agency," and he left. He saw that she wasn't into it, or didn't take it seriously enough, or just wasn't professional enough. Basically he was saying, "You've got to be as ready as I am for this shoot." He had phenomenal energy, and it came from doing something he enjoyed so much. I learned that this was a good way to be, professional and enthusiastic about what you did. Later in my career, when I was shooting fashion and beauty, that's the way I tried to be. I'd learned to put ego aside and understand that you're only as good as your last shot.

Eventually I built my own portfolio, spent about three years shooting in New York and Milan, then opened my own studio in Toronto, shooting fashion and beauty for advertising and editorial. Eight years later I moved to New York City to continue shooting both. Then about 10 years ago I started feeling that I needed something more meaningful in photography to carry me on to the future. I wanted to do something that lasted longer than the fashion photos that were old 60 seconds after I shot them. I wanted my pictures to mean more, to have more substance.
Lady and Tomatoes. The small element—she's eating a bowl of noodles—makes this photograph for me.
Over the years I'd done a few fashion shoots in Cuba, and every time I finished a shoot, I always wanted to stay and photograph the people and the culture. And I remembered how much I'd enjoyed photographing the people at that long-ago bluegrass festival. I decided to change direction and become a travel and documentary photographer. I planned a trip to Spain and Morocco as a test to find out if I'd really like it and to see what the pictures would be like and whether I was good enough. When I came back and was satisfied with the pictures, and had really liked the work, I made a complete commitment.

It took a couple of years of traveling for me to build a portfolio, but today I'm shooting for magazines, advertising, and stock. I have enough photos now that my marketing of the work can become much more aggressive. I'm also working on two projects: a book on Southeast Asia and a long-term project on people who live in very remote places around the world. I also teach a how-to course in D-SLRs at the International Center of Photography.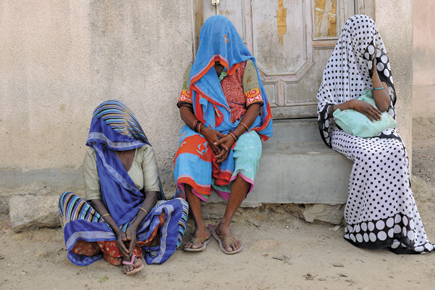 Covered Women. How colors work with backgrounds, and the gestures of hands.
As I began to write this first column, I was thinking about what I'd learned from the fashion days that I've brought to my travel and documentary work. I gathered up five photos that I want to talk about.
FEATURED VIDEO