PortraitPro 19: What's New in Portrait Retouching?
(Editor's Note: This is a sponsored post.)
For over a decade, PortraitPro (formerly Portrait Professional) has been popular with photographers looking to retouch their own images in-house. The easy to use interface makes it easy to customize nearly every part of your edit, making it ideal for everything from high-fashion to family portraits. PortraitPro 18 brought AI to the table, making for a significantly faster and more accurate editing experience. The latest offering, PortraitPro 19, was released in mid-October. So what can users expect from this new version?
More Sliders
The simple, slider interface is at the core of Antropics' editing tools. Rather than messing around with frequency separation and warping brushes, PortraitPro lets users edit images just by dragging the sliders up or down to get the desired effect. There is a surprising level of granularity here, from 'Master Sliders' for each section, right down to the amount of sharpening applied to each part of each eye.
PortraitPro 19 includes several sliders not seen in previous versions, such as 'Expressions' and 'Black and White', offering even more customization for editing.
More Realistic Skin Smoothing
One of PortraitPro's leading features has always been its skin smoothing tools which let photographers remove blemishes easily. For PortraitPro 19, Anthropics released a whole new version of their trademarked ClearSkin technology. While the sliders are largely the same as previous versions, the results are radically different.
Older software could sometimes leave faces looking 'waxy' or overdone, the new technology does a much better job of preserving shadows and skin texture. This makes it a lot easier to find that sweet spot where your customer loves the way they look in the photos without going overboard.
New Hair Colors
When you're shooting fashion or concept portraits, it's useful to be able to experiment with more 'out there' styles of retouching. PortraitPro 19's hair recoloring options are a useful addition to your toolbox, allowing you to totally recolor your subject's hair.
Of course, as with any tool in this software, it doesn't have to be all-or-nothing. The recoloring can be adjusted using a range of sliders, letting you give a little boost to your subject's existing shade.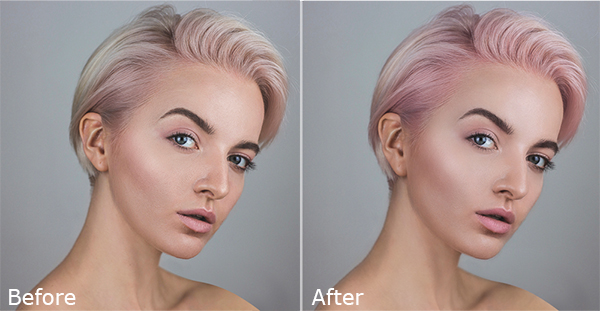 Interactive Tutorials
New users (and, admittedly, some of us who have been using the software for a while) will likely find the new tutorial system very useful. As soon as you open the software, you're presented with a series of short tutorials that walk you through some of the functions of the software. It's a great way to get up to speed fast and maybe even discover tools you weren't aware of.
And More…
Improved fix lighting, faster batch processing and more accurate lens correction are just some of the other features included in the new software. When added to PortraitPro's existing suite of tools, this offers a hugely in-depth editing experience that's still surprisingly easy to master.
Whether you're an existing PortraitPro user or are totally new to retouching, PortraitPro 19 has a lot to offer. With three editions to choose from—as well as bundles that include Anthropics' other products—there's a package to suit everyone. The software is subscription-free and there's a free trial available for download on the website for those who like to try before they buy. Save 10% on your purchase by using the coupon VU8736.
FEATURED VIDEO