Picture This!
The Stacking Effect: Compression With A Long-Range Tele
Telephoto lenses are great for bringing distant objects closer and giving you "tunnel vision" that isolates parts of your personal field of view. They also have an added benefit, a visual trick most commonly called the "stacking effect," where a series of subjects each distant from one another are brought in much closer visual contact. This compression of space is often used by landscape, architectural, and even candid photographers to add visual interest to a scene. True, you can crop into an image made with any focal length to get the same effect, but teles allow you to do this within the viewfinder, and without often image-degrading crops. This month readers sent in a wide variety of images illustrating this stacking effect, covering almost all the bases we mentioned, with some surprises as well.
Photo Finish: Henry S. Hamlin made this race too close to call with his Nikon N80 and Tamron 28-300mm lens on Fujichrome Sensia 200 film. Exposures were unrecorded.
© 2004, Henry S. Hamlin, All Rights Reserved
Long Walk Made Short: Steve Margison compressed this path on a boardwalk in White Sands National Monument, New Mexico, with a Nikon F100 mounted on a Bogen 3021 tripod with Kirk BH-1 ball head. He worked with a Nikkor 70-300mm lens set at 300mm and exposed on Fujichrome Provia 100F exposed at f/22.
© 2004, Steve Margison, All Rights Reserved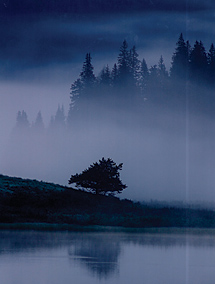 Misty Trees: Russell Ponter noted that there's a distance of at least 150 yards between the tree and the woods behind it, and stacked the two areas with his Canon EOS Digital Rebel and Quantaray 75-300mm lens set at 248mm. His exposure on a Slik tripod was f/7.1 at 1/125 sec at ISO 100.
© 2004, Russell Ponter, All Rights Reserved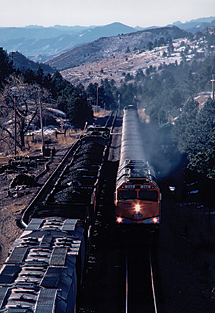 Eastbound Freight: RC Farewell made this photo with a vintage 1976 Pentax Spotmatic II body and a Super Takumar 300mm lens on Fujichrome Provia 100F. Exposure was 1/500 sec at f/5.6 on a Bogen 3021 tripod.
© 2004, RC Farewell, All Rights Reserved
The High One: Gary Glass made this shot of Mount McKinley with a Nikon F100 and Sigma
170-500mm lens at the 500mm focal length setting on Kodak Ektachrome 100 film.
© 2004, Gary Glass, All Rights Reserved
Bull Elk: The foreground and background become flattened horizontal elements in this photograph by Richard Smith made in Yellowstone National Park. Smith worked with a Pentax MZS and Pentax 400mm EDIF lens. Exposure was 1/250 sec at f/8 on Fujifilm 400 on a Bogen 3236 tripod.
© 2004, Richard Smith, All Rights Reserved
Checkerboard Painting: Dr. Judith Ebenstein made this photograph in Rome using a Canon EOS-3 and Canon 75-300mm IS lens. She wrote, "The scene reminded me of a checkerboard crossed with a 16th century Dutch painting."
© 2004, Judith Ebenstein, All Rights Reserved
Little Shasta Church: The mountain seems to loom over this church in this photo by Anthony Dunn, who worked with a Mamiya 645 Pro and Mamiya 500mm f/5.6 lens. He exposed on Fujichrome Velvia film.
© 2004, Anthony Dunn, All Rights Reserved
Gates: The Gates installation in New York City's Central Park was the subject of Dennis Ardigo's stacking contribution. He worked with a Canon EOS 10D and Canon 28-135mm lens at maximum focal length (202mm equivalent). Exposure was 1/250 sec at f/8.
© 2004, Dennis Ardigo, All Rights Reserved
Curious Combination: Racking out to a 39.5mm focal length on his Kodak EasyShare DX6490 digital camera, Alan Wood brought together this fence, sandy dune, parking lot light, and sculpture at St. Joseph North Pierhead on Lake Michigan.
© 2004, Alan Wood, All Rights Reserved
Please Note
We receive hundreds of submissions for Picture This! each month and want to be sure we properly identify each image we publish. Please be sure to attach your name and image information to the back of each submission.