Picture This!
Patterns In Nature
This month's Picture This! assignment was Patterns in Nature. Readers responded with a glorious selection of design, form, and color derived from plants, rocks, and animals. While the debate over so-called "Intelligent Design" and evolution may stir some to emotional rhetoric, there's some respite in simply marveling at and enjoying the visual pleasures offered in the world around us. The photos sent in were many and varied and this assignment proved to be one of the most difficult to edit to the images you see on these pages, if only because we received so many beautiful shots.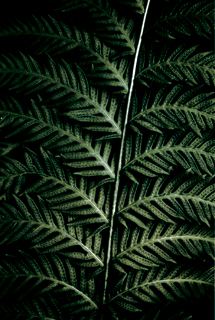 Nature's Perfect Stitching: Vinh Luu's perfectly exposed and delicately composed photo was made with a Nikon D70 and Nikkor 18-70mm AF-S DX lens. Exposure was f/4.2 at 1/60 sec on ISO 800 setting.
© 2005, Vinh Luu, All Rights Reserved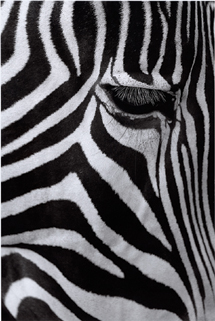 Minimal Zebra: Bill Reuter told us that his challenge was to photograph the "minimal amount of the animal" while conveying "zebra" to the viewer. We think he succeeded. He worked with a Canon EOS-1Ds Mark II and Canon 100-400mm f/5.6 L IS lens at f/5.6 at 1/100 sec.
© 2005, Bill Reuter, All Rights Reserved
Spirals: Michael Kern wrote, "Spirals can be found throughout nature...the double helix of our DNA, the shape of galaxies, seashells, and the tail of this resting Panther Chameleo." He made this shot with a Nikon D70 and Nikkor 105mm Macro lens with a ring flash; exposure was f/32 at 1/60 sec.
© 2005, Michael Kern, All Rights Reserved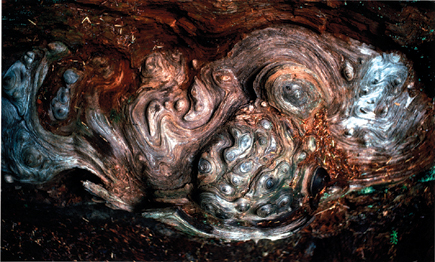 Fallen Red Cedar With Seedling: David Ahlgren found this wonderful pattern on Vancouver Island and photographed with a Nikon FM2 and 55mm Micro-Nikkor lens on Kodachrome 64.
© 2005, David Ahlgren, All Rights Reserved
Clover After Rain: Catherine Terroni's photo combines the beauty of the leaves with droplet jewelry using a Nikon FM with a 55mm Micro-Nikkor lens and Nikon 2x tele-converter on Fujicolor Superia X-TRA 400 film.
© 2005, Catherine Terroni, All Rights Reserved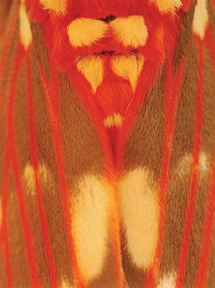 Regal Moth: These incredible markings of a moth were photographed by Mary Westhoff with a Nikon D70 and Micro-Nikkor 105mm lens using an exposure of f/14 at 1/40 sec.
© 2005, Mary Westhoff, All Rights Reserved
Fern Mirror: Jock Goodman made the original shot with a Nikon Coolpix 5700 camera with an exposure of f/5.4 at 1/230 sec and then created a composite mirror image.
© 2005, Jock Goodman, All Rights Reserved
Drying Mud Nautilus: Mark Rafter wrote, "I toyed with death as I chose to spend the week of Valentine's Day tromping around Death Valley without my wife." A brave man indeed, he made this photo with a Canon EOS-1v HS and Canon 28-135mm IS lens on Fujichrome Velvia 50 film.
© 2005, Mark Rafter, All Rights Reserved
Moonflower: The elegant simplicity of this flower was captured by Dr. Robert Alan Harris with a Nikon D100 camera, with the image converted to black and white in Photoshop.
© 2005, Dr. Robert Alan Harris, All Rights Reserved
Peacock's Backside: This unusual view of one of the most magical birds was made by David L. Harris with a Canon EOS Digital Rebel XT and Canon 75-300mm lens. Exposure was f/5 at 1/400 sec with the camera set at ISO 400.
© 2005, David L. Harris, All Rights Reserved
Please Note
We receive hundreds of submissions for Picture This! each month and want to be sure we properly identify each image we publish. Please be sure to attach your name and image information to the back of each submission.