Photoshop Basics: Edit HDR Photos for Top Impact (VIDEO)
High Dynamic Range (HDR) is an important technique that enables you to shoot or edit photos that appear more like what one sees with the human eye. The concept involves balancing out light and dark areas of a scene to capture more detail in both highlights and shadows.
In the past we've featured tutorials on how to edit conventional photos to create an HDR look, and other lessons explaining how to attempt an in-camera effect using the HDR setting available in most modern models. The tutorial below from The PHLOG Photography channel takes a hybrid approach—combining the best of both techniques
This approach used by German landscape photographer Christian Mohrle demonstrates a simple method for editing images shot with HDR that don't quite meet expectations when captured in the camera. As you'll see, the shadows in his photo are still far too dark, but since it's an HDR file there's plenty of expanded dynamic range available to rehabilitate the shot.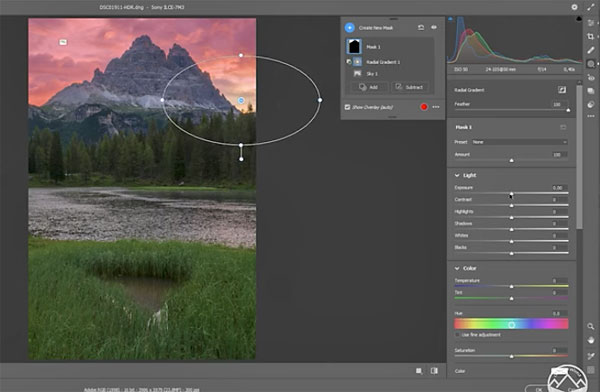 As with all lessons from instructor Christian Mohrle, we begin with a reminder to download the sample Raw image with the link beneath the video. That way you can make the changes yourself (a great way to learn) as they are explained.
Mohrle's first step is always a few basic adjustments to make the image look as good as possible before tackling the specific task of the day. Here he does that by changing the profile to adobe Standard and modifying white balance for more warmth and base saturation
After a few quick tweaks to exposure, Mohrle moves on to masking and color grading to selectively enhance specific portions of the scene, and as he works the image is increasingly transformed. He targets the sky with a radial gradient to add contrast, saturation, and a bit of glow. You'll see how a linear gradient further improves the shot.
Mohrle's color grading technique is also effective and super simple, as is the manner in which he carefully cleans up and sharpens the photo in his final two steps. Bottom line, this 11-minute video is well worth your time.
There's much more to see on Mohrle's YouTube channel, targeted at outdoor shooters, so be sure to take a look.
And don't miss the tutorial we shared from another expert, explaining a simple trick landscape pros use that you should try yourself.
FEATURED VIDEO