Photoshop Basics: 5 EASY Editing Tips & Tricks (VIDEO)
Those new to Photoshop are often overwhelmed by everything this feature-packed program can accomplish. The quick video below from the Adobe Photoshop YouTube channel is designed to shorten your learning curve in a big way.
Instructor Terry White has been with Adobe for over 25 years, and was inducted into the Photoshop Hall of Fame back in 2016. In other words he really know his stuff, and the tutorials he posts are among the best you can find.
Today's episode is targeted at beginners, demonstrating "five things you didn't know were in Photoshop," and his tips and tricks are so straightforward that you'll be able to start using them today. In barely four-minutes you'll learn how to blend images with Puppet Warp, boost image-quality with HDR Toning, and much more.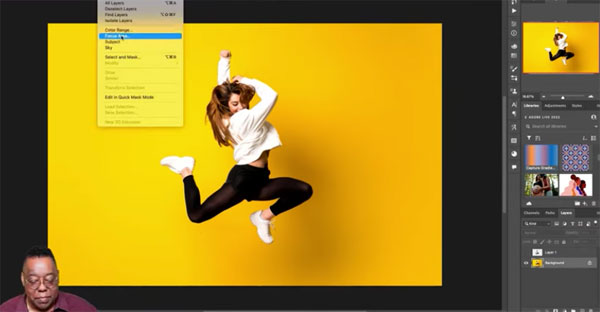 White kicks off the tutorial by explaining how to unlock the power of Puppet Warp with a few quick examples. The first step involves Select Subject, and duplicating that subject onto her own layer. He then returns to the original layer and uses Select Subject once again—this time to remove the model from the background.
Now that the two layers are prepared, you'll see how easy it is to use the Puppet Warp tool to bend the model's arms and legs in any position you desire for a more dynamic image. He even demonstrates how to edit the resulting file for a short video, with the layers becoming tracks. You can even add an audio track.
HDR Toning is next on the list, and this one is even easier. Here the goal is to rehabilitate photos with unbalanced exposures. A couple examples could be a portrait of a model illuminated by window light, or backlit photos taken outdoors (like subjects with a dark foreground in front of a very bright sky).
So what are White's other beginner tricks? You'll have to watch the video to find out. But we'll give you one clue: You'll learn how easy it is to create simple animation in Photoshop. Once you've become familiar with these basic tasks, you can then move on to more advanced Photoshop features.
There's much more to learn on the Adobe Photoshop YouTube channel, so take a look and check back there often.
And for those just getting started, be sure to take a look at the tutorial we posted earlier from another image-editing expert, with a complete beginners guide to using Selections in Photoshop.
FEATURED VIDEO