photokina Special Coverage; Digicams: Integral Lens Digital Cameras—Anti-Shake, Higher Megapixel Counts, And Face Detection, Too
During the photokina 2006 show, many new digicams were introduced with higher resolution: 10-megapixel sensors are now typical in the upscale models while 7-megapixel sensors are becoming the norm in many other categories. In terms of features, larger LCD monitors, at least 2.5" in size, have become standard; touch-screen LCDs (discussed later) have been introduced and are likely to be adopted by most manufacturers for family-oriented digicams; Image Stabilizers and face detection technology are becoming widespread. All of this is good news for anyone who wants a digital camera with a built-in lens.

High-Resolution Models
Boasting the highest resolution available, the Sigma DP1 employs the same Foveon X3 sensor as the SD14 that's discussed in our D-SLR report. Although there are only 4.69 million pixel locations, the X3 sensor features 14 million oversized photodiodes or pixels stacked in three layers. According to Foveon, that translates to an effective resolution of 2652x1768x3 pixels or 14.1 megapixels. In principle, oversized photo receptors are capable of superior light sensitivity for wider dynamic range and lower levels of digital noise. Note, too, that each of the pixels is capable of absorbing all three colors of light, something not possible with conventional sensors. Full specifications were not yet finalized by our press time, but this camera will employ a new, unique "True" image processing engine and will be equipped with a wide angle 28mm equivalent f/4 lens and a 2.5" LCD monitor; both JPEG and raw capture options will be available. (Price not yet set.)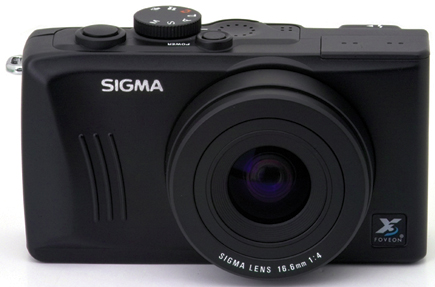 Leica is now marketing two new 10-megapixel cameras: the V-LUX 1 ($799, list) based on Panasonic's Lumix DMC-FZ50 and the D-LUX 3 ($599, list) with aluminum body that's similar to the Lumix DMC-LX2. Both are exceptionally well specified models, equipped with a MEGA OIS stabilizer system and Leica D lenses made by Panasonic. However, both models employ firmware and processors tweaked by Leica's engineers so they generate images with a different color, contrast, and "picture definition" than the Lumix models. The V-LUX 1 boasts a VARIO-ELMARIT ASPH 35-420mm aspherical zoom lens and tilting 2" LCD monitor while the D-LUX 3 provides a 28-112mm aspherical zoom and a 2.8" LCD screen that can display photos taken in the camera's 16:9 format mode.
Canon is competing in the megapixel race with several 10-megapixel cameras. The most desirable model, the PowerShot G7 will particularly appeal to serious photographers who want a backup to a D-SLR camera. This model is absolutely loaded with great features, including 25 shooting modes and numerous overrides; a 35-200mm zoom with Optical Image Stabilizer; ISO levels to 1600; a DIGIC III processor for great speed and image quality; and a hot shoe for accessory flash. (However, Raw capture mode, available with previous G-series cameras, has been dropped.) This is also the first Canon model announced to include Canon's new Face Detection AF/AE software that optimizes focus and exposure for the face, or faces, in an image. (List price: $549.)
Resembling the upscale PowerShot SD550 and SD700 IS cameras in many respects, the PowerShot SD900, with a new titanium metal exterior, is even more desirable as a family-oriented camera. Although its 37-111mm zoom is not equipped with an Image Stabilizer, this latest model features a 10-megapixel sensor, 18 shooting modes plus the essential overrides, ISO levels to 1600, and the DIGIC III processor with Face Detection AF/AE technology. (List price: $499.)
One of the smallest 10-megapixel cameras on the market, the Sony Cyber-shot DSC-N2 features a Carl Zeiss 38-114mm zoom lens and a massive 3" LCD monitor that's ideal for showing off photos after they're captured, using the many Slide Show mode options. Because the LCD consumes most of the camera back, there's no space for analog controls. Hence, the designers decided to provide a touch-screen display; functions can be selected with a fingertip or with the included stylus. In spite of its diminutive form factor (0.89" thick) this model is quite well equipped, including ISO levels to 1600, high-capacity InfoLithium battery, and all of the essential modes and overrides. (List price: $449.)
Sony Cyber-shot DSC-N2 touch screen
Although MINOX cameras can be difficult to find in the US, some folks will want to seek out the very compact 10-megapixel MINOX DC 1011 Carat (also called the DC 1011 Gold). Intended for those who want something elegant and quite unique, this model boasts an aluminum body coated with a thin layer of 24 carat gold plus 10 tiny diamonds in the trim ring around the lens. Aside from prestige value, the camera is quite basic in terms of capabilities but is equipped with a 2.5" LCD screen and MINOCTAR 35-105mm zoom lens. Price information was not available at our press time, but apparently this "neck jewelry" will be quite expensive.
A 10-megapixel camera with a handsome stainless steel, weatherproof body, the full-featured Olympus Stylus 1000 features a 35-105mm zoom, 2.5" LCD, and a really cool electronic feature that my daughters would appreciate. Called Digital Image Stabilization Edit, this system employs an electro-gyro sensor to track the vertical and horizontal movement of the camera; that data is used to revert the image back to its original position for higher sharpness. While this amenity is not an ideal alternative to a tripod, or an optical or CCD shift stabilizer, it is surprisingly effective. (Street price: $399.)
Other Fine Digicams
For some reason--perhaps the availability of affordable CCD sensors--the 7-megapixel resolution level is becoming the most common. And that's plenty of resolution for most buyers, because it's suitable for excellent 8.5x11" prints, the largest size that the majority of families ever want. Some of the new 7-megapixel cameras include a true optical or mechanical Image Stabilizer, a trend that has been accelerated particularly by Panasonic. Several Lumix models with MEGA OIS stabilizer were announced in 2006, but well before the photokina show, so they are not discussed in this report.


FEATURED VIDEO