The Phase One 645DF; Medium Format Muscle Page 2
In The Real World
Phase One offered to send one of their people to help me get started, but I declined. It's my policy that unless the company makes it their practice to have someone physically help an actual purchaser set up, I prefer to handle it the same way it would be done in the real world. That said, the high-end studio shooter this camera is aimed at probably has an in-house technical specialist to sort things out. In common with all European commercial software, installing Phase One's Capture One PRO software was, not unexpectedly, a pain in the caboose. Phase One has a tutorial on their website showing how to activate the program and no other company I can think of has done this. You can expect to require Tech Support to get the software activated. I did.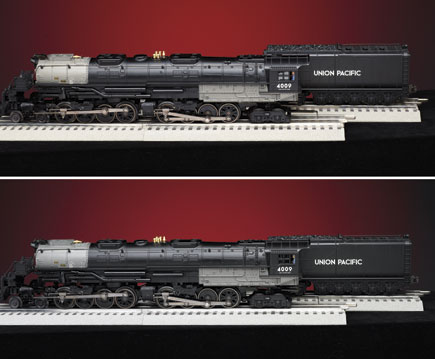 The top image was made with a Phase One 645DF with a Phase One P 40+ digital back. The bottom was captured with an ARCA-SWISS F-Classic C 6x9 view camera with a 22-megapixel Phase One P 25 back and a 75mm f/4.5 Nikkor view camera lens. Both were made using identical lighting and exposures. Which one was better? You'll have to read the text to find out.
Without lens, back, or batteries the Phase One 645DF body (only) weighs 2.27 lbs and while it's a handful, I could and did shoot with it handheld all day, not that I enjoyed it. The camera is powered by six AA batteries and the day before my first shoot I installed fresh, sealed batteries provided by Phase One and made a few test shots to make sure everything worked properly. When I tried to turn on the camera the next day, the batteries were dead. Upon testing, I found three were marginal and the others were DOA. In went six new batteries from a different manufacturer. After a few hours shooting they expired. In went six other batteries from yet another manufacturer and I finished the shoot. A few days later I was planning to photograph a car show, so I tested the camera and all was well the day before. On the day of the shoot, the batteries were dead. In went six new Energizer AAs and they worked all that day and the next for architectural shots. I went through 24 AA batteries and I did not shoot it every day.

My first shoot was in the studio of a 1⁄55 scale model of Union Pacific's largest locomotive, the Big Boy. In the studio I shot tethered with the 645DF connected by a FireWire cable to my MacBook Pro running Phase One's Capture One PRO software. Other than dealing with the cropping problems and swapping batteries in the camera body, the studio session was uneventful. Working with the tethered camera seemed like no big deal and in fact was much easier than using the tiny LCD screen on the back, allowing me to see the detail that was possible from the camera's big and beautiful files. The results were simply stunning.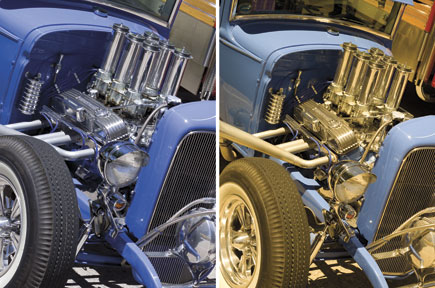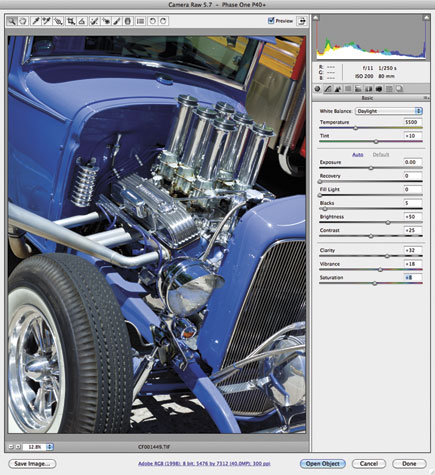 (Top): Here's a side-by-side comparison of two shots of a blue hot rod with chrome velocity stacks on its engine that were made one after the other and cropped to be as similar as I could make them. Both were made at identical exposures of 1⁄250 sec at f/11 and ISO 200 but the second image clearly has a strong shift to yellow. What did I do differently? Nothing. (Above): Fixing the color shift caused by the Phase One P 40+ back could have been done in Capture One software but I preferred the simplicity of Adobe Camera Raw. All that was required to bring the yellowish image back into a neutral color balance was to change the White Balance pop-up menu from "As captured" to "Daylight" and voilà!
While I would have loved to have had a shoot-out with the rumored 32-megapixel Canon EOS-1Ds Mark IV, that mystery camera had not made an appearance as I completed this review. Instead, I did a side-by-side test using an ARCA-SWISS F-Classic C 6x9 view camera with a 22-megapixel Phase One P 25 back and a 75mm f/4.5 Nikkor view camera lens. I didn't have adapters that would allow either back to be used on either camera, but this configuration got me as close as possible. After lots of shots with both cameras, the results were surprising and may provide one answer to that age-old question "how many megapixels are enough?" The results were too close to call and resulted in spirited debate among the various hangers-on and studio groupies who gathered around anxious to see the winner. In one tiny and critical area, just beneath the engineer's window on the locomotive where its number—"4009"—appears, the image from the P 25 back showed ever so slightly more details in the rivets. Yes, boys and girls there are literally thousands of tiny rivets in the model, which is why it was selected for the test. My feeling and one ultimately shared with those watching the test is that the difference comes down to the lenses, not the back, and, like a soccer game, it was a tie. The file from the P 40+ was physically larger than that from the P 25 and that's a consideration if you're shooting for billboards or images that will hang on the sides of buildings, as many 645DF shooters undoubtedly will.

Then I took the camera on location to a car show. I loaded the P 40+ back with a 32GB SanDisk Extreme Pro card that's capable of a 90MB/sec transfer rate to handle the big files on the capture side, put the camera in Program mode, and made some photographs. The resulting images showed more detail than I've ever observed in my automobile images made with any camera that I have ever owned or tested. The camera's weight, bulkiness, and close-but-no-cigar controls make it less than ideal for grab shots, but I made a few and surmised that they weren't that bad. What was bad was a white balance anomaly that reminded me of something I encountered while testing Leica's DIGITAL-MODUL-R back.
At ISO 3200 the Phase One P 40+ back cuts back to 10 megapixels, producing just so-so results. Exposure here was 1⁄45 sec at f/3.2 and ISO 3200. This led me to take the Phase One 645DF outdoors at night and shoot some real low-light photographs.
Here's what I said in my 2006 review of the Leica DIGITAL-MODUL-R back: "All the back's digital bits do their job in a decidedly non-fussy way, except for maybe the way Auto White Balance mode sometimes loses its mind and behaves like white balance bracketing. This can be corrected later in Photoshop but is still annoying." That could apply to the 645DF as well. If you look at the example shown, you'll see a color shift in two successive images. This is easy to correct using Capture One or Adobe Camera Raw, which reads the 645DF's TIFF files. If you can't find my review of Leica's DIGITAL-MODUL-R on www.shutterbug.com, I've posted the illustrations, including the color shift, on my Flickr page (www.flickr.com/photos/joefarace). Much like the Leica back, the anomaly disappears as quickly as it pops up. And then sometimes comes back again!

I made some shots at ISO 3200 to test the 645DF's noise response but once you get past ISO 800 the file size drops to 10 megapixels and by the time you hit ISO 3200 it's kinda noisy. Why would I pay for 40-megapixel capabilities to create results that could be done better with a Canon EOS Rebel T2i? So I set out to make some nighttime shots at ISO 800 and 400 to get the full benefit of the P 40+ digital back. At a carnival I made some shots at ISO 800 then switched to 400 to get longer exposures (which should generate more noise) but there just ain't any, my friends.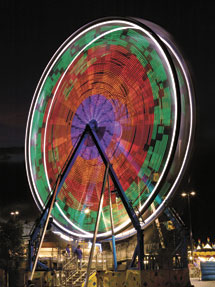 This Ferris wheel was photographed at night with the Phase One 645DF securely mounted to my Tiltall (www.plumeltd.com/tiltall.htm) tripod. Exposure was 1.6 seconds at f/22 and ISO 400. Noise from higher ISO and long exposure? Fuggedaboutit. The Phase One P 40+ back's smallish 2.2" LCD worked great under these conditions.
Then I decided to ask the 645DF a question nobody probably ever asked: do you shoot infrared? And the answer is a qualified yes based on using an A-sized Cokin 007 (Wratten 87C) filter in front of the lens. You can look at the example and judge for yourself. Infrared purists would scoff at using this particular filter but it was the only one I had that covered the 72mm schnozzola of the Schneider-Kreuznach LS 80mm f/2.8 lens. My infrared and night photography tests proved one thing to me, and that was, if you are going to shoot the Phase One 645DF outside the studio, you're going to need a really sturdy tripod. One of the tripods I own may be acceptable for a Canon EOS Rebel T2i but the 645DF overwhelmed it. The tripod I used for the night and infrared shots, while sturdy enough, was awkward to use because of this medium format camera's bulk. So, when planning your budget to purchase a Phase One 645DF, include a really good (read expensive) tripod.

Speaking of price, there is no window sticker on the equipment I tested. According to Phase One, "the list price for the setup/package (I tested) is $23,900. If you were to purchase the 645DF camera itself it would be more expensive, but there is a discount on the camera when it is bundled with a digital back." All of which proves an old automotive axiom: if you have to ask how much it costs, you probably can't afford it.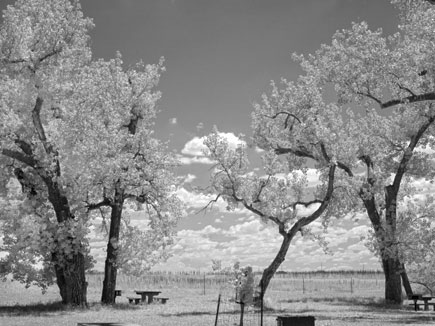 Shooting digital infrared with a Cokin 007 filter held in front of the Schneider-Kreuznach LS 80mm f/2.8 lens was a challenge because of dive bombing B-52-sized insects and the lack of a true viewfinder WYSIWYG. I made a shot and then had to—almost always—back up while the mosquitoes enjoyed a smorgasbord on my legs. The final exposure was 5 seconds at f/16 and ISO 400 but I would have preferred to have used a stronger filter such as Singh-Ray's ($160) I-Ray.
Bigger Is Better
When it comes to racing engines or imaging chip size, bigger is always better, which is why the Phase One 645DF allows you to use digital backs from the 31.6-megapixel P 30+ up to the 60.5-megapixel P 65+. The P 40+ back I used attached to the 645DF produced images of such startling clarity that I may never be able to look at automobile images captured with my digital SLRs in the same way again. I have been spoiled.

All is not wine and roses, though. While the overall shape of the 645DF is smooth, it still weighs about 4 lbs with lens and back but it lacks the finesse and mechanical purity of a Hasselblad 500CM. (That's not to say that Hasselblad's own HD4-40 digital camera is any great shakes in that department either.) While all that bulk is no problem when the 645DF is attached to a 50-lb camera stand, it can get heavy schlepping around for handheld usage. I'm guessing that most 645DFs will never leave the studio, so that is probably no more of an issue for studio shooters than the tiny LCD screen on the Phase One digital back.

The Phase One 645DF is not for everyone. It's perfect for the high-end studio photographer with clients who demand the maximum image quality and for the well-heeled advanced amateur who simply must have the best. The reality has always been that when you increase the size of the capture format, you also enlarge the bulk of the camera, raise its price, and steepen the learning curve, but that's to be expected with any truly professional tool. Yet, when it comes to uncompromising image quality, the Phase One 645DF will help you create that ultimate image.

For more information, contact Phase One at: www.phaseone.com.
FEATURED VIDEO