Pgytech OneMo Photo/Drone Backpack Review
A nice surprise, a backpack for cameras, lenses and drones that introduces some new features and turns some wasted space into storage space. Here's an intimate, hands-on review of the very intelligently designed OneMo bag from Pgytech that's engineered to provide a lifetime of service.
In case you're wondering, "OneMo" is indeed intended to suggest "One More," as in "one more backpack." But this is not just "one mo" bag, as I found out.
The OneMo backpack was designed with drones, gimbals and photo gear in mind. That's good, because in many instances, bag makers hastily find a way to accommodate the flying equipment as a afterthought. OneMo has a maximum capacity of 35L (that's big) when expandable storage space is unzipped. It also holds a 15-inch MacBook. Empty weight of the OneMo is 4.6 pounds (2.1kg) and it measures 18.9 x 12.6 x 9.1 inches (480 x 320 x 230 mm). Standard, unexpanded capacity is 25L.
It's a two-in-one type design that features a removable, standalone shoulder bag that fits neatly at the bottom of the backpack or can be removed and carried separately by the included shoulder strap. More on that bag later. Contents in the main storage area can be accessed through either of two side openings or by unzipping and laying open the back.
The inside can be subdivided to store equipment of various sizes using protective multi-fold partitions. These dividers are green and strongly resemble Peak Design's FlexFold dividers. They are not exactly the same, but function in a very similar way.
I really like some of the things they've done on the inside. There is a cinch strap that runs across the middle so you can pull the sides in tight if necessary. And the two dividers for the bottom half of the bag are the correct size and thickness to do double duty as additional bottom padding.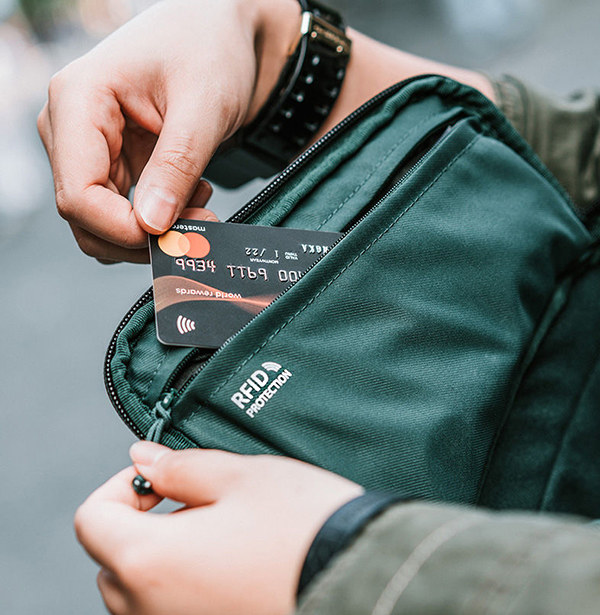 The exterior of OneMo is abrasion resistant poly/poly that's water resistant and snag proof. The bottom is rubberized so you can set it down on wet grass without concern. The protective layer on the bottom also doubles as a pouch for a weather cover. The zippers are not YKK, and that's disappointing but not fatal.
Externally, on one side there are two zippered panels that can be opened to access the bag contents. The smaller panel features a zippered pocket that is claimed to provide RFID protection (I couldn't test it). The idea is that the RF barrier creates a safe place to carry your credit cards. I strongly discourage people from carrying credit cards, passport or other hard-to-replace items in their backpack if it's possible for them to carry on their person instead. The larger panel has a useful and ingenious feature: three battery pouches, each with a green-red slide indicator to mark battery status.
On the other side of the backpack (the left side if you're facing the front of the bag) there is a small, zippered organizer pocket and a deep open pocket for a beverage bottle or tripod legs. There's a haul handle on that side, too, although the handle is really too small to comfortably carry the bag horizontally.
The shoulder straps are nicely padded and can be partially hidden in a deep, padded pouch near the bottom. That's a handy feature if you plan to carry the bag by the top grab handle or slip the bag into overhead airplane storage. And the extra padding improves comfort, too.
The front is a nice, plain, clean surface with two ribbons of Hypalon loops and a secret storage pouch with magnetic security closures. Overall appearance is stealth in that it does not announce that the bag contains cameras or other expensive items. The front can be expanded via a full-circumference zipper to add an additional 20% storage space—albeit long and thin. Perfect place for a poncho, pop-up reflectors or perhaps N95 mask storage.
The removable shoulder bag is way cool because in addition to a flat, zippered pouch on the top there is a secondary storage compartment built into the lid. This compartment can remain empty and compressed if not needed, or opened fully to provide enough space for a compact camera, tabletop tripod, or something similar. The main storage area inside the shoulder bag is nicely padded and includes two OneMo multi-fold dividers.
It's clear that an enormous amount of field testing and careful planning went into the design of the Pgytech OneMo backpack. In my mind's eye I can see someone looking at the design and saying, "Hey – we can improve this by simply adding a loop (or whatever) here."
For a deeper dive into the features and aspects one should consider when backpack shopping, take a look at our buying guide, How to Buy a Camera Bag.
About Pgytech
It's a young company and this is their first backpack. But they have accumulated significant experience designing and manufacturing accessories for DJI drones as well as a small assortment of photo accessories. They tell me that they spent two full years on the design of the OneMo backpack, and I think their time, patience and diligence paid off in spades. From the get-go they built this backpack for drones, gimbals and camera gear instead of merely finding a way to cram the drones in. This video tells part of the Pgytech OneMo story.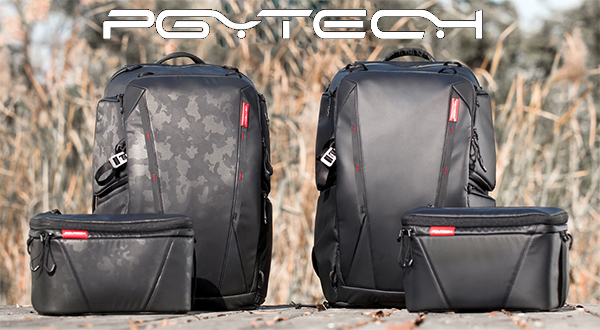 Quality Control
For the shoulder strap oscillation (shaking) tests, Pgytech exceeded the industry standard by 250% (i.e., 2.5X) and packed in a 33-pound load before shaking the bag 400 cycles. Similarly, for the contents handling test (which tortures and then examines the equipment inside a packed bag) they again used a 33 pound overload and ran the test through 250 oscillations. The results: not a scratch on the gear therein.
They also extensively tested zipper action, abrasion resistance, loop endurance, water resistance and other areas that could fail. They did everything except capture a live kangaroo and let him try to punch his way out. At the conclusion, Pgytech decided to offer the OneMo backpack with a limited lifetime warranty.
Conclusion
My initial reaction, based on what can be seen from the outside of the Pgytech OneMo backpack, was lukewarm at best. Looks a lot like other bags that are in the marketplace already. But then again, as a wise man once said, all horses look alike from 100 yards away.
Inside, however, the OneMo is not just one more bag. It's very well made and includes some clever features—like the easily accessible battery pouches—that I don't find in other photo backpacks. And it's very clear that drones and gimbals are given their fair place here. That's important especially to aerial content creators who, in some instances, have been making do with bags that don't quite fit their needs.
The shoulder bag that comprises the bottom 40% of the backpack is well made and cleverly designed. Although I like the Pgytech OneMo overall, in general I don't like most bag-within-a-bag design styles, personally, because I already have a lot of small bags and I don't want or need another. Whatever dollars were spent designing and building the shoulder bag, in my mind, could have been spent on the backpack itself. On the other hand, the retail price of the Pgytech OneMo backpack is very competitive, so I'm not sure if my argument holds up.
I like this bag and the price is right. It's comfortable in the field, permits rapid access of the contents and looks sharp. It's well made and well designed and leaves very little wanting. I can recommend it wholeheartedly, especially if you have a drone habit.
Price and availability
Available today from Amazon for $199. The Pgytech OneMo photo/video/drone backpack is also available online directly from Pgytech. Visit their website via this link. Cost for the Twilight Black model reviewed here is $199. The Olivine Camo version is $219. Shipping from Pgytech to the US is free and the bags carry a limited lifetime warranty.
—Jon Sienkiewicz
(As an Amazon Associate, Shutterbug earns from qualifying purchases linked in this story.)
FEATURED VIDEO