New Thermal Transfer Printers
Several new dye sub printers have been recently announced. These printers employ thermal transfer technology--they apply heat to a special ink ribbon to produce colored gas that forms an image on special media. All provide approximately 300dpi resolution, plenty for continuous tone output.
High Speed Pro Printers
Kodak recently introduced two new roll-fed thermal transfer 300dpi Professional models (with automatic cutters) that generate high quality output for use as proofs or for immediate sale. Both employ Ektatherm media said to produce prints that will "last a lifetime". An archival rating has not yet been published. (They require a computer running Windows 2000 or XP; Mac support is not available at this time.) The Professional 6850 Digital Photo Printer is lightning fast. It can deliver 6x8-inch glossies in 15 seconds or 4x6's in a mere 4 seconds -- hundreds of such photos in a series (without operator intervention) when high volume is required. (List price $2900; cost per print not stated; available in August 2005.)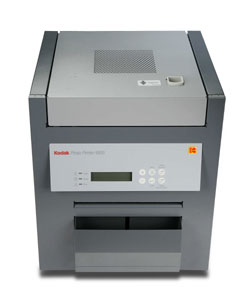 Photographers who need larger glossies will want the Kodak Professional 9810 Digital Photo Printer that can produce borderless 8x10's in 45 seconds or 8x12's in 50 seconds. This one also adds lamination to each print: Xtralife coating for water/fingerprint resistance and greater durability. The 300-print per roll capacity supports high-volume retail, event, and specialty applications. (List price $3499; price per print $1.85; available in July.)


Compact, Portable Printers
At the other end of the spectrum in size, weight and price, the portable small format photo printers have increased in popularity. They're great when traveling or attending family events, or whenever you need photo prints quickly with maximum simplicity.

Canon SELPHY CP600: The latest in a long line of Canon's highly portable (under 2 lbs.) machines, this model can make borderless or bordered prints as large as 3.94x7.87", at 300dpi. Such a large print takes under 90 seconds; smaller prints are made even more quickly. It uses yellow, cyan and magenta dyes (256 levels per color) and applies a "100 year" (Canon's storage estimate) image overcoat that protects against environmental impurities. Meeting a growing demand, this machine includes Wireless (infrared) printing capability from camera phones using IrOBEX image transfer by "vNote." Naturally, the SELPHY CP600 can also print direct from any PowerShot camera with a DIGIC II image processor or from any PictBridge compatible digicam. (Street price $249, including AC adapter, rechargeable battery, ink and some sample 4x6" sheets of paper.)


Olympus P-S100: Part of an integrated system of accessories discussed in my report on digicams, the new 306dpi Digital Photo Printer P-S100 can also be purchased separately. It's smaller than the Olympus P-10 model and was designed for direct from any IR-series Olympus camera or from the portable Olympus S-HD100 hard drive with cable connection. The P-S100 can also print from a PC or direct from any PictBridge compatible camera of any brand, when connected with a USB cable. This rugged (5 lb.) machine can make a borderless 4x6" print in about 90 seconds, using yellow, magenta and cyan dyes (256 levels per color) plus a protective overcoat.
Contacts: www.kodak.com
www.canonusa.com
www.olympusamerica.com
FEATURED VIDEO