Macro Ringlighting; We Review Flash, LED, And Fluorescent Ringlights Page 2
ExpoImaging
Ray Flash (
www.expoimaging.com
)—attaches to selected Canon and Nikon flashes, excluding shoe-mount flash ($199).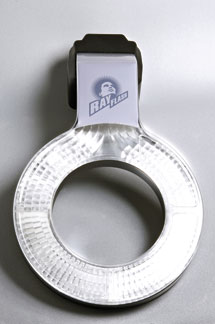 ExpoImaging Ray Flash—in my tests I used this in conjunction with the Nikon SB-900 as host flash.
Lomography Ringflash (http://shop.lomography.com/ringflash/)—compatible with selected Lomo, Fisheye, Holga, and Diana cameras; comes with a set of color filters ($65). I wish someone made a ringlight like this for a D-SLR.

Metz Mecablitz 15 MS-1 Digital (www.bogenimaging.us)—slave ring flash offers wireless TTL support with Canon, Fuji, Nikon, Pentax, Samsung, Olympus/Panasonic/Leica Four Thirds, and Sony Alpha cameras—with full dedicated circuitry all built-in; features pivoting heads and digital light ratio control ($404).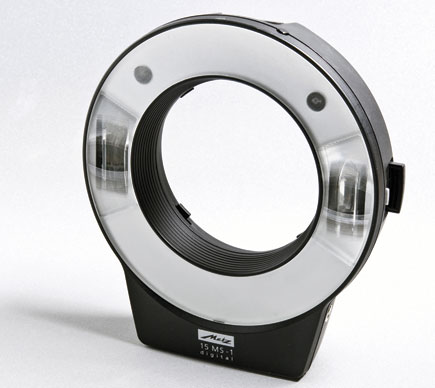 Metz Mecablitz 15 MS-1 Digital—the lack of wires makes this ring flash a joy to work with.
Novoflex Ring Flash (www.hpmarketingcorp.com)—under $230, excluding TTL module and power module (purchased separately).

Olympus SRF-11 Ring Flash Set (www.olympusamerica.com)—dedicated TTL operation with Olympus E-series cameras and 35mm and 50mm Digital Zuiko macro lenses with optional adapter ring ($458).

Pentax AF160FC Auto Macro Ring Flash (www.pentaximaging.com)—for Pentax D-SLRs ($499). The kit includes lens adapter rings for 49mm, 52mm, 58mm, and 67mm filter threads, as well as a macro adapter for Pentax D-FA series macro lenses.

Phoenix SmartFlash RF46N Macro Ring Flash (www.omegabrandess.com)—for Nikon and Canon ($199); includes 55mm, 58mm, 62mm, and 67mm adapter rings. The DRLLEDL Digital Ring Light LED (large: $199) fits lenses with up to 62mm diameters.

Promaster MacroLume TTL Digital (www.promaster.com)—offers TTL support (via 5050DXR Digital dedicated module for Canon, Nikon, Olympus, Pentax/Samsung, Sony—under $60 each). It can also sit atop the camera (attached to the tilting controller module) and double as a shoe-mount ($343, sans module).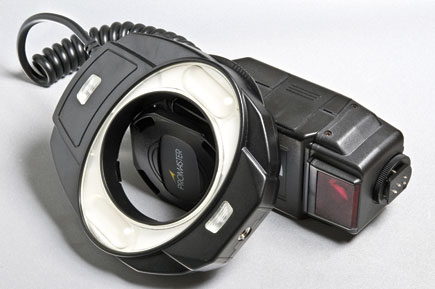 Promaster MacroLume TTL Digital with 5050DXR Digital dedicated module—this TTL ring flash effectively doubles as a shoe-mount.
Samigon Halo-Light FRL-1 (www.argraph.com)—fluorescent ringlight comes with 49mm, 52mm, and 55mm adapters ($109).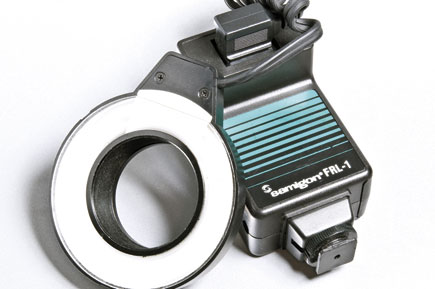 Samigon Halo-Light FRL-1—six batteries and still very little illumination in this fluorescent ringlight.
Sigma EM-140 DG Macro Ring Flash (www.sigmaphoto.com)—dedicated TTL models for Sigma, Canon, and Nikon ($379).

Sony HVL-RLAM Alpha Ring Light (www.sonystyle.com)—for Sony D-SLRs; features split-ring with individual control over each flash tube; supplied with a 49/55mm adapter ring and flash adapter ($349).

Sunpak Auto 16R Pro (www.tocad.com)—a non-TTL ring flash with stroboscopic function and LEDs, supplied with 58mm, 62mm, and 72mm adapter rings ($299). Also, Sunpak DSLR67 LED ringlight with shoe-mount fitting ($44).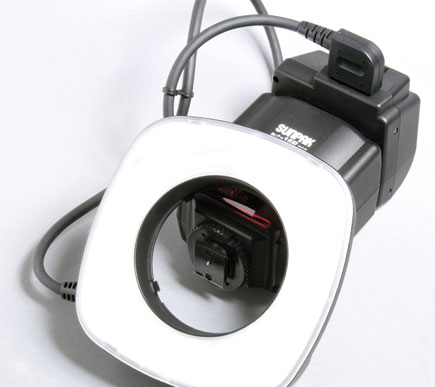 Sunpak Auto 16R Pro—this ring flash features auto-sensor and manual control, plus stroboscopic flashing.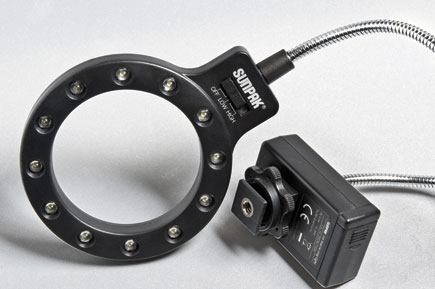 Sunpak DSLR67 LED—a novel idea in a ringlight.
Ringlight Facts
The key to successfully using a ringlight is understanding how it works, and what to expect of it.

Fact 1: The light goes where the lens goes. The ringlight's position in front of the lens ensures a unique vantage point, unhindered by leaves and branches, for example, which may block the light from a flash situated in the camera's hot shoe or to the sides, as on a bracket. It's not a foolproof solution, since a twig may be too close to the subject to be effectively dealt with and hence may cast a shadow.

Fact 2: That position, namely on axis with the lens, also guarantees that the light is directed at the subject, not shooting beyond it. Even if a shoe-mount head is lowered to the so-called macro (negative tilt) position, that's no assurance that the light reaches the subject efficiently. This on-axis lighting position also means that you don't have to worry about the lens getting in the way of the light, as would be the case with a shoe-mounted flash.

Fact 3: This vantage point allows the ring to fully encircle the subject and bathe it in light—and that is the key to ringlighting. In other words, for the ringlight to be most effective as a macro light, the subject should lie within the circumference of the circle.

Fact 4: Many of us have been under the impression that ringlighting is "shadowless" illumination. Not entirely true. It ranges from virtually shadowless to creating distinct shadows, all depending on the design of the ringlight, the subject, and the background. Shadows can be a boon or bane, depending on the effect you're after, the purpose of the shot, and the subject. We should also note that most ring flash units have focus-assist lamps. Use them. Shooting at close range admits very little light for focusing and composition, made all the worse in dim environments.
FEATURED VIDEO