Launch 2023 With A Photo Book of Your Best Images
How many printed collections of your best photographs do you have? If the answer is anywhere near zero, you're missing one of the most rewarding and enjoyable ways to showcase your talents.
A Trophy Case for Your Photography
Amateur, aspiring pro or seasoned vet, no other medium shows off what you can do with a camera like a professionally printed Photo Book from Saal Digital. Whether you want to memorialize your work for your own private enjoyment, to share with loved ones, or to create the most personalized gift imaginable, Photo Books should be at the top of your list. And they're much easier to create than you probably think.
Photo Books are excellent sales tools, too. If you're trying to break into the pro ranks as, say, a real estate photographer, nothing is more impressive or powerful than a Photo Book. They instantly show potential clients what you can do and that you take pride in your work. And their scope isn't limited to photographers. Jewelry makers, pet groomers, fencing companies, auto detailers, landscape designers—the list is endless—can all benefit by using Photo Books when wooing customers.
In fact, once you've become familiar with the medium, producing Photo Books for others is a viable business unto itself. Capture the images, customize the layout, and deliver the Photo Books for a fee. Use a Photo Book produced for Customer A to sell the idea to Customer B. Wedding and event photographers know this method works.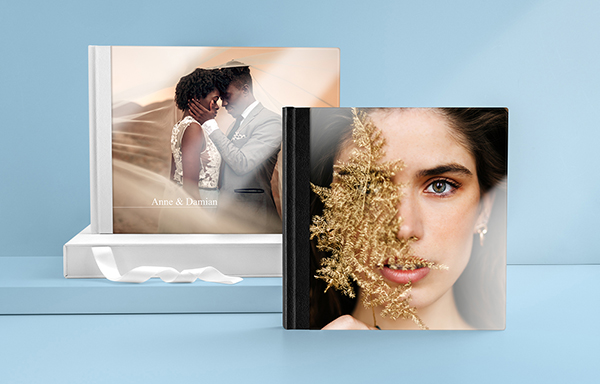 Saal Digital for Photo Books and More
Photo Books created by Saal Digital are very high quality, affordable and easy to make. Saal Digital is a professional photo lab and a global supplier of photo products for US, UK, and EU customers. As a modern online service provider, they specialize in a broad range of high quality photo products including Photo Books, Photo Prints, Posters, Calendars, Greeting Cards, Wall Decor (Metal Print, Acrylic Glass, PVC Foam Board, GalleryPrint), as well as many popular Photo Gifts. And like you, Saal Digital works diligently to further develop their products in order to achieve higher standards and to produce products they are proud of.
Saal Digital offers Layflat binding on Photo Books. With the Layflat binding you can place photos across an entire two-page spread without losing any detail, so you're not restricted to side-by-side layout formats. There's no distracting manufacturer logo on Saal Digital's Photo Books, and the production barcode can be easily removed. Furthermore, they promise long-lasting color. Saal Digital guarantees color fastness for 75 years so you can enjoy vivid colors like on the first day for a long time.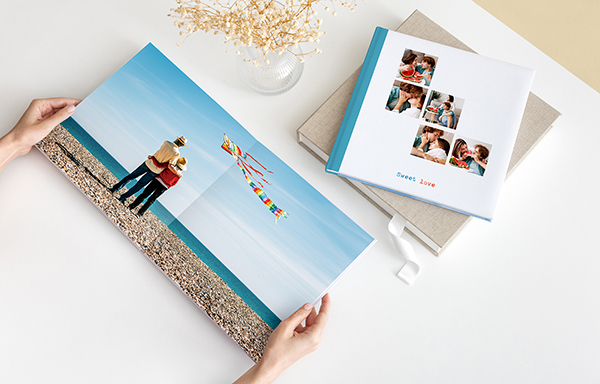 Easy to Create — Really
Even if you have no experience with Photo Book layout, organization or format, making a Photo Book is easy. Saal Digital offers video tutorials that teach you how to use Saal Design Software USA, a powerful but easy-to-use tool that enables you to create Photo Books that dazzle and excite.
One of the tutorial videos explores the different design options the Saal Design Software offers for creation your fully personalized Photo Book. In this video they introduce you to the various configuration options and some of the functions available to you to design your Photo Book according to your exact specifications. More videos offer helpful tips and specific instructions for certain tasks.
Once familiar with the process you can optionally use Saal Digital's Direct Photo Book Uploader if you prefer to design it with an external software like Adobe Photoshop or inDesign. You can find this and more in the Professional Zone section on their website. While on their website, check out Saal Digital's Professional Line Photo Books that offer options that can transform your creations into genuine one-of-a-kind works of art.
Enjoyment for Generations
Saal Digital Photo Books are not just for pros. They're for all of us. If you're lucky enough to have a family photo albums, you understand how emotional and nostalgic it is to see the records of the precious moments of your personal history. Photographs are the glue that binds generations together. The Photo Book you create today will be treasured and enjoyed by family members not even born yet.
Photo Books are better than albums because they can be printed in multiple copies and shared with more of your family, not passed around (or hoarded) like an album full of pasted-in prints. And the color is consistent and beautiful—they won't fade or deteriorate like conventional silver-based photographs. Photo Books take up less space than typical fat albums, too.
Add narrative text to the pages. No more removing the fragile printed photo and reading the faded ink on the back to find out when the photo was taken and who is in it.
Photo Books top videos by a mile. Video is popular, but it usually only shows the point-of-view of one person—and often the videographer never appears on screen. Photo Books can contain the images captured by many different members of the group, each expressing their own perspective and memories. Collaboratively created Photo Books bind families even tighter together.
Commemorate a vacation, wedding, new puppy or family reunion with Photo Books that tell a visual story of significant events in your life.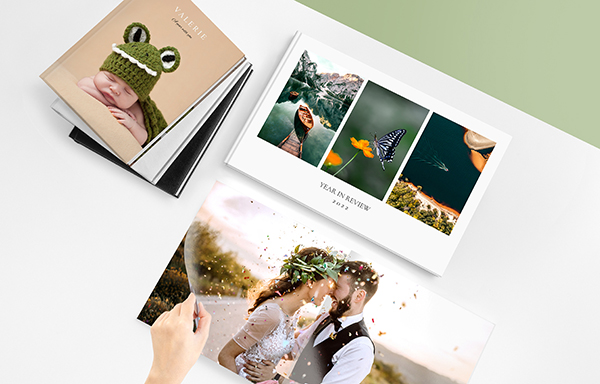 Order Now
Three options. Choose the way that best suits your work style.
The most comprehensive option is to download and install Saal Design Software USA. It features a full range of functions and editing options. You can customize your design with clipart, backgrounds, color and text boxes. When you need a break you can save your projects offline and edit them later before ordering.
A faster way that's not as flexible but is just as effective is to visit the Saal Digital online store. Design and then place your order directly from your web browser. Also, you can import photos from Dropbox and Google Drive—that's a timesaver.
The Saal Digital US App for mobile devices is the third way to order. It's fast and convenient, and you can complete your creations with just a few steps. You get great results, even with smartphone images.
Set Your Photos Free in 2023
Printed Photo Books cannot fall victim to crashed hard drives, won't fade like ordinary inkjet prints and can last longer than a lifetime. Start your collection of personal Photo Books today.
FEATURED VIDEO