Inkjet Printing Papers; Utilitarian And Fine Art Intros
It's kind of difficult to believe that there could be much innovation in a material that's been used for thousands of years, but I'm always surprised at the number of new printing papers that come out each year. Of course, the traditional surface photo papers in gloss and luster finishes continue to be the most popular choices, but there is an ever-widening variety of fine art and alternative media available as well.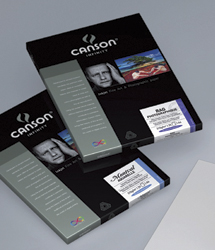 The Canson name is new to the US photo market but certainly not to papers, which they've been making for over 500 years. Some of their papers have been available under the Arches brand, but now they're making a major push into the market under their own name, Canson Infinity. With 14 different papers there is a wide range of surfaces for your prints. The two RC (Resin Coated) papers, PhotoSatin Premium RC and PhotoGloss Premium RC are 270gsm weight papers with a traditional look and feel. The other papers are all natural with no optical brighteners used in any of the surfaces. Papers range from the very smooth Rag Photographique to mould-made surfaces like Arches Aquarelle Rag and Velin Museum Rag. Also available are three canvas surfaces. Since baryta fiber papers are so popular now, the Canson Platine Fibre Rag looks to be a worthwhile addition. The print samples I've looked at show excellent tonal properties and D-max and I'm looking forward to running some test prints on this new media option.
Hahnemühle Gallerie Wrap System
The three newest papers from Hahnemühle are an addition to the Photo Rag line and two new sustainable materials (e.g., green products). Photo Rag Ultra Smooth 305gsm is, like the name says, an ultra smooth paper that has a surface more like a resin-coated photo paper than a cotton rag. If you're looking for a premium, high detail paper for your prints but don't care for the sometimes plastic look of gloss or luster, this one is worth a close look. The sustainable products papers are Bamboo 290gsm and Sugar Cane 300gsm. Bamboo is made with 90 percent bamboo fiber and 10 percent cotton with no optical brighteners. The warm tone and slight surface texture work well when a colder white surface doesn't suit the image. Sugar Cane is made with 75 percent bagasse pulp fiber and 25 percent recycled cotton fiber for a truly green product. Also including no optical brighteners, the Sugar Cane paper has a more textured look like a pastel art paper.

Finally, the Gallerie Wrap system is available for mounting gallery wrap canvas images. The kits include stretcher bars, a corner set, archival glue, tensioners, and holding pins. The kits are available in three different styles. The Professional series handles up to 60" prints, the Standard series up to 24" prints, and the Photo series handles 8x10" and 13x19" prints.

If you read my Output Options column in the February 2009 issue, I covered how to mount canvas. The Gallerie Wrap system makes the entire process much easier, and nearly foolproof. Look for a full write-up on this in a future Output Options column.

To go along with the Gallerie Wrap system, the new Monet Canvas is worth a look. With a natural white color and heavy 410gsm weight, this canvas responds beautifully to photo prints and stretching. Also new are the FineArt Inkjet Albums. These hardcover albums are 12x12" and each includes 20 sheets of double-sided Natural Art Duo paper along with interleaf sheets. The albums are available in standard and leather versions, and 40-sheet refills are also available separately.
FEATURED VIDEO