How to Make Your Workflow Less Work and More Flow
(Editor's Note: This post is sponsored by Datacolor.)
Streamlining the photographic workflow tops the list for most digital photographers, whether professional or hobbyist. After all, you put a great deal of time and effort into capturing that perfect shot - the concept, the subject, the location, the lighting – so the last thing you want to do is spend tons of time having to recreate that perfect image just because you used different lenses when shooting, or you needed to make significant color adjustments to suit your monitor (or several monitors!) not to mention more tweaking when it comes to your printer and other output devices.
What You Need is a Magic Box…
Wouldn't it be great to have a magic box of tools that could ensure crisp, clear auto-focus for all your DSLR components and lenses, and that would let you set white balance, black levels and brightness right from the start for easy RAW conversion? And to be able to boost the dynamic range of color in your images with scene light color and intensity data along with spectrally-engineered color patches for next-level color precision that also creates presets to be used with Photoshop, Lightroom and Phocus for automatic color correction? Why stop there - how about a monitor calibrator that's so accurate, easy-to-use and quick (let's say, under 2 minutes) that calibration becomes a never-missed step? Finally, how about having full control of your printer output for any combination of printers, inks and papers?
…Or You Can Get One of the New SpyderX Tool Suites
These "magic" boxes actually do exist – introducing SpyderX Studio and SpyderX Capture Pro, from Datacolor. We're champions of photographic creativity, promoters of working smarter not harder and sticklers for precision results, and we believe you feel the same. That's why we developed SpyderX Studio and SpyderX Capture Pro – two photographic tool suites that simplify and streamline your workflow process, ensuring that the picture you take will be the picture you get. Let's take a deeper dive into each of these packages: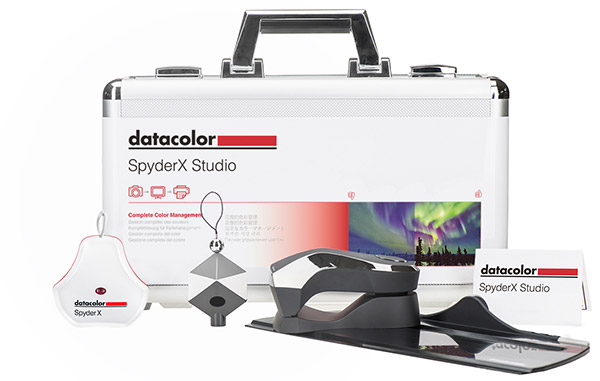 Datacolor SpyderX Studio - Ensures your photos are captured accurately, your monitors display precise colors, and your prints are perfect every time:
Start with Spyder Cube for incomparable image capture. Set white and black values (something you can't do with just a gray card) and define your neutral gray.
When you're ready to edit, monitor calibration is effortless with SpyderX Elite – our fastest, most accurate and easiest-to-use monitor calibration tool ever.
Finally, use Spyder Print for full control of your printer output. It lets you create multiple custom profiles for any combination of printers, inks and papers.
Datacolor SpyderX Capture Pro - All the essentials needed to precisely manage color in your workflow from capture through editing:
Start with Spyder LensCal for camera calibration, and to calibrate your interchangeable lenses and DSLR components, too.
Next, use Spyder Cube to set white balance and RAW conversion. Unlike a gray card, Spyder Cube lets you set absolute white and black values along with defining your neutral gray.
Then, use Spyder Checkr for next-level color precision with an HSL-Preset you can load and apply to your entire image series via Lightroom.
Finally, calibrate your monitor with SpyderX Elite – our fastest, most accurate and easiest-to-use monitor calibration tool ever created by Datacolor.
These suites are an organized, cost-effective way of ensuring you have the tools you need to optimize your photographic workflow for maximum efficiency and outstanding results. The tools are also available individually if á la carte is more your style:
Fast and easy solution for correcting the auto-focus on your interchangeable lens and DSLR body components, delivering razor-sharp results.
Save money and time by calibrating your own lenses and DSLR bodies with accurate and repeatable calibrations, instead of sending your equipment for service.
Compact, lightweight, and durable with integrated level and tripod mount.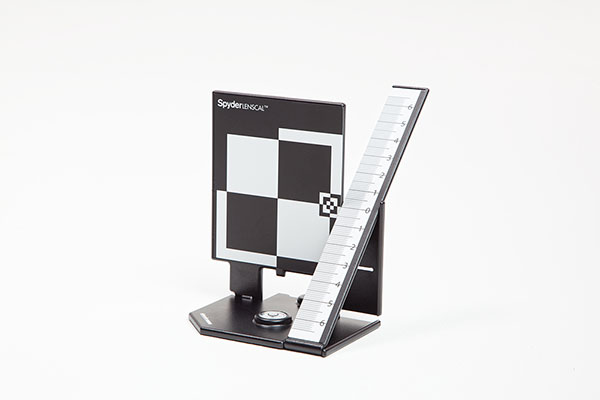 Delivers scene light color and intensity data that can be used to adjust camera settings such as in-camera white balance and color temperature.
48 spectrally engineered color patches including color targets for more precise skin tone, medium saturation color, and near-white tints and black tones, resulting in a more dynamic range.
Software analyzes the results of your test photo and instantly creates an HSL-Preset to apply in your workflow with RAW import software such as Adobe Photoshop®, Adobe Lightroom® and Hasselblad Phocus®, for automatic color correction.
Track the light exposure of your target with the FadeCheckr light-sensitive patch.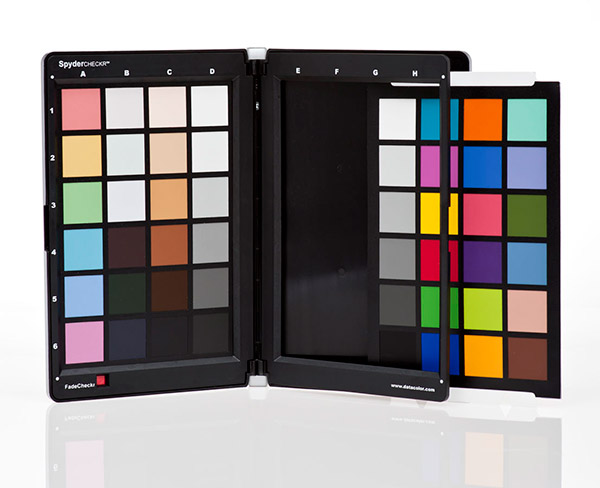 Portable solution for references to set white balance, exposure, black level, and brightness right from the start.
Streamlines RAW image editing, by using common tools found in color managed applications, such as Photoshop and Lightroom.
Easy to use. Simply take a reference shot with the device under the same light conditions as your photos, adjust, save, and apply to entire series of images.
The Fastest Spyder Ever: Calibrating your monitor to achieve color precision now takes just a minute or two – up to 4 times faster than previous models.
The Most Accurate Spyder Ever: Our groundbreaking lens-based color engine provides a higher level of color accuracy for multiple monitors (including StudioMatch Assistant to match displays) and projectors.
Full control of your printer output with the ability to create any number of custom profiles for any combination of printers, inks, and paper.
Supports calibration of multiple printer types including Photography and Fine Art printers, Post Card printers and others.
The Extended Grays Target allows you to include and measure precision gray and near-gray patches, enhancing the quality of tinted and B&W prints.
Software supports two readings modes: individual color patches and strips of color patches, giving flexibility to control the way you work.
Exclusive Spyder Proof (soft proof) feature provides a series of images to help you evaluate printer calibration results.
Start streamlining your workflow now by taking advantage of our special 20% savings introductory offer* for SpyderX Studio and SpyderX Capture Pro! There's no better time to save yourself precious time and money than today.
*Offer ends July 14, 2019
FEATURED VIDEO