How to Make Enchanting Landscape Photos of Snowy Winter Scenes (VIDEO)
This time of year the beautiful winter wonderland provides great opportunities for enchanting nature photos. And even if you don't live where snow blankets the ground, the barren landscape, devoid of spring, summer and fall foliage, is the perfect time for capturing stark, minimalist images.
By now you've no doubt noticed that winter landscape photographs can be tricky, with special exposure settings required to render snow clean and white, instead of the dirty gray that occurs if you don't override the camera's meter readings. You'll see how to solve this problem and more in the tutorial below.
Professional photographer Christian Irmler is one of our go-to landscape instructors, and in this behind-the-scene episode you'll watch him capture the splendor of winter as he trudges through the Austrian countryside.
Shooting as snow is falling lightly, Irmler begins with a variety of composition tips for simplifying complicated scenes. He also concentrates on maximizing contrast between the white snow and darker objects like trees, branches, and other objects in the frame
You'll see how Irmler shoots from a low camera position to convey a sense of depth in his images. And he's very careful about where he walks, so as not to spoil a great shot with his footprints in the fresh snow.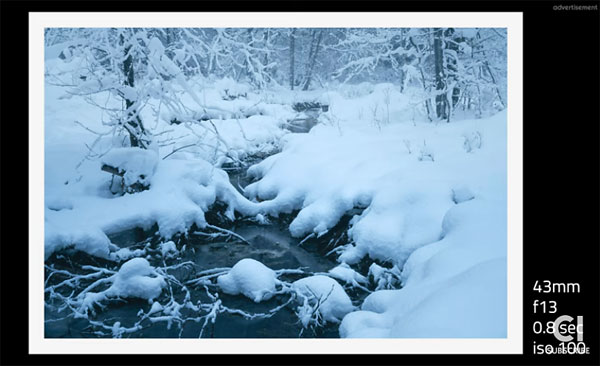 Irmler discusses the exposure settings he uses to compensate for the overall brightness of snowy scenes, and reveals a few other camera settings that can make or break a shot. He includes captions with gear and exposure information for all of his photos so you know exactly how he got the shots.
You'll also see how finding a hint of color in an otherwise monochrome scene can really add some impact. While shooting astride a small brook, Irmler demonstrates how concentrating on details in the foreground can yield images with a different look.
He has several other great tips that are sure to take your winter landscape photography to the next level, so take a close look, grab your camera, and get busy!
You can find much more of interest on Irmler's YouTube channel and in another tutorial we posted recently, explaining the difference between compressed and uncompressed Raw images.
FEATURED VIDEO