Shutterbug's Holiday Gift Guide for Photographers
The holiday shopping season is upon us, which means it's a great time to start thinking about the perfect gift for the photographer in your life (even if that photographer happens to be you!). In the below gift guide for photographers, we pick seven scintillating photo products you should be shooting for this holiday season.
TAMRON
tamron-usa.com
$549
The Best Travel Zoom Ever! With Tamron's 18-400mm ultra-telephoto 22.2X all-in-one zoom lens, enjoy wide to ultra-tele photography. This compact and easy to handle lens provides the versatility only an all-in-one can offer. It's ideal for travel photography to capture everything from stunning landscapes, neon-lit cities to portraits, and with its 1:2:9 macro, you can even capture beautiful close-up images of details and food. Rounding out this impressive lens is the moisture-resistant construction that gives you peace of mind when shooting in rain, and its image stabilization. Now just $549 after $100 Holiday Instant Savings at your authorized Tamron USA retailer.
1TB SanDisk Extreme PRO Portable SSD
SANDISK
westerndigital.com
$279.99 $229.99
The SanDisk Extreme PRO® portable SSD leverages Western Digital's lightning-fast, in-house NVMe technology to dramatically increase transfer speeds to up to 1050 MB/s letting you move files faster and edit right from the drive. Its ruggedized case helps keep your content protected no matter where you take it. And it's no problem to deliver files when you have up to 2TB of space for a full library of content in a pocket-sized design. Whether you're working on PC or Mac™ computers, and with USB Type-C and Type-A connectors, the Extreme PRO Portable SSD works the way you work, as fast as you do.
Moab by Legion Paper Sample Box
LEGION PAPER
moabpaper.com
$24.95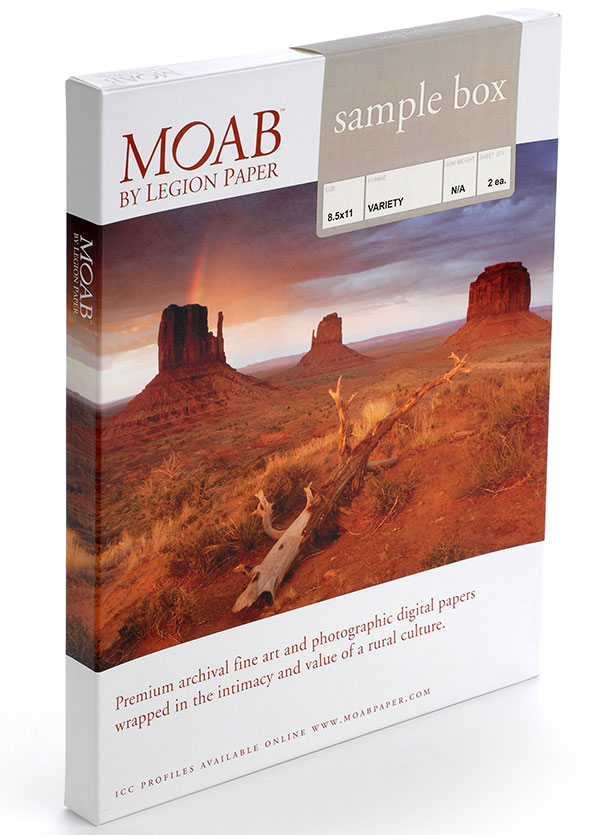 Moab's fine art inkjet sample box is the perfect way to try all the Moab papers without committing to a full box. Containing two sheets each of the entire range - including the popular Entrada Rag and the specialty, Slickrock Metallic – you'll discover how these high-quality fine art papers from Moab enhance your images to bring your printed work to a different artistic level. With product names like Anasazi, Lasal and Moenkopi it doesn't take much to see the source of Moab's inspiration and its connection to the southwestern United States.
BONUS: Fine Art Printing eBook - Get the Free Copy of the Ultimate Guide To Fine Art Printing.
DATACOLOR
datacolor.com
$169.99
SpyderX is the fastest, most accurate, easiest to use monitor calibration tool ever created by Datacolor, giving photographers and designers confidence and control of their creative vision. With SpyderX Pro, you can be sure that what they see on screen is the most accurate representation of the shot you took. When you start editing and know the color on your monitor is accurate, you can confidently control every aspect of the image. SpyderX Pro has extensive color calibration options, as well as options for matching and tuning multiple displays.
The PRVKE Pack Photography and Pro Bundles
WANDRD
wandrd.com
$274 +
The PRVKE Pack's innovative design & high-quality materials make it an award-winning camera bag. This bag is perfect for photography, travel, & daily use. With 3 NEW sizes & upgraded Camera Cubes, you now have the ability to fully customize the internals of your bag! Pro & Pro+ Camera Cubes fit the entire internals of the PRVKE series. On the small end, the Mini & Mini+ Cubes fit the top portion of the PRVKE. The Essential & Essential+ Camera Cubes are designed for the bottom portion of the PRVKE bag & HEXAD Access Duffel.
Photography Bundles Begin at $274
BLURB
blurb.com
$49.99 +

Made with ultra-thick Premium Lustre paper, Blurb's Layflat Photo Books are the perfect showcase for stunning panoramic images. Give each beautiful photo the room it deserves, with freedom to reach, uninterrupted, across expansive double spreads. Each Layflat book comes with up to 110 pages and an ImageWrap, Hard Cover.
Start your Layflat gift today!
EXPOSURE SOFTWARE
exposure.software
$119 ($89 Upgrade)
Exposure is the best photo editor for creative photographers who want to create artistic images.
Its large library of gorgeous looks provides inspiring starting points that you can customize. Unique creative tools not found in other photo editors help your photos stand out. And Exposure's efficient workflow keeps you in the creative zone. Exposure operates either as a standalone application that handles a full photography workflow, or as a plug-in to Photoshop or Lightroom.
New in Exposure X5, you'll find innovative 3D Color Masking, chromatic aberration and vignette correction, custom camera profiles, and much more.
BAYPHOTO LAB
bayphoto.com
Sizes up to 48x96"
At Bay Photo Lab, our staff has a true passion for photography, and that passion shows in everything we produce. This holiday season, give your images the gift of stunning presentation with our Industry-Leading MetalPrints. Our Curved MetalPrints, and MetalPrints with Display Stands are perfect as gifts for the table-top. MetalPrints are available with a wide variety of wall display options, in sizes up to 48x96". Clusters and Splits are a great way to expand your MetalPrint display across multiple prints. Which will you choose?
FEATURED VIDEO