The Goods: Our Favorite New Premium Photo Gear
Big Deal
Phase One has given its medium format camera system a major facelift. Called the Phase One XF Camera System, the revamped platform is built with more robust "aerial-grade" mechanics, has more advanced internal electronics, new modularity options, new Capture One Pro Raw imaging software, and customizable touch controls. If you like image resolution and sharpness—and what self-respecting medium format fan doesn't?—there's also a new 80-megapixel IQ3 digital camera back and two new Schneider Kreuznach Leaf Shutter lenses in 35mm and 120mm focal lengths, both of which are designed to resolve above 100MP. The system features Phase One's own Honeybee Autofocus Platform, which is designed to be faster and more responsive. Quite a kit, right? While the gear is certainly not cheap, if you want the very best in image quality, you go with Phase One.
Stacked Pack
Lowepro's Pro Runner line of photo backpacks has long been popular with serious photographers and now the company has made it even better. The Lowepro Pro Runner BP 450 AW II is the middle pack in a new trio of bags and fits two pro DSLR cameras with an attached 70-200mm f/2.8 or 300mm lens, five extra lenses, flashes, and a variety of accessories. There are also padded sleeves in the front compartment that fit up to a 15-inch laptop, a 10-inch tablet, and a Wacom-type tablet. And there are more pockets, nooks and crannies to fit every imaginable piece of small gear (batteries, memory cards et. al) needed for a field shoot. But it's not just what fits in this Pro Runner II all-weather pack that's important. It's how it feels. And because Lowepro has been in the camera bag game for a long time, this pack fits snuggly on your back like an extension of your body, making it ideal for long photo treks.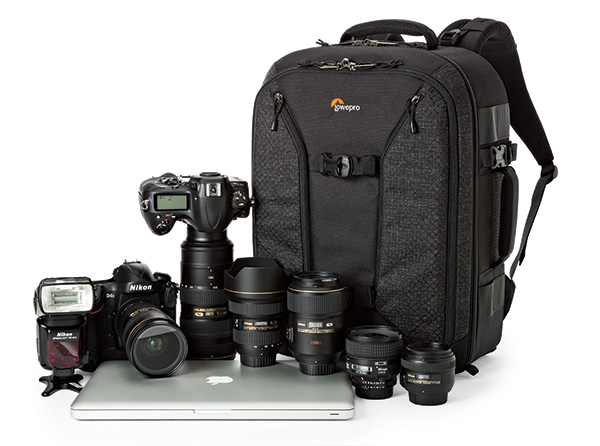 Small Wonder
Like shooting photos with your iPhone but can't stand the image quality? Here's a gadget for you. Called the DxO One, this handy little device is actually a 20.2MP camera with a one-inch sensor and an f/1.8 lens that fits in your pocket and attaches to an iPhone via its Lightning port. Weighing 3.8 ounces and just 2.65 inches tall, the DxO One is designed to help deliver DSLR-quality images from a slender, inherently limited phone. The DxO One can shoot Raw images (along with JPEGs) and files are saved to a microSD card, which is slotted into the tiny device. There's a small monochromatic touchscreen display on back to show and adjust settings, including full manual control. With the DxO One connected to the iPhone via Lightning, the device can swivel up or down, letting you compose images and shoot video (including 1080p HD at 30p) from a variety of angles. It can also shoot slow motion, 720p HD video at 120 fps and uses the LED of the iPhone for flash photography and as a video light.
Compact Queen
Compact cameras aren't dead, they've just gotten a lot nicer. Take the 24MP, full-frame Leica Q, which features a Leica Summilux 28mm f/1.7 ASPH integrated lens and a host of premium features, including full 1080p HD video, built-in Wi-Fi, and speedy autofocus. The star is the built-in prime lens, which is comprised of 11 lenses in nine groups, including three aspherical lenses. You can also manually adjust the aperture in 1/3 EV increments—ranging from f/1.7 to f/16—by turning a dial on the Leica Q's 28mm Summilux lens, much like a traditional rangefinder. And there's an optional digital frame selector of approximately 1.25x (corresponding to 35mm) or approximately 1.8x (corresponding to 50mm) to get you closer to the action, via a crop. For low-light shooting, harness the pixel power of the Leica Q's full-frame (24x36mm), CMOS sensor, which features an ISO range of ISO 100 to 50,000. Street photographers, meanwhile, will love the speedy AF, which Leica says is the "fastest autofocus in the compact full-frame camera class."
(Editor's Note: The Goods is a new feature in Shutterbug that spotlights the hottest premium photo gear out there. If you have a product you'd like considered for The Goods, e-mail images and info to editorial@shutterbug.com.)